As he spoke with reporters following Sunday's game, Kamar Aiken had a cut above his left eye and the exhausted look of a boxer who had just been through a 10-round fight.
The cut came when he was demolished by Jaguars linebacker Paul Posluszny, a hit that also bent Aiken's knee backwards. After being tended to for a couple minutes by trainers, he didn't miss a play.
"I'm hurting today," Aiken said. "It comes along with the territory."
Aiken was cut six times and bounced between three teams before landing on the Ravens' practice squad midway through the 2013 season. Now, two years later, Aiken is Baltimore's No. 1 receiver.
Yes, a large reason for that is injuries to Aiken's mentor, Steve Smith Sr., and rookie first-round pick Breshad Perriman.
But somebody had to step into that role, and Aiken has been that man. It's been an incredibly steep incline for the former journeyman.
Aiken has been forced to grow up fast, both as a child and now as an NFL receiver. And as Sunday's painful blows demonstrated, he's had to take his lumps along the way.
Aiken was not even 5 years old, but he remembers watching the ambulance, followed by the police cars, pull up to his house in Miami.
In his mind's eye, he can picture the medics doing CPR on his baby cousin. He remembers being yelled at to get out of the room. Before he left, he caught a glance before she died.
"I remember looking at her, how she looked," Aiken said, his eyes welling with emotion. "After that, the rest was just a blur."
Aiken's cousin was beaten and killed by the family's babysitter. Not long after, Aiken's mother, Juliet Wint, was questioned by police. She was at work that day as a nursing assistant at a nearby hospital. She had nothing to do with the beating.
However, Wint was charged with second-degree murder and aggravated child abuse, according to Miami-Dade County records. The court felt she either knew, or should have known, that the babysitter was abusive.
Wint's lawyer told her she should take a plea bargain, one that came with five years in prison.
"They told me that if I didn't take the plea they gave me, I wouldn't see my children anymore. That was my worst nightmare," Wint said before breaking into sobs. It's still painful to this day and something she doesn't like talking about.
"For the sake of my kids, I had no choice," she said.
With that, Aiken, older brother Leon Woodstock and baby sister Shakoiya Aiken went into a nearby shelter. They stayed there for about a month before being transferred into foster care.
Once living in a comfortable house with few worries, all of a sudden, they were without their mother. Woodstock, who was just 11 years old at the time, had to be the big brother and father.
"I just had to grow up fast, faster than I probably should have," Aiken said.
Aiken doesn't remember a whole lot from his time in foster care. He was surrounded by kids he didn't know, constant shuffling faces. There were no frills, no luxuries. He remembers there being specific times the kids could go to the refrigerator. He remembers drinking juice out of little yogurt cups.
The foster home system tried a few times to split the kids up. Woodstock wasn't having any of it. He told the foster parents that if they tried it, they would run away every time until they found each other. Aiken even once crawled into his brother's suitcase to see if he'd fit, just in case.
After bouncing around between homes, the kids found one that housed all three. But life still wasn't easy, and they still very much missed their mom. They would visit her at prison when they could, but leave in tears.
"Toward the ends of visitations when we knew we had to be separated, those moments were very difficult – very difficult," Woodstock said. "Those were grow-up-fast moments."
Aiken lashed out at the world. He said he always felt angry and had troubles in grade school. It's where he got the chip on his shoulder that he still plays with. Soon, football would become an outlet.
"I was tougher than people my age, mentally and, if I had to, physically," Aiken said.
An Introduction To Football
Wint was released from prison early on probation after three years. She returned to their old home, occupied by their grandmother, and the family was back together again.
Their old life couldn't be instantly reclaimed, however.
Wint was broke and couldn't get her full-time job back. She worked odd jobs, such as cleaning houses or helping to renovate old apartments, and maxed out credit cards to make ends meet. But Wint tried to never let her kids see her struggles.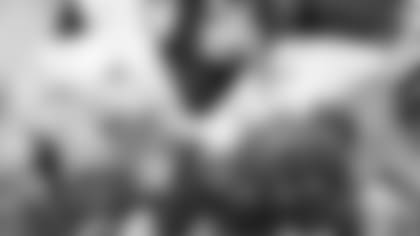 "She got back on her feet by herself," Aiken said. "She did everything for us and we never had to ask anybody or beg anybody for anything. She's my motivation. I saw her go through all the stuff she went through and she never complained, not one time."
While Aiken attributes his toughness to his mom, he gives his brother credit for showing him the ropes, telling him the "dos" and "don'ts" of the world. Woodstock was also the first person to put a football in Aiken's hands.
Aiken got involved with the Boys & Girls Club and a facilitator who also coached youth football offered to help pay the fees required.
Woodstock remembers the day Aiken, then a middle schooler, first got his youth football equipment. Woodstock went to go play basketball and Aiken was so excited that he asked if he could put on his shoulder pads and helmet.
"Sure, man, they're yours. Do me some laps, see how they feel," Woodstock said.
"Well, you know when you start playing ball and you lose track of time? We were playing ball for two or three hours. Afterwards, I'm looking around like, 'Where is my brother?' He's out there still running."
Aiken told Woodstock that he was never instructed to stop. So he just kept running and running and running around the nearby field in his big helmet and pads.
Aiken was afraid of contact then, so he used to ram his body against a tree, over and over. He played basketball and baseball too, but there was something that drew him to the physicality of football.
From the very beginning, Aiken told his family he was going to be a professional football player one day. He figured if he was going to invest a lot of time in something, he would make sure he would be successful.
"I always believed he had what it took to become a professional football player, drive-wise," Woodstock said. "Whether he was ever* *going to get a fair opportunity, that was to be determined. But drive-wise, he had it."
Aiken went undrafted out of college at Central Florida, which wasn't too much of a surprise. But it meant, like many undrafted players, he would have to fight his way into the league.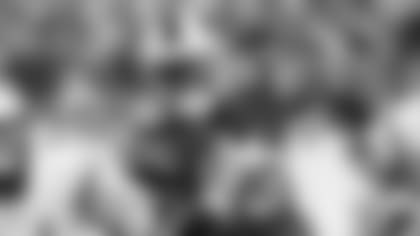 And so a long, twisty journey began.
Aiken signed with the Buffalo Bills first in 2011. He spent half the season on their practice squad and half on the 53-man roster, but was active for just two games. He again landed on Buffalo's practice squad in 2012, but was released a month later. Aiken bounced over to the Chicago Bears'* *practice squad that same week. He was released less than a month later.
"When I left Chicago, I was drained emotionally," Aiken said.
"You're doing everything right, you're doing everything you're supposed to do, you're working hard and you still get released. I was like, 'I don't know what else to do.' I was at a loss at that time."
Aiken leaned back on his family. They wouldn't let him quit.
"They told me to knuckle up," Aiken said.
"I remember working out on my own and telling myself that the next time I got an opportunity, I was going to enjoy it because it can be taken away. Embrace and enjoy each moment. You just make sure you have more good days than bad."
His days of being another name in the NFL transactions report weren't over. Aiken spent time with three different teams in 2012 alone.
He went to New England's practice squad a couple weeks after being let go by the Bears. He was elevated to the 53-man roster, cut, signed to the practice squad, elevated to the 53-man roster, then cut again, this time for good. He saw time in just one game that season.
Aiken didn't make the Patriots' active roster or practice squad out of training camp in 2013. For the first time, he sat out of football for an extended period of time. Two months later, the Ravens brought him onto their practice squad on Oct. 30.
Aiken was on the Ravens' roster bubble at the end of the 2014 summer. But for the first time in his four years, he made the 53-man roster out of training camp.
Since then, Aiken has simply kept climbing. He made the team primarily because of his special teams acumen, but worked his way into an offensive role.
Aiken caught his first career pass in Week 1. By the end of the year, he was one of quarterback Joe Flacco's most reliable targets. He caught a 19-yard touchdown pass against the Patriots – the last team to cut him – in last year's AFC divisional playoff game.
This offseason, Aiken came into camp as one of the team's top three receivers. That didn't prevent the makers of EA Sports' "Madden 16" from botching his appearance by giving him dreads and rating him as the team's least tough guy. Nothing could be further from the truth.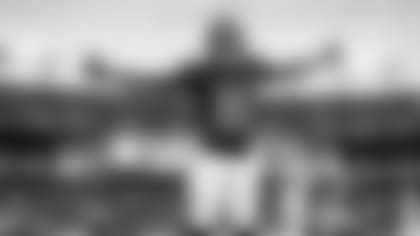 Aiken has made his mark by hauling in tough catches over the middle in traffic. He reminds some teammates of departed Raven Anquan Boldin, who has a similar muscular build and steely demeanor.
"He's like a secret agent. He keeps his emotions to himself, but he's a dangerous guy," said linebacker Albert McClellan, who sits at the locker next to Aiken. "It's like James Bond. You seem him there, but you don't really know what the hell he's gonna do."
Aiken has been thrust to the front after season-ending injuries to Perriman and Smith. Last week against the Jaguars, Aiken took the field as the team's top wide receiver and was targeted a whopping 14 times.
On the Ravens' first drive, a first-down pass went through his hands and bounced off his facemask. On the Ravens' first play of the second half, a high pass bounced off his hands and was intercepted.
Still, Aiken finished with a team-high seven catches for 73 yards. Like his mantra of having more good days than bad, he made more good plays than bad.
That won't stop the detractors who say he shouldn't be a top receiver, or that he doesn't derserve it. Aiken doesn't flinch when he hears from them.
"I don't pay any attention because they're the same ones saying I'm not supposed to be here," he said.
"I'm undrafted. I'm not supposed to be out here, I'm not supposed to make a play, I'm not supposed to be able to do this and that. I'm not supposed to be on a roster. So what pressure do I have on myself when I'm not supposed to even be out there?"
After the interception Sunday, Aiken limped off the field with what could have been a gnarly knee injury. Once he was able to walk, Aiken said there wasn't anything anybody could have told him to keep him from going back out.
"I always tell myself they can't break me," he said. "Nobody can break me."