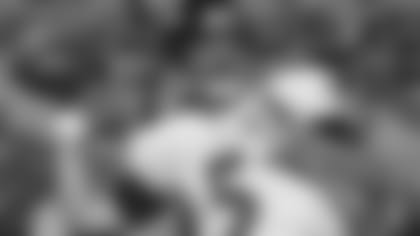 Quaterback Joe Flacco is going to be a Raven for a long, long time.
Flacco and the Ravens agreed to a three-year contract extension Wednesday afternoon, locking up Flacco through the 2021 season while giving the team immediate salary-cap relief.
"I want to win. That's the main priority," Flacco said. "Obviously we all want to make money, but you want to do it while you're winning. In order to do that, we need to have some guys around us. That was a huge priority."
Flacco's salary cap hit was set to jump to $28.55 million this season after being relatively low the past three years. That would have been the third-highest figure in the NFL.
Flacco's three-year extension is worth $66.4 million with $44 million fully guaranteed and a $4 million base salary in Year 1, per CBSSports.com's Jason La Canfora. He'll now have a record $22.1 in new money average per year.
That would give Baltimore the ability to be more aggressive in free agency, including with keeping its own players, such as tackle/guard Kelechi Osemele.
It's a win-win for both sides because Flacco, who has many times stated his intensions to stay in Baltimore for the long-term, gets more years on his contact and reportedly more guaranteed money. Meanwhile, the Ravens win because they lock up a Super Bowl-winning quarterback at a more manageable price.
Flacco will be 36 years old when his new contract expires.
"You see guys playing for a long time these days," he said. "I plan to be one of those guys. I want to be around till I'm 40. I want these guys kicking me out."
When the Ravens and Flacco agreed to the then record-setting six-year, $120.6 million contract in 2013, both sides knew they would be talking again after three years when his cap number spiked.
This time, Flacco was coming off a season-ending knee injury instead of a Super Bowl MVP performance. Still, the two sides were able to come to another long-term agreement less than one week after initial meetings at the NFL Scouting Combine.
The 31-year-old Flacco has been a winner since arriving in Baltimore in 2008 and is now entering his prime.
Over the past eight seasons, his 85 total wins (including the playoffs) is the fourth most among starting NFL quarterbacks. Flacco posted the most regular-season wins (72) by a quarterback in his first seven seasons in NFL history.
Flacco has been particularly strong in the postseason, racking up the most playoff wins (10) of any quarterback in the NFL since he entered the league. His seven playoff road wins are the most by a quarterback in NFL history.
The Super Bowl XLVII MVP's run through the 2012 playoffs was particularly impressive, as he tied Hall of Fame quarterback Joe Montana as the only players with 11 touchdowns and no interceptions in the postseason.
Last year, Flacco was on pace to set a career and franchise highs in single-season passing yards before he tore his ACL and MCL in Week 11 (though he remained in the game for two more snaps to get the win). At the time, his 2,791 yards ranked sixth in the league.
Flacco's injury ended his Ironman-like streak of 122 consecutive starts, which ranked fifth in the league.
The Ravens are putting faith in Flacco to rebound to his usual form and maybe even better. While at the NFL Scouting Combine, Head Coach John Harbaugh said Flacco has been "attacking his knee as well or better than anybody [doctors have] ever seen."