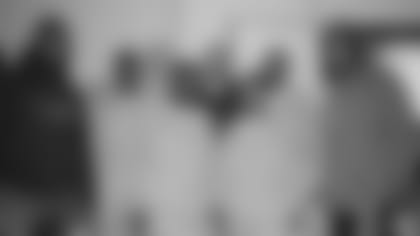 Ravens Visit Ft. Meade Blood Drive**
On Tuesday (9/20), Ravens players helped make a blood drive a little less painful and a little more enjoyable. Nose tackle Terrence Cody, wide receiver Tandon Doss and defensive end Arthur Jones were on hand at The Lanes Ft. Meade to show their appreciation and support for members of the military.
During the event, the players welcomed donors, posed for pictures and signed autographs. They also handed out Ravens lanyards and American flags to their grateful fans. After greeting staff members and patrons, the players joined members of the military in a friendly game of bowling.
The blood drive was part of the Armed Services Blood Program, which helps provide quality blood products for service members and their families. **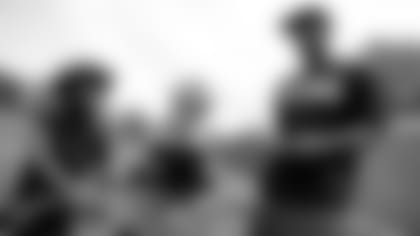 Jimmy Smith Distributes Bikes To Kids **
Children anxiously stood outside of the Lansdowne Police Athletic League on Tuesday (9/20) as they waited for their special guest, cornerback Jimmy Smith, to arrive. As Smith stepped out of his car, he was instantly greeted by a group of children eager to ask him questions about his life as a Ravens rookie.
During his visit, Smith put a smile on children's faces when he distributed 12 new bicycles and helmets to kids in need. The bicycles were assembled on Monday evening by members of the All Community Team, a partnership among the Ravens organization, the players and members of the corporate community.
After taking pictures and signing autographs, Smith made sure one of his young fans had the opportunity to interview him for the school's newspaper. Smith encouraged the young journalist to study and work hard to achieve his goals.