It may have taken a quarter to warm up, but the Ravens surged out to a 28-10 victory over the Cleveland Browns after overcoming some early miscues.
On Baltimore's first drive, reliable kicker Matt Stover shanked a 48-yard field off the right upright. Upon getting the ball back, rookie quarterback Joe Flacco tossed his first interception of his career.
Then on the first play of the second quarter, Ravens safety Ed Reed missed a tackle on backup running back Jerome Harrison en route to a 19-yard touchdown scamper.
Still, Flacco remained calm in only his second career start, Baltimore's defense remained unrelenting, and their offense remained committed to the run to defeat their AFC North rival and earn the division lead.
"We gave them a chance to get on top, but what was impressive was the way our guys fought back out of that hole," said head coach John Harbaugh.
The Ravens actually answered Harrison's score with another interception when running back Willis McGahee was low on a flea-flicker pass back to Flacco. Stepping up a second too late, the quarterback unleashed a bomb to Derrick Mason in the end zone and Cleveland safety Mike Adams came up with the football.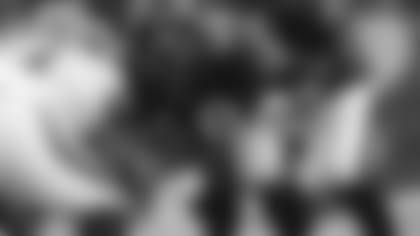 But the defense forced a three-and-out after safety Jim Leonhard dropped quarterback Derek Anderson for a 7-yard sack and Flacco came back to lead a seven-play, 43-yard drive that culminated in McGahee's 5-yard touchdown run to knot the game at 7.
That score was just the first example of how Baltimore's offense capitalized on a suffocating second-half performance by the defense, when Reed scored on a 32-yard interception return and Chris McAlister and Samari Rolle each added picks of their own.
The Ravens sacked quarterback Derek Anderson five times and held the Browns to only 27 net yards in the second half.
"You don't want to make mistakes, but our defense did a great job getting the ball back for us at the end of the game so we could capitalize, and they even put the ball in the end zone," said Flacco, who went 13-of-19 for 129 yards. "Anytime you have that kind of help, it's great."
The Browns (0-3) took a 10-7 lead heading into halftime on Phil Dawson's 38-yard field goal, but that was all the visitors would see on the scoreboard for the rest of the night.
Three snaps after halftime, linebacker Ray Lewis leveled Kellen Winslow over the middle, dislodging the ball from the brash tight end's hands. McAlister nipped the interception out of the air and cruised to the Browns' 12-yard line to set up Le'Ron McClain's 1-yard touchdown plunge and a 14-10 Ravens advantage.
Then, Reed stepped in front of tight end Steve Heiden for another pick three plays later and returned it 32 yards for a touchdown. Reed's 35th career interception made him the all-time franchise leader.
The Ravens forced a three-and-out on the ensuing series, which led to a botched punt from Dave Zastudil that gave Baltimore the ball on the Browns' 35. McClain was there again for his second 1-yard touchdown run to become the first Raven to rush for multiple scores in a game since current Browns running back Jamal Lewis did it on Nov. 19, 2006.
"It felt great getting in twice," McClain said. "Down there on the goal line, inside the 5, we said we have to score touchdowns. We told the coaches to run the ball."
McClain was a big part of a dominating fourth quarter that saw the Ravens control the football for 13:18. With McGahee sidelined due to a cut on his eyelid, McClain (17 rushes for 66 yards) and rookie Ray Rice (five attempts, 21 yards) pounded the line to march down to Cleveland's 4-yard line with 1:51 left on the clock.
Anderson, who completed 14 of 37 passes for 125 yards, capped his outing with a final interception to Rolle.
The defense suffered a scare in the last minute of the second quarter, when starting safety Dawan Landry was carted off the field after running back Jamal Lewis' knee struck him in the helmet.
While team officials said Landry never lost consciousness and had movement in his extremities after laying on the turf for nearly 10 minutes, losing a valued member of the unit served as a wakeup call.
"It was like the 10 of us, we all looked at Dawan laying there, and we were all worried," said linebacker Terrell Suggs. "We definitely weren't playing our most physical football at that moment, and he got hurt.
"That's why every time, you've got to line up and you've got to be a Raven."