It didn't matter who was playing quarterback for the Philadelphia Eagles Sunday, because the Ravens were going to make their life miserable regardless.
Donovan McNabb started the game, but Kevin Kolb finished it. And both were equally ineffective in a 36-7 loss at M&T Bank Stadium.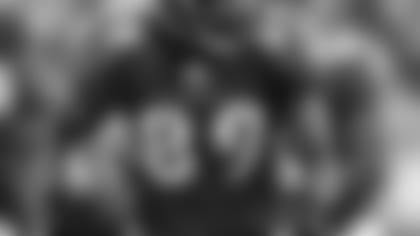 McNabb, who tossed two interceptions and lost a fumble, was benched at halftime after completing eight of 18 throws for 59 yards and a 13.2 passer rating.
Kolb wasn't too much better, going 10-of-23 for 73 yards and a 15.3 rating.
In the end, the Ravens improved to 7-4 to hang with the AFC North-leading Pittsburgh Steelers (8-3) and remain in the playoff hunt. But perhaps just as important, the Ravens secured a win for head coach **John Harbaugh*** *over the team with which he was an assistant for 10 years.
"We knew where coach Harbaugh came from," said safety **Ed Reed** . "We knew he came from Philly, so it was already out there. It was an 'X' game on the schedule. Coach didn't have to say anything to us. We didn't have to say anything about it.
"We're going to give the same effort, but yes, it was a little more special."
For his part, Harbaugh was quick to defer credit to his players.
"Our football team, fighting through adversity, finding a way to overcome mistakes and overcome a very difficult opponent, situations in the game, and then taking over in the fourth quarter - I think that's something any coach would be proud of," Harbaugh said, still damp from a celebratory Gatorade bath courtesy of linebackers **Ray Lewis** The big plays came from all over Baltimore's roster.
Linebacker **Jameel McClain** blocked a punt in the end zone for a safety and a 12-7 Ravens lead midway through the third quarter. Cornerback **Samari Rolle's** interception at Baltimore's 49-yard line set up **Matt Stover's** 42-yard field goal three seconds into the fourth quarter.
And Reed put the final nail in the coffin, intercepting Kolb in the end zone and sprinting an NFL-record 108 yards for a touchdown to put the game out of reach. , who led the game with 88 yards on 18 carries, rumbled 28 yards en route to his 1-yard scoring plunge with 3:10 left, it was time for Harbaugh's dousing.
And, it was the perfect tonic to erase the bad aftertaste from the Ravens' 30-10 defeat to the New York Giants one week ago.
"Last week, we didn't play as well as we wanted to," explained Rolle. "Not for the whole game, but we had some breakdowns. A play here and a play there, and it just added up. Today, we wanted to win this for coach Harbaugh, and we wanted to move on."
Both teams took some time to get started, as the first quarter was marked by five punts.
The Ravens didn't open the scoring until the 3:05 mark of the second quarter, when Matt Stover split the uprights from 44 yards.
By that time, Baltimore had already picked off McNabb once – when **Fabian Washington** wrestled possession of a 30-yard bomb intended for rookie DeSean Jackson – and pounced on a McNabb fumble that linebacker **Jarret Johnson** both forced and recovered.
Johnson tipped McNabb's throwing hand to jar the ball loose. He then caught it before it hit the ground and raced 22 yards before being pushed out of bounds.
"I just reached in and was able to get it up in the air and caught it," Johnson said. "It's just a reaction thing."
But the Ravens weren't able to convert either of the first two Eagles turnovers into points.
That changed on the snap following Stover's field goal. Reed corralled an underthrown ball to Jackson in the right flat and scampered 43 yards to the Philadelphia 6-yard line.
Reed actually tried to lateral the ball to Rolle, who was trailing the runback, but it was ruled an illegal forward pass. The fumble was snared by the Eagles, but an unnecessary roughness penalty on Philadelphia's Jon Runyan negated the recovery, giving the ball back to Baltimore.
"I thought I could throw a block or something and Samari could spring it, but I didn't know the whole line was chasing him," Reed said with a chuckle. "It was a terrible pitch. I usually don't lateral the ball that bad."
The return positioned Baltimore in range for Flacco's 1-yard touchdown pass to tight end **Daniel Wilcox**.
Flacco rolled to his right and waited for Wilcox to get free before he lofted a ball that Wilcox hauled in with his left hand and tapped his feet in the end zone just before he fell out of bounds.
Philadelphia head coach Andy Reid challenged the touchdown, but the call was upheld.
"I saw Joe throw the ball," Wilcox attested. "He threw it kind of hard, and kind of far, and it felt like he threw it too far in front of me. And the dude grabbed my arm to try to keep me from catching the ball. I just stuck my left arm up, I just felt like God was with me. I absolutely felt blessed, and kept my feet in-bounds, and got six points."
The Eagles answered with returner Quintin Demps' 100-yard touchdown for the Eagles' only points of the day on the ensuing kickoff.
Demps' weaving run up the middle of the Ravens' special teams was a small bright spot in an otherwise unmemorable showing.
The 10-7 defensive struggle continued into the third quarter, when Baltimore backed the Eagles deep into their own territory. With Philadelphia punter Sav Rocca in his own end zone, Reed grabbed the attention of personal protector Sean Considine rushing off the left edge, allowing McClain to come unabated up the middle to block Rocca's kick with his facemask.
"Here's a star in this league playing special teams, he's pressuring the slot, that pressure pulls the personal protector out of the middle of their protection and Jameel comes clean and gets the safety," Harbaugh explained. "[That] was a huge play as far as giving us a little bit of a lead there."
The Ravens built on that lead with a 24-point fourth quarter, keyed by Rolle's pick at midfield two minutes before the final period that led to a 42-yarder from Stover.
Then, the floodgates opened.
Flacco, who finished 12-of-26 for 183 yards and no interceptions, found Clayton on a slant just as an Eagles safety bit on a look to **Todd Heap**, who was running a pattern to the right sideline.
Clayton raced 53 yards to paydirt, capping off his touchdown with a front flip.
"The defense pretty much all jumped [Todd] Heap, and it was just a sprint to the goal line," he said, laughing. "The acrobatic flip was probably the worst celebration ever. It probably won't happen again. I'm pretty sure it won't happen again."
Philadelphia seemed to build some momentum after Clayton's score, but Reed reeled in his second interception of the day when Kolb and the offense was sitting on the 1-yard line.
Reed jumped in front of Jackson and weaved through tacklers to break his own NFL return record of 106 yards set in 2004. The return was Reed's 10th career touchdown and fifth on an interception.
McClain's late touchdown was the signal for Harbaugh's imminent soaking, a tradition the Ravens hope can carry on into the postseason.
"We've been doing it all year," Reed said. "We plan to do this in late January or February, so that's just practice."