Even though most players and coaches from the once-heated rivalry between the Baltimore Ravens and Tennessee Titans aren't with their respective clubs anymore, the bad blood apparently still exists.
Both teams turned in a physical slugfest at M&T Bank Stadium Sunday afternoon, but the Titans were the ones left standing with a 13-10 victory after Kerry Collins directed a touchdown drive with 1:56 left on the clock.
In all, 21 penalties were called, including a variety for unsportsmanlike conduct and unnecessary roughness. Several small skirmishes evolved when players exchanged heated words.
For two clubs known for their stout defenses and tough demeanors, Sunday's chippy contest was reminiscent of a classic Titans/Ravens battle from the old AFC Central division.
"It was a physical game, and we knew they knew what they were getting into," said Ravens wideout Derrick Mason. "We knew what type of football they wanted to play, and the score indicated it. There was nothing that we didn't expect."
Perhaps except Collins' game-winning march.
The Ravens had previously shut down nearly all of Tennessee's advances. Up until the fourth quarter, the Titans' vaunted rushing attack had been held to only 45 yards. Collins was 10-of-20 for only 91 yards and two interceptions.
When Collins got the ball with 6:07 remaining, even he was forced into three straight incomplete passes.
But with all the animosity surrounding the AFC grudge match, it was a seemingly harmless play that greatly influenced the Ravens' second-consecutive loss.
Linebacker Terrell Suggs was flagged when he touched Collins' helmet during the unsuccessful third-down attempt. The incident garnered a new set of downs and the chance to continue to the end zone.
Suggs' infraction happened after Titans left tackle Michael Roos was caught for a false start, which ruled the play dead. Since action continued after the whistle, however, the penalty could still be considered.
"I thought it was a dead-ball foul, and you stop the play and move on," stated a puzzled Mason. "I guess that wasn't the case."
"If it had been anything other than a personal foul, we would have disregarded a hold or anything else," said referee Bill Carollo. "But a 15-yard penalty – coupled with a false start – it's called a 'five and 15,' which means the five-yard penalty is ignored and only the 15-yard penalty is enforced from the previous spot."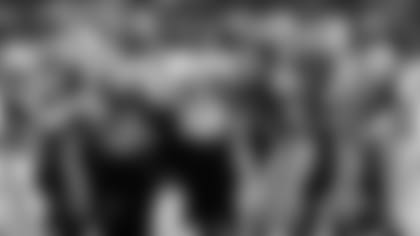 Suggs insists that the play was legal and not at all malicious.
"If anybody can go back and show me something I did illegal, then I would be happy to oblige and say, 'I messed up and I got what I deserved – a personal foul,'" Suggs said.
The miscues went beyond simple penalties. Stalwart kicker Matt Stover missed a go-ahead field goal from 45 yards just before halftime. Rookie quarterback Joe Flacco threw two interceptions.
And the Ravens' defense allowed Collins to knife through it in the fourth quarter from his own 20-yard line before hitting tight end Alge Crumpler for a touchdown.
"They were able to hit some three-step passes on us, and we weren't able to get the pressure we wanted," said linebacker Jarret Johnson. "It's tough when you save your worst drive of the game for the last second."
Stover started the game's scoring with a 38-yard field goal to cap Baltimore's opening drive. The Ravens traveled 46 yards in 11 plays after defense tackle Haloti Ngata tipped Collins' third pass of the game, which fell into the waiting arms of Justin Bannan.
The Ravens were helped on the march by four Tennessee penalties, including a 15-yard unsportsmanlike conduct call on safety Chris Hope.
Titans kicker Rob Bironas then knotted the game when Flacco was intercepted in Baltimore territory midway through the second quarter. It was the second of four Tennessee drives that began on the Ravens' side of the field.
The Titans ran three plays for no gain before Bironas kicked it through from 35 yards.
Coming out of halftime, Flacco mounted his best series, going 71 yards in 11 plays.
Flacco, who finished 18-of-27 for 153 yards, hit wideout Demetrius Williams for a 22-yard connection, and the Titans received two flags.
Fullback Le'Ron McClain capped the march with his fourth touchdown of the season, a 1-yard plunge over the goal line.
"We just did what we were doing all week," said McClain. "We said we were going to run at them, and we did. We wish the game could've come our way at the end, but it gives us something to build on."
In fact, the Ravens stymied Tennessee's defensive line, a unit that many regard as the NFL's best. McClain averaged 4.6 yards per carry, totaling 51 yards on 11 attempts, while Willis McGahee paced Baltimore with 22 tries for 64 yards. And for the second time this season, Flacco was not sacked.
But a victory in the trenches did not translate into points on the scoreboard. The Titans have not allowed more than 17 points all year.
So, when Bironas thinned the margin to 10-6 with his 26-yard field goal two minutes into the fourth quarter, Tennessee was still within striking distance.
After Collins' touchdown pass, Flacco tossed his second interception of the day, rolling to his right and throwing directly to cornerback Nick Harper with 1:16 remaining.
"I should've known to just get rid of the ball, and I just didn't use good judgment on those plays," Flacco said. "I'll obviously learn from that, and we have to move on and get ready for next week."
Considering Baltimore's 23-20 overtime loss to the Pittsburgh Steelers last week, coming so close to dethroning the undefeated Titans definitely stings.
"I feel like we're being tested, and we're going to see what we're made of," said Bannan. "To come out and play like we did both weeks and have those kinds of things happen is tough to take. We have to go back to the drawing board and put this behind us.
"The bottom line is that this is a tough game and a tough league. We don't have a choice but to bounce back. We can't dwell on this because it can bury us."

Ravens Gameday