Jameel McClain casually walked through the Ravens' locker room as reporters surrounded safety **Ed Reed** at his locker on Wednesday.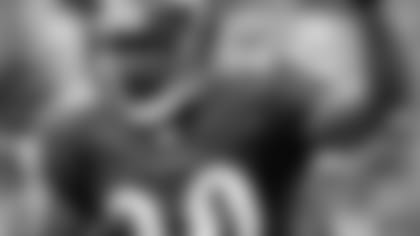 "Ed Reed for President! Ed Reed for President!" he shouted heading towards the bathroom.
When asked if Reed's ticket should include McClain for VP, the loquacious linebacker joked, "I figure if Ed Reed can get eight interceptions in 10 games, he can fix world peace."
World peace or not, such is the impact Reed has had on the Ravens' current locker room.
Just 10 weeks ago, pundits wondered if Reed could return to his Pro Bowl form after recovering from offseason hip surgery. But the way he's transformed the Ravens' play on the field is unmistakable.
Since the seven-time Pro Bowler returned from the physically unable to perform list in Week 7, the Ravens improved from a -4 turnover ratio to a 7.
Baltimore has logged 16 interceptions over that 10-game span.
But it's as if Clark Kent stepped out of the phone booth as Superman once Reed rejoined his teammates.
"It's his knack for the game," said cornerback **Josh Wilson**. "This guy is one of the best to know what a quarterback wants to do. There are a lot of things that you want to do, but can't. Ed knows he can take any chance out there. He's not one of the top 100 players of all time for no reason."
The Ravens were solid without Reed – never dipping below the league's second-stingiest pass defense when he wasn't in the lineup – but there is no doubt Baltimore is more dangerous with No. 20 patrolling the field.
Wilson attributes Reed's impact on the defense to the way he sets the secondary up for success.
It showed in Week 16, when Reed noticed a specific formation the Cleveland Browns ran.
He told cornerback **Lardarius Webb** to jump a route on wideout Mohamed Massaquoi. Quarterback Colt McCoy was baited into throwing deep when Massaquoi pulled a double move downfield, and Reed quickly closed for the first of two interceptions on the day.
Last week, Reed was covering another receiver in the end zone when a pass from Cincinnati Bengals quarterback Carson Palmer was tipped. Reed broke away from his mark to swoop in for a shoestring grab 6-yards deep, returning the ball 44 yards to the Ravens' 38.
His second consecutive game with two picks was another instance where Reed knew something that others simply didn't.
"The way that he communicates allows you to play more free," Wilson explained. "He might say, 'Josh, I'll take this and this route, and you take those.' To me, I know I won't have to play those routes as tight, which gives me a little more freedom.
! He puts you in good positions, and you have every reason to trust him.  We've gotten a lot of interceptions because of that.  You've got the confidence to drive on your routes because you know he's going to be there.

            - Josh Wilson

"He puts you in good positions, and you have every reason to trust him. We've gotten a lot of interceptions because of that. You've got the confidence to drive on your routes because you know he's going to be there."
Ravens Secondary Coach **Chuck Pagano**, who recruited Reed out of Destrehan (La.) High School to the University of Miami, said Reed has always been prescient in his play.
"He just does a great job, where he feels what's going on around him," said Pagano. "The guys that can feel the route and know the combinations but ultimately see the quarterback, get great jumps on the ball. And then, his athleticism, his range, they all take over from there."
Yet, for some reason, opposing offenses continue to test him.
Reed owns a Ravens record 54 interceptions since he was the 24th-overall draft pick in 2002. He leads all active players with seven picks in the playoffs (tied with Philadelphia's Asante Samuel).
In just 10 games this year, Reed managed to lead the NFL with eight interceptions. He also paces the team with 16 passes defensed.
As the Ravens walked off the field after their Wednesday practice, Pagano illustrated the point by noting an area of the field between the hashmarks.
"Guys that are here and guys that have coached around the league, they say, 'Look, you see these lines on the field? You're not allowed to throw the ball inside those lines. Don't do it. Don't even test him, because he's going to make you pay,'" Pagano said.
Reed is currently dealing with a set of bruised ribs he suffered in the Bengals game. And who knows how much the hip and longstanding nerve impingement in his neck is bothering him?
But there is little chance Reed watches from the sideline against the Chiefs.
The Ravens are expecting their resident presidential candidate, Superman, or simply super-playmaker, to patrol the defensive backfield.
Judging by Baltimore's 33-10 record when Reed nets an interception – and a 12-0 mark when he grabs two (including the postseason) – the Ravens are happy to have No. 20 on their side.
"The guy won't lose at anything," said Pagano. "Whether you're playing him at Madden, checkers, chess, ping pong, he's going to win or he's going to die trying.
"That's what gets guys into the Hall of Fame."