When Ray Rice
fumbled on the Ravens' first drive, one couldn't help but think back to Monday night's game against the Packers. In that game, Rice's red zone fumble threw the Ravens offense into a first-half funk and from then on Rice was nearly a non-factor.
But Rice said that similarity never entered his mind. And he certainly showed his fumble wouldn't cause the same result.
The prolific second-year running back turned in one of the best halves in Ravens history, jumpstarting Sunday's 48-3 rout and adding another page to his phenomenal sophomore season.
Rice posted 204 total yards from scrimmage in the first half alone, the second most in Ravens history to Qadry Ismail's 210 yards in 1999. It's the seventh-most total yards in one half in the NFL since 1991.
Of those yards, 151 came on the ground, including a 59-yard touchdown run and 52-yard gallop. That ranks as the third-most rushing yards in one half in Ravens history.
Rice's day ended early in the second half, but he still finished with a career-high 166 yards on just 13 carries. His 12.8 rushing yards per carry is the best mark in team history with a minimum of 10 attempts. Rice's 219 total yards rank sixth in Ravens single-game history.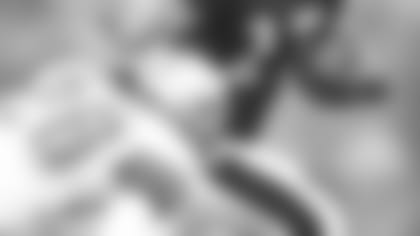 Oh, and by the way, Rice also surpassed the 1,000-yard rushing mark for the season.
"I'll be able to cherish this moment," Rice said. "It will be something I cherish for my life, second year to run for 1,000 yards and actually win the game. It's definitely special."
At this point, Ravens head coach John Harbaugh said he's not even surprised by Rice's gaudy performances.
"It's funny – you saw him in college," Harbaugh said. "I think he probably does the same thing here that he did in college. That's a great testament to a player. When you can take what you see in college and carry it right to the NFL, at this level of competition, it just speaks to what kind of player he is…He's got a great physical talent."
Rice had to overcome a rocky start, however. Following his 52-yard rush on the Ravens' opening drive, he caught a short pass out of the backfield. Rice dodged a couple tackles, but the ball squirted out from under his arm and into the end zone, giving the Lions a touchback.
It marked the Ravens' league-high sixth red zone turnover this season. And perhaps worse, it was the kind of momentum-killer that has plagued the Ravens in recent games.
"It was one of those situations [where] you've got to be smart," Rice said. "I've got to know. That's probably the youth in me. I'm still learning."
The good thing for the Ravens is Rice is a quick learner. Harbaugh said he's "never seen a young guy attack a game plan or attack a week of practice better than Ray Rice does."
On his first carry following the fumble, Rice dashed 19 yards. Then, in the second quarter with the Ravens up 10-3, Rice broke the game open.
First, Rice caught a short third-and-10 pass over the middle and scampered just far enough for a first down. On the next play, he busted up the gut for 59 yards for a touchdown that gave the Ravens a 14-point lead. It was the same exact play that Rice ran for 52 yards on the Ravens' opening drive.
Tackle Michael Oher
sealed off the right side of the Lion's defensive line and tight end Todd Heap and fullback Le'Ron McClain held off the outside. Guard Ben Grubbs pulled around to Oher's left, clearing a hole along that end. Rice broke through two arm tackles and burst past a Lions safety. Derrick Mason's block long downfield paved the way for Rice to cruise into the end zone.
"When a play has a good feel to it, you get back to it," Rice said. "If it's a good play, it's a good play."
Rice wasn't done. He broke off a 15-yard carry on his next touch, then hauled in a 30-yard pass to set up a Billy Cundiff
field goal to cap off a stellar first half for the Ravens' offense.
From there, the other two heads of the Ravens' monster reared with Rice watching from the sideline. McClain rumbled three yards for his first touchdown since Week 1 and finished with six carries for 32 yards.
Willis McGahee got 12 carries and took them 76 yards. He notched eight and 19-yard touchdown runs in the third quarter, upping his season rushing touchdown total to a team-high nine. McGahee has four touchdowns in the past three games.
But even McGahee couldn't help but marvel at the performance Rice put on Sunday.
"You know, I was all for him staying in, getting that Pro Bowl vote," McGahee said. "You've got to make a statement in order for people to realize that you've been doing a lot. So I was happy for him."