Ravens fans got the big-bodied, lightning-fast wide receiver they've long been clamoring for.   
With the 26th pick in the first round, Baltimore selected wide receiver Breshad Perriman out of Central Florida. It's the third time they've selected a wide receiver in the first round in franchise history, and first time since 2005 (Mark Clayton).
The 6-foot-2, 212-pound junior should immediately contend for the starting position vacated by Torrey Smith, who left for San Francisco in free agency. Perriman is a bigger, even faster version of Smith, and has the potential to become a true No. 1 receiver.
"Complete shock, honestly," Perriman said. "My emotions were all over the place, at an all-time high. It feels like a dream come true."
Perriman posted 50 catches for 1,044 yards and nine touchdowns last season, even after 2014 third-overall pick, quarterback Blake Bortles, departed for Jacksonville. Perriman averaged over 20 yards per catch during his sophomore and junior years.
The Ravens have been high on him for quite some time.
During February draft meetings, General Manager Ozzie Newsome was one of the first people to watch Perriman's tape. He called the scouts in after a break and told them they had to watch. Even Thursday at 7 a.m., Head Coach John Harbaugh watched more tape of Perriman for an hour.
"I saw a big, fast, physical stallion," Assistant General Manager Eric DeCosta said.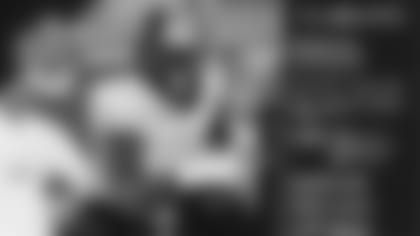 The world caught on to his talent after his pro day, where Perriman ran the 40-yard dash in a mind-boggling 4.24 and 4.27 seconds. Ravens Director of College Scouting Joe Hortiz quoted him at 4.22.
For comparison, the fastest ever recorded 40-yard dash time at the NFL Scouting Combine was a 4.24 by running back Chris Johnson. After his blazing run, Perriman leapt up pundits' mock drafts into the middle of the first round, seemingly out of range for the Ravens.
As Baltimore sat on the clock, a group of wide receivers and pass rushers fell down the board. Newsome said Baltimore had talks about trading up, but the pass rushers – presumably Kentucky's Bud Dupree and Missouri's Shane Ray – went to the Steelers and Broncos with the 22nd and 23rd picks, respectively.
Assistant General Manager Eric DeCosta said the Ravens' draft board was "picked clean." Except one man – Perriman. Had Perriman not been on the board, Newsome said Baltimore would have traded back. Instead, they immediately made the pick.
The Ravens liked that Perriman can run the full route tree, although the receiver said his routes were limited due to the offensive system at Central Florida. He often simply blew past defenders with go and post routes.
Perriman also showed the ability to use his body to box out defenders, and the leaping ability to go up and make the catch. He made a stunning catch on a 51-yard Hail Mary to defeat East Carolina, 32-30, and give the Knights the 2014 conference title.
The one knock on Perriman is that he had more drops than one would like to see on film. However, the Ravens pointed out that those seem to be more of a concentration problem than having bad hands. And they became fewer and far between as his career progressed.
During his official pre-draft visit to Baltimore – which Perriman said was the best of any he went on "by far" – Perriman told the Ravens the thing he wanted to improve most was his drop rate.
"There will be a lot of opportunities for [Wide Receivers Coach] Bobby [Engram] to work with him on that one thing because he has all the other elements," Newsome said.
The first thing Newsome mentioned that he liked about Perriman was that he has NFL lineage. Newsome said "the game is not going to be too big for him."
His father, Brett Perriman, had a 10-year career with the Saints, Lions, Chiefs and Dolphins. He finished with 525 career catches for 6,589 yards and 30 touchdowns. He was a second-round pick in 1988, and didn't have the height of his son, standing in at 5-foot-9.
"Football has always just been in my blood, and now it's my turn to play on the highest level of competition," Perriman said.
The Ravens haven't had much luck with their first-round receivers in years past. They took Travis Taylor with the 10th pick overall in 2000 and Clayton with the 22nd in 2005. Both were in Baltimore for just five seasons and never became true No. 1 targets.
Perriman has the size, speed and ability to develop into that, and can immediately begin learning from veteran Steve Smith Sr. The rookie will compete with Marlon Brown, Kamar Aiken and Michael Campanaro to start, but will immediately give Baltimore another major weapon.
"He brings an element to our offense that plays into Joe's strength in that he can be a vertical threat, but he also has the ability to run the full route tree," Newsome said. "So we're just happy to have him."
Early on in the scouting process, DeCosta said this was a year where the Ravens could grab an "elite" talent with great top-end wide receiver depth. Perriman was the fifth of six taken Thursday night.
"We got a guy with a tremendous amount of talent who is only going to get better," DeCosta said. "I'm not going to say he's elite or this or that. … He's on the [rise] and we're going to get the best out of him."
Check out photos from Breshad Perriman's collegiate career at the University of Central Florida.