Terrell Suggs is no stranger to putting up impressive defensive statistics throughout his career. But in Sunday's 27-13 Ravens win over the Miami Dolphins, a new number will show up on his line – one typically reserved for offensive players.
Suggs scored his first-career touchdown off an interception thrown by Miami quarterback Chad Pennington with 8:57 left in the second quarter, making a loud statement about the Ravens' defense.
"I got in there, and I think it changed the outcome of the game," Suggs said.
Miami was in a third-and-5 situation at its own 45-yard line, when Pennington stood in the shotgun. The veteran signal-caller ran a play-action fake looking to complete a short pass on his left to running back Patrick Cobbs, but a blitz from the left side by Ravens safety Jim Leonhard – helped by additional pressure from cornerback Frank Walker – caused Pennington to lose his focus.
Suggs anticipated the play and stepped in front of Cobbs to interrupt the connection after recalling a play run by the Pittsburgh Steelers weeks earlier.
"He [Pennington] was trying to avoid the sack," Suggs explained. "That's how teams have gotten us in the past, just with a little dump when a guy is coming across. I saw him kind of late, but there was a play in the Pittsburgh game when [Steelers quarterback Ben Roethlisberger] threw it to Mewelde Moore.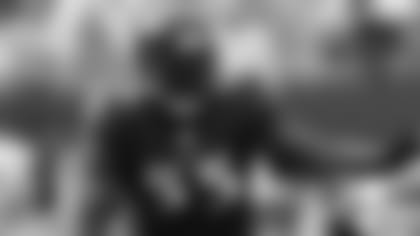 "I knew it was coming, but I didn't jump it. I was like, 'Next time that happens, I'm going to jump it. If I miss it, I miss it, but if I get it, I'm going to the crib.'"
A 44-yard return to paydirt ensued, hanging six points on the board for the Ravens.
That was the first interception for the 6-foot-3, 260-pound linebacker this season, and it set off a three-touchdown performance by the Ravens. Add two Matt Stover field goals, and that equals a 27-point showing in Miami, the second-highest scoring effort for Baltimore this season.
"The first thing I thought was, 'Score,'" Suggs recounted. "That was my first touchdown, because I always get caught at the [1-yard line]. I'm sad to say I almost got caught at the 1 again. I got it in, but I was looking at the JumboTron – I'm not Ed Reed, now so I don't know that feeling – but it seemed that first 15-20 yards took forever."
Teammate Frank Walker helped Suggs celebrate outside the end zone by jumping up on him so high that he landed on his shoulders.
"I was happy that Frank [Walker] had his back," said Ravens head coach John Harbaugh. "During that interception, he had his back, and there was no doubt in my mind that Terrell was going to score."
It was the only interception thrown by Pennington in the game, and his second of the season. But, it proved to be costly, as it gave the Ravens a lead that they never relinquished.
Suggs did not abandon his more marquee talent either, proving to be a double threat for the Miami signal-caller.
He recorded the Ravens' only sack of the game on the last play of the second quarter. Miami was looking for another score on the last drive of the half, but the top-ranked Baltimore defense answered with a resounding "No."
Miami had one final opportunity in a third-and-9 situation from its 48-yard line, when Suggs charged through the offensive line to sack Pennington for a loss of 7 yards – a key stop that kept the Ravens' momentum going strong into the start of the third quarter.
That was his fourth sack of the season for a total of 31 yards. The Ravens are 30-10 when Suggs records a sack.
He also tallied seven tackles on the day, all of them solo.
While Suggs' individual showing was impressive, this game exemplifies a team win, as both sides of the ball directly contributed to positive production.
"It felt good, and it even felt better how we got the win," Suggs said of the Ravens' performance. "The offense, I don't think they could have played a better game. They controlled the ball. It was a team win. They did their part, and we did our part.
"There were times in the game where they had to bail us out. There were times when we had to bail them out. We helped each other out. That's how a team is supposed to operate."