The Ravens were facing a third-and-2, driving into Steelers territory and needing a touchdown at noisy Heinz Field to tie.
The target in such a clutch moment?
Wide receiver Tandon Doss – the same player the Ravens cut less than two months ago.
Doss flashed across the middle and caught the pass for a 13-yard gain and key first down.
At the end of it, he took a crushing blow to the head from All-Pro Steelers safety Troy Polamalu that nearly sent Doss' helmet flying. Doss popped up faster than Polamalu, who prayed and crossed himself when he got off the turf.
It may be the greatest offensive play of Doss' career, a moment that even Doss admits made him star struck (literally and figuratively).
Signed back about a week after he was cut, Doss is a new man. And he's making the most of his second chance.
Doss has become a key part of the Ravens offense. He's ahead of speedster Deonte Thompson and veteran Brandon Stokley as the No. 4 receiver, and has posted 13 catches for 239 yards in his past four games.
"He's definitely humbled by the situation and became a better man and player from it," wide receiver Torrey Smith said.
Smith and Doss were drafted in the same year, 2011. Smith was taken in the second round and Doss in the fourth on the recommendation of quarterback Joe Flacco himself.
Smith was immediately thrown into the fire after Baltimore parted ways with veteran Derrick Mason. Doss was left being an apprentice under Anquan Boldin.
Smith exploded as a rookie. Doss didn't catch a single pass. As Smith was putting up another big year last season, Doss hauled in just seven regular-season passes. After battling injuries, Doss finally got a chance in the wild-card playoffs against Indianapolis and dropped two passes in the end zone.
After that, Flacco didn't look his way again.
"I kind of had some resentment in my heart towards the organization for not giving me the same opportunity [as Smith]," Doss said.
Doss hoped to at last have his opportunity this offseason with Boldin's departure.
For the first time in his career, he felt like he was beginning to gel with Flacco. But after an injury to Thompson, the Ravens brought in Stokley and Doss could sense a change.
A wrong route that led to an interception in the team's third preseason game led to Doss being reamed out on TV by Flacco. The media started harping on Doss.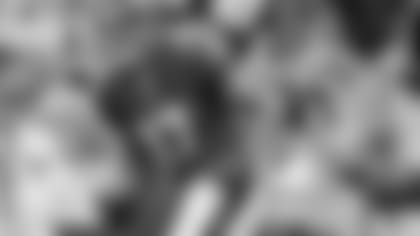 "You have to deal with the pressure you put on yourself because you have high expectations for yourself," Smith said. "You've got the whole city and the media going against you. It's tough."
Not only was there the addition of Stokley and tight end Dallas Clark. Rookie receiver Marlon Brown and Aaron Mellette started seeing action with the first team. Doss could sense something was up and asked Harbaugh about it one day during practice.
"I asked him, 'What's going on, Coach?'" Doss said. "He pulled me aside and said, 'I'm going to be real with you. There's a chance you might not make this team.'"
That was the first time Doss ever thought he might be let go. He was part of the Ravens' final training camp cuts on Aug. 31.
The day after his meeting with Doss in which he told him he was cut, Harbaugh predicted the 24-year-old receiver would land somewhere.
"Tandon Doss is going to play football in this league, guaranteed, and he's going to have a very good career," Harbaugh told the press. "I've said that all along, and I still believe that to be true." 
Harbaugh had long been in Doss' ear, telling him that he believed in him and that he believed he would be a great player. Doss said that helped greatly during his first two years. So being cut was "shocking." 
"From that point on, I kind of approached everything differently," Doss said. "Before that, I was naive to the fact that would happen to me. I really didn't know the business side of the game. Once you go through that, your whole mindset changes."
Doss went home to Indiana and spent the week pondering what was next in life. He had a workout with the Green Bay Packers but left without a contract. Doss just hung out with his family, worked out and did a lot of Bible reading.
"It's pretty rough not knowing what your future holds," Doss said. "You wrap your mind around football all day and every day. You never really think about what happens when you do get cut and nobody else picks you up."
After Jacoby Jones went down with a knee injury in Week 1, the Ravens called the next day. Doss woke from his sleep and knew the 410 area code. It was Ravens Director of Pro Personnel Vince Newsome, calling to see if Doss wanted to return.
Doss' nerves were raw. But no matter how tough it would be to swallow his pride, he knew Baltimore was the best place for him to return.
"You might feel like they did you dirty, but it's their business," Doss said. "You've got to put that aside and go to work. You take all the emotions out of it."
Doss returned to the Ravens with a different mindset. It was very business-like. He let the past go.
"That week off allowed me to take a step back and realize that there's more to life than football," Doss said. "When you realize there's more, everything starts coming together. You start learning about yourself.
"I'm a very impatient man. It's been difficult for me the past two-and-a-half years. I'm very stubborn. I want everything now. It was a good thing for me to just realize that at the end of the day, it's a business. They're looking for me to perform and that's what I've got to do. I've got to come to work like it's my job."
Doss has dedicated himself to putting in more work and becoming more of a professional. He's let go of his frustrations.
Now that he's gotten a chance in game situations, Doss has made the most of it. In his second game back, he had an 82-yard punt return for a touchdown against the Texans. Doss caught a career-high four passes in Buffalo, made his first start in Miami, then led the team with 99 receiving yards against Green Bay. He had two catches for 35 yards in Pittsburgh, including the bone-rattling first down.
"I see a noticeable difference," Offensive Coordinator Jim Caldwell said of Doss.
"He's been getting better and better in every area. I think he's running better than he's ever run, he's catching the ball, he's been able to get open, he's made some big plays for us. I think it's a maturity factor."
After Sunday's Steelers game, Doss returned to the locker room to find his phone flooded with texts and messages. One was from his mom, a big Steelers fan who calls Polamalu her favorite NFL player.
"I'm sorry that you got blasted by my baby," the text read.
Telling the story, Doss laughed and shook his head.