Siragusa Would Rip Stover
It has been miserable this week. After the loss at Seattle, everyone is smarter than we are, and we clearly feel those intense second-guessings and criticisms from some of you.
It goes with the territory. We're big boys. No doubt it hurts, but we're deep in the bunker doing all we can to beat the Bengals on Sunday. And, if we do that, we'll be the top seed in the AFC after 10 games.
I can tell you that it's hard to win a game in the NFL, especially on the road. I can give you some of the football reasons why we lost to the Seahawks, the Titans and the Jaguars. I can tell you that the other guys get paid too. But, no one wants to hear that right now. It's time for us to shut up and play the next game. (And, actually, we can't really shut up. By contract our head coach and players have to answer questions from the media almost every day.)
Until yesterday, I really hadn't smiled or laughed this week. That's what losing a game does to us. It hurts you as a fan. Imagine how we feel. So, I was pleased to talk with former Ravens defensive tackle Tony Siragusa about Matt Stover, who we are inducting into our Ring of Honor at M&T Bank Stadium this Sunday. Goose verbally assaulted Stover when they were teammates, and I wanted to review some of what I witnessed.
Siragusa's Daughter Dating
My conversation with Goose started with talk about his family. I asked him if his oldest daughter, now in high school, was dating.
"Yeah, guy came over. Seems like a good kid. I think I made him hyperventilate," Siragusa explained.
And, how did you do that, Goose?
"Well, anyone who dates my daughters has to meet with me first. That's a 'Siragusa Rule.' When this guy comes to pick up my oldest, I took him into a room, and some of my buddies were in there.
"I looked the young man in the eye," the Goose continued, "and I told him how important my daughter is to me. I said, 'If something happens that is not right, I don't get mad, and I don't get even … but my friends here do.'
"Next thing I know, the kid's in the kitchen breathing into a paper bag. Kath (Tony's wife) was helping him, and she was not smiling at me. I told her, 'I didn't do nothin'.'"
I laughed and admitted to Goose that that was the first time I had laughed since being in Seattle.
Goose And The Little Kicker
Don't remember which game, but do recall being on the sideline at the end of a nail-biter that was going to be decided by Matt Stover. The unwritten rule for talking to a kicker in that circumstance is the same as when you have a pitcher working on a no-hitter: YOU DON'T TALK TO THE GUY.
Siragusa didn't believe in that rule. Here's what I remember hearing: "Listen you blanking little kicker, you better make that kick, or don't come back to the sideline. I'll break your blanking skinny legs if you miss it. Think I'm kiddin'? Just go do your blanking job."
Stover never turned his head to acknowledge the Goose. But, he did make the kick, and he was allowed back to our sideline.
"Matt knows I love him," Siragusa told me on Thursday. "I just don't like kickers. Damn kickers, running around in their 'Toys-R-Us' pads. They don't practice. They never get hit. They make up things to do to fill up their days when we're out there pounding on each other. Sometimes they go play nine holes. They have long lunch hours. They don't even have to shower."
Goose, do you think you motivated Matt with your rants?
"You tell me," Tony continued. "You're putting him in the Ring of Honor. Man, I would say horrible things to Matt. I remember one time I yelled at him when he was trotting out to hit a game-winner: 'If you miss this kick, I'll hurt your family. I think that made him smile a little. And, that stance; I was all over that sissy stance he got into before the kick.
"Look, it was my way of getting him more relaxed. Plus, I wanted him to be so mad at me that his focus would be on the kick, because he wanted to prove me wrong. Plus, I'd go stand where he could see and hear me. I did give him a hard time, and we would laugh later about it."
"Goose did help my concentration, and at the same time, kept me loose in those pressure situations," Stover said last night. "During practices, I would have all the guys yelling at me, trying to distract me. Tony was among the loudest. When we'd get to the games, and I'd hear Goose yelling, it reminded me to kick like I always kick. It actually helped.
"I did like what Ray Lewis said better," Matt continued. "He'd walk by me and say, 'Stove, it's done. Done.' I liked his confidence in me."
"Seriously," Goose said the other day, "how can you not love Matt? Look what he did for the Ravens. We don't make the playoffs our Super Bowl season without him. He saved our [butts] so many times. He was the best, a great teammate. I wish I could be there to give him the standing 'O' he will get, but I have to make some money with FOX on Sunday."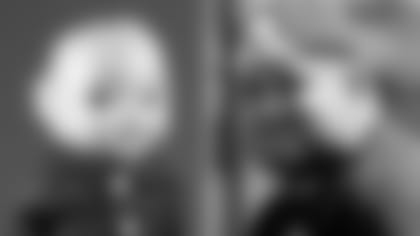 One More Siragusa: The Buddy Lee Story**
Walked into the locker room in 2000 the day we signed Kelly Gregg to the practice squad. Kelly was sitting straight up on a stool wearing street clothes. Siragusa walked in and said: "Who are you? Better yet, what are you?" Gregg stood up, extended his hand, said his name and announced: "Kelly Gregg, defensive tackle."
Goose, without hesitation, said: "Who do you know? You have to be a favor to somebody. Guys, look, we signed Buddy Lee."
Tony and Kelly, who played so well together, are still best of friends today.
Entrance into the Ravens Ring of Honor, presented by Smyth Jewelers, is the highest honor we can bestow. Matt Stover is so deserving. He is the leading scorer in team history, and remarkably, the fourth-highest scorer in NFL annals. Fourteen times in his 19-year career he made game-winning kicks on our last play. Three of those winners came against Cincinnati. In Matt's honor, let's beat those Bengals this Sunday.
***Kevin Byrne** *, a Ravens senior vice president, has worked in the NFL for 32 years. Byrne has been with the Ravens since the start of the franchise in 1996. Earlier in his career, Byrne was the sports information director at Marquette University, his alma mater, when they won the 1977 NCAA basketball championship under coach Al McGuire.