Larry Henson always liked defense.
It became his persona when a little girl came up to him one game day long ago in Memorial Stadium, saw him wearing his trademark camouflage pants, and asked if he was "the captain of defense."
That night, with a Ravens T-shirt and ironed on letters, Captain Dee-Fense was born.
But what Henson cherishes more than defense is helping Ravens fans – all of them.
Henson, who is retired from the Navy after 24 years of intelligence work, is Captain Dee-Fense on a full-time basis. He dedicates much of his time, and his own money, to serving those in the community.
Ten fans started campaigning Wednesday via social media platforms to become one of three inaugural inductees into the Hall of Fans. The three fans with the most votes on Friday, August 31 will be inducted into the Hall of Fans during a September ceremony on ESPN's campus. Fans can vote for Henson here.
"I'm sure there are fans who have more stadium seats or have gone to more games," Henson said. "That's fine. What I'm doing, fans will remember. The way I'm helping people, they'll remember."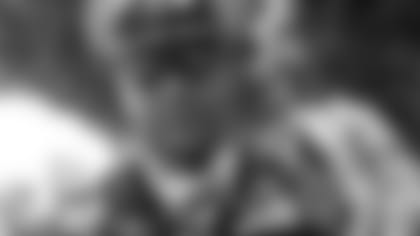 Henson has never missed attending a Ravens home game, including the preseason. He's only missed watching one road game because he was moving his daughter into college (but he did correctly remember that quarterback Tony Banks threw an interception in the end zone against the Redskins).
But it's not only* *about game day for him.
"Sundays are just one of the gratifications," he said. "My job is during the week."
Henson has attended more than 300 charity events. He's gone to about 70 this calendar year, donning his aviator sunglasses, captain's hat, and spiked belt and chains over his shoulders.
Behind the tough-guy guise, Henson's just a big softie.
Also attached to his homemade uniform are patches for the U.S. Navy, Army, Air Force and Coast Guard. He's got a cancer ribbon and a place for lupus as well.
In just the last week he went to a kid's expo, the John-A-Thon benefitting the fight against cystic fibrosis and school violence, the Baltimore Summer Football Festival, a bat mitzvah, a Lardarius Webb autograph signing benefitting a girl battling cancer and a blood drive.
He gave a couple of little boys that ran into him in a gas station parking lot a couple of autographed pictures from linebacker Jameel McClain and safety Christian Thompson. Henson gets players' autographs just so he can give them away.
Upon request, he attends weddings, funerals and birthday parties (for kids and adults alike). He speaks at schools about the importance of education and visits sick Ravens fans in hospitals and at their homes.
Henson doesn't get paid for any appearances.
He does it because he enjoys it.
"The coolest thing about being Captain Dee-Fense is all the people that I meet," he said. "People amaze me."
Henson, 61, has 5,841 followers on his Facebook fan page, which is where he gets most of his appearance requests. He posts debate topics frequently and extinguishes any negative vibes.
The page also features countless pictures of Henson with kids and women, who he says make up about 65 percent of his followers. Everywhere he goes, people want to have their picture taken with him (my wife has at least one picture with him).
"People make me feel way more important than I actually I am," Henson said. "But you never know whose lives you're touching."
Henson is already a member of the Pro Football Hall of Fame "Hall of Fans," inducted in 2002. Winning the award isn't the end all be all for him. He applied on the next-to-last day at the suggestion of a friend.
Asked what it would mean to him to be part of ESPN's inaugural class, Henson said it would be great for him personally, but more of*an acknowledgement for *the fans that support him.
"It would validate that I'm doing the right thing," he said. "I learned a long time ago; fans give you your relevance, not the other way around. That's very important to me."