Pink high tops sat in front of Haloti Ngata's locker this week. Punter Sam Koch and long snapper Morgan Cox took markers to color their shoes pink.
In summary, pink has seriously taken over the Ravens locker room.
October is Breast Cancer Awareness month, and the Ravens will be decked out for their game Sunday against the Cowboys. They'll have pink shoes, pink laces, pink skull caps, pink gloves, pink wristbands and pink towels. Coaches will wear pink hats.
Of course, everybody supports the cause. But I wondered, what do manly-man football players think of wearing the color pink?
"Oh yeah, I like it," said hard-nosed fullback Vonta Leach. "A real man wears pink. It's a good look and it's for a good cause."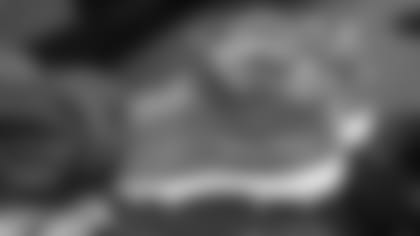 Leach said he wears pink dress shirts and polos outside the job too. I think he's in the minority though.
I went to some other tough guys and got these answers:
Ray Lewis: "We all know pink is a woman's color. It's a good color. I think it blends with our [team] colors pretty well, the purple and pink and black. So, we'll make it work."
Bernard Pollard: "This is football, but we're not thinking any less of a man if [he's] wearing pink. I don't care if I see a guy in pink shoes, pink gloves, pink chin strap."
Marshal Yanda: "Since it's for Breast Cancer Awareness it's not a big deal that it's pink. It doesn't matter to me. I don't give a [crap] what I'm wearing."
Beyond the fashion of it, the players did talk a lot about wanting to support the cause.
Wide receiver Jacoby Jones said he has two aunts that survived breast cancer. He's planning on wearing pink shoes and pink gloves.
"It means something," Jones said. "For my aunts to fight through that and beat it, that's some strong women. So I'll wear it for them."
Lewis, who also knows people dealing with the cancer, said he thinks there should be more done to create awareness about the disease outside of October.
"It's just a way of saying – in this kind of male-dominated football kind of a world – as players and coaches, that, 'Hey, you know what? You [women] mean everything to us,'" Head Coach John Harbaugh said.