There's one thing new Ravens left tackle Eugene Monroe misses about Jacksonville.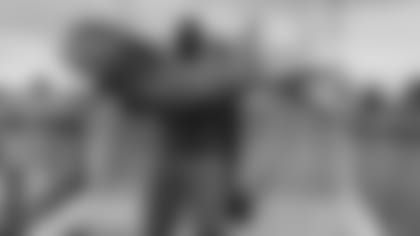 Monroe shared a crazy picture of him holding up a whale fish on Twitter this week, and I went to him to get the story on this beast.
The picture was taken in Turks and Caicos in the Caribbean, where Monroe took his family for a couple of days before training camp with the Jaguars opened. Monroe immediately looked for a fishing company when he arrived.
"I loved to fish pretty much every weekend in Jacksonville," he said.
The fish is a mahi-mahi and Monroe battled it for about 20 or 25 minutes before hauling it aboard the ship. He estimated the weight at around 80 pounds.
"As soon as we got him back, we cut him open and I was ready to eat him," Monroe said. "So I didn't really care what he weighed."
Now we just have to get Monroe acclimated to Baltimore's fishing and seafood scene.
"I know some people like fishing in the bay or harbor," Monroe said. "But I'm not into that. I want to be offshore."
I also found this video of Monroe catching a shark somewhere offshore. (Profanity warning.)
He told me having the strength of an offensive lineman doesn't help in fishing (it's all technique and equipment, he says), but I find that hard to believe watching this.