The Denver Broncos found out.
Jacoby Jones is fast as - - - -.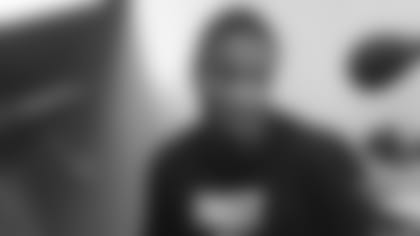 Jones cruised behind Denver's maximum prevent defense Saturday to score the game-tying 70-yard touchdown and force overtime.
Afterwards, the Pro Bowl returner wore a shirt that should serve as a reminder to all (pictured right).
Jones said he got the T-shirt at the mall just before the Colts game.
"I'm darn sure going to wear this outta here tonight," he said.
The goofy wide receiver and returner has definitely brought some attitude to the Ravens offense in his first year with the team.
He's also been wearing a Ravens bandana at all times for a month or so. He wore it with his suit on the plane ride to Denver. He wore it to chapel service on Saturday morning. He probably wears it when he sleeps.
Jones got it at a Play 60 event when it was being used as a blindfold for kids. He just thought it was cool, so he tied it around his forehead to give himself a kind of Karate Kid look.
Now the bandana has become a bit of a good luck charm.
"Got to keep the mojo going," Jones said Saturday night.