In my first Christmas with my wife and her family, I walked into my in-laws' house, looked at the fireplace and saw a stocking hanging for me.
It wasn't a merry holiday surprise.
The truth is I reside on the enemy's pavement of this Battle of the Beltways, in Silver Spring, Md.
My wife was raised a Skins fan by her sports-nut mom (both have since been converted). I'm surrounded by hogs – quite literally. I was introduced to the Hogettes at an event this past year, and we had some spirited conversations that ended with me being strangled.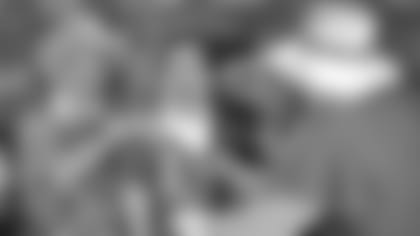 What this has given me is a behind-the-battle-lines look at this clash between neighbors.
So here are my observations about the two rabid fan bases:
Ravens fans are accustomed to winning. They have been spoiled. Four straight playoff trips have made them fat, happy and not pleased when they aren't being stuffed. As my co-worker John Eisenberg wrote, there is a case of the "blahs" this year.
When I talk to Ravens fans these days, all I get are questions asking why the defense isn't as dominant as usual, why the offense hasn't taken the next step and why Ray Rice isn't getting the ball enough. It's like the team's 3-9 instead of the other way around.
On the other hand, Redskins fans have been tormented over the past four years. They haven't been to the playoffs since 2007, and the Ravens have been to the postseason every year since.
That's partly why Skins fans are gaga over Robert Griffin III and their 6-6 record, and are talking mad smack to me this week in the lead-up to the game.
Skins fans haven't had that much to root for in the past four years besides offseason signings – a staple in Washington. They're thrilled in March and throughout the summer thinking of what could be. But that excitement hasn't lasted.
Ravens defensive tackle Ma'ake Kemoeatu, who played for the Redskins in 2010, noticed the same.
"Anything that the Redskins get – like getting RGIII and winning the first game – they're like, 'We're going to the Super Bowl!'" Kemoeatu said. "They're 6-6 and they are ecstatic. We were 6-2 here and fans were [ticked]."
Wide receiver Torrey Smith grew up on the fringes of Redskins territory in Stafford, Va. Half his family are Redskins fans, and Smith's first NFL game that he attended was at FedExField. Smith (like myself) was also surrounded by Skins fans while he went to the University of Maryland in College Park, Md., just inside the 495 beltway.
"I've been around their fan base my entire life," Smith said.
I asked him for the difference between Ravens fans and Skins fans.
"If I say that I'll probably get in trouble with their fan base," he said with a laugh. "The people in D.C. like me right now, so I'll keep it that way. They're two passionate fan bases."
For the past four years, Ravens fans have had the ultimate trump card in any argument with Skins fans: wins. As of now, they still hold that card. But a victory in a head-to-head matchup comes with a lot of bragging rights.
Here's to hoping I can retain them around my hood.