Sam Koch continues to pile up more evidence for his "Punters Are People Too" campaign.
First he scored a touchdown against Oakland. Then he threw down a colossal spike.
Now he's showing off his blazing speed.
Koch did something you probably won't see again in an NFL game. He, THE PUNTER, ran down a punt returner in the open field.
Check the video for yourself and tell me I'm wrong.
Koch's tackle didn't end up making much of a difference, as the Redskins kicked the game-winning field goal after his tackle at the end of the 64-yard return anyways. But still, it was remarkable.
Koch had a 7-yard lead on Redskins returner Richard Crawford when the safety had a clear open lane. I thought he was gone. Koch thought he was gone too. Really, he should have been gone.
Koch had an angle, but quickly lost it. He lowered his head and started hauling tail, trying to head Crawford off before he reached the end zone.
"All I could think was, 'Find out where that pylon is. Don't worry about anything else,'" Koch said. "I took off and the next thing you know, I was catching up to him. Then, very surprisingly, I caught up to him!"
Once Koch was about even with Crawford, the safety (I'm assuming out of sheer disbelief) stumbled and Koch was able to wrestle him to the ground.
Crawford told the Washington media afterwards that he "ran out of gas." Quite a convenient excuse for a guy teammates nicknamed the "Energizer Bunny."
I think Koch just ran him down, flat out.
Turns out, Koch actually does have some speed. He said he was the fastest kid at Seward High School in Nebraska, and ran the 100- and 200-yard meter dashes.
"That tells you what kind of player Sam is, and all those people back in Nebraska that used to watch eight-man football know Sam quite well," Special Teams Coordinator Jerry Rosburg said.
But since his Cornhusker days, Koch really hasn't had to get on his horse too often. The punter's usually jogging at the back of the play as the last – and often not relied upon – line of defense.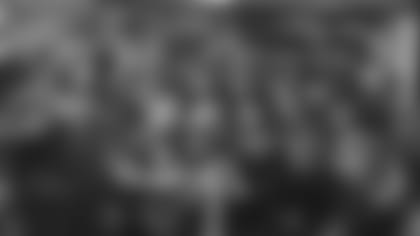 "Hey, when the time comes and it's called upon, I just try to open it up and do all I can," Koch said.
Now that he's got renewed confidence in his wheels, I asked Sam if he thinks he could catch Ravens punt returner Jacoby Jones in the open field.
"Give me 40 yards and I'll catch him," Koch said with a big grin. "I would get it done. He wouldn't get to the end zone."
So in the name of balanced reporting, I had to ask Jacoby for his take.
"Does he think people in hell have snow cones?" he said.
In related news, Koch received a shipment of two boxes full of "Punters Are People Too" T-shirts from the NFL Network's Rich Eisen today. There's enough for the entire team, and the guys are pumped. They immediately started wearing them after morning meetings.
So I can officially say the campaign has been a rousing success in Baltimore.