If it weren't for Larry Rosen, Mike Tomlin might still be smiling after his infamous step onto the field Thursday night.
Now Tomlin and the Steelers face potentially serious fines and penalties.
Rosen, the Ravens vice president of broadcasting, has been the maestro in charge of the huge RavensVision boards at M&T Bank Stadium for 14 years.
He and his gameday broadcast crew were among the first people to realize what Tomlin had done – right behind Tomlin and Jacoby Jones.
When Jones broke away during his 73-yard kickoff return, Rosen immediately started calling to his team to get the touchdown video package ready. Then, shockingly, the speedster was caught.
"We were all like, 'Jacoby got caught?'" Rosen recalls. "Then Jacoby gets up and he points. My first thought is, 'What's he pointing at?'"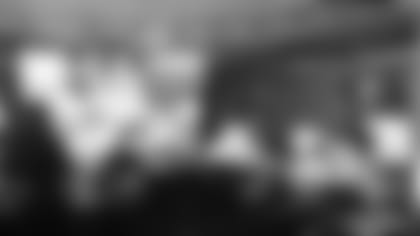 As soon as Rosen asked himself that question, the Ravens' replay operator, John Tillmann, started going nuts.
"He says, 'Look at this! Look at this! Look at this!'" Rosen said. "So he rolls it back and we see from behind. And we said, 'My God, he's on the field and he stuck his foot out!'"
At that point, the camera angle they were looking at was from behind. All they knew at that point was an unidentified Steelers coach had stepped onto the field.
But Rosen didn't want to show the replay in the stadium immediately because he knew it would get a big reaction from the fans. He didn't want them being loud because the Ravens offense still had to take the field and try to score.
"We waited until after we made a 38-yard field goal and showed it during the TV timeout," Rosen said.
Rosen first showed the shot from behind. Then he followed with a camera angle that showed it was Tomlin. Then they zoomed in for a close-up of Tomlin, to which the coach looked up and smiled, drawing an even stronger chorus of boos.
When asked to explain his smile, Tomlin said, "They always like to show me on the jumbotron here in Baltimore. I appreciate that."
Rosen doesn't recall doing so.
"I can't remember ever having put him on the scoreboard in Baltimore," Rosen said. "They're the visitors. All visitors are created equal. We focus on the Ravens."
Rosen and his crew showed the replay and Tomlin multiple times. In a matter of seconds, the Steelers coach was public enemy No. 1.
"There was kind of a slow build to the reaction," Rosen said. "Then it was a matter of, 'Wow, wait till you see how they react when they see it was the head coach.'"
At this point, only people inside M&T Bank Stadium knew what was going on. It was a moment they all shared that nobody watching on TV knew anything about.
Immediately after, NBC's Cris Collinsworth started talking about the play Steelers cornerback Cortez Allen made in tackling Jones, despite one aerial shot that clearly shows Tomlin. A second replay ends just before Tomlin comes into the picture.
There was no mention at all of Tomlin by the NBC crew right after it happened.
It wasn't until Rosen showed the replays on the RavensVision boards, drawing the huge reaction from the crowd, that NBC caught on and showed the replay to the rest of the world. Now debate over Tomlin's intention is all the talk around the NFL. For Rosen and his team, it's one of the most fascinating spontaneous in-stadium experiences they've ever been a part of.