 has made a career out of being in the right place at the right time.
Coming into this season, though, it appeared that Reed's place might not be in the Ravens' defensive backfield, as a nerve impingement in his neck threatened not only his season, but potentially his career.
What little practice time Reed had during the preseason came while wearing a red, no-contact jersey. He didn't see the field until the season opener against Cincinnati, but much to the delight of the Ravens and their fans, Reed has been better than ever in 2008.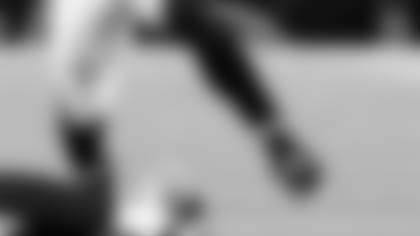 Rarely has that been more evident than Sunday night in the Ravens' 24-10 victory over the Washington Redskins. Reed picked off two Jason Campbell passes and forced a fumble by Clinton Portis before picking up the ball and taking it 22 yards for the touchdown.
Fans see Reed's explosive playmaking ability with the ball in his hands, but what makes him a superstar has been his uncanny knack for being in position to get the ball in the first place.
"Ed Reed is a great football player," said head coach **John Harbaugh**. "He's a great leader. He has game-changing impact. What else can you say? He's been doing it for a lot of years, and it goes beyond his ability to make plays. He's not just making plays back there. He's playing with tremendous discipline. He understands the offense he's playing against. He's been in position every single play. He's just a great football player."
Perhaps more than ever, Reed has relied on his legendary preparation to have an impact this season. Still bothered by the nerve impingement, Reed has nevertheless picked off five passes and scored three of his seven career defensive touchdowns.
The latest score came just over five minutes into the game. With the Ravens already up 7-0, having capitalized on a drive started by a Reed interception, Reed met All-Pro running back Clinton Portis in the hole. When the two former Miami Hurricanes collided, Reed was not content to bring Portis down. With teammate **Jim Leonhard** also dragging Portis down, Reed reached in and ripped the ball loose just before the back's knee hit the turf.
The ball trickled a few yards away before the seven-year vet scooped it up and glided down the right sideline. Met at the 2-yard line by a Washington defender, Reed spun out of a tackle and into the end zone, giving the team an early 14-0 lead.
"I was trying to rip it loose," Reed admitted after the game. "I was going for it a little bit, and it came out."
The Redskins challenged that Portis was down before the fumble, but the challenge was unsuccessful. It was Reed's second career fumble recovery for a touchdown; ironically, the first was also instrumental in a Ravens' victory over Washington.
"I didn't know if they were going to blow a whistle or not," said Reed, "but once they didn't blow a whistle, we are taught to finish the play and let them make the decision afterwards."
Finishing plays has never been a question for Reed, whose 107-yard interception return earlier this season broke his own record for the longest play in NFL history. But while his outstanding talent has made him a favorite in Baltimore since his entry into the NFL, Reed recognizes that he could not be successful without the precise preparation and dedication of the entire defensive unit.
"As a defense, we knew their offense pretty well. It was just a matter of communicating with our crowd being loud," he explained. "We knew it was going to be hard for them. It was just a matter of being on the same page and making plays. Guys made plays. That tipped ball on the first pick, somebody else made a play and I just did my job."
After having a direct impact on the two early touchdowns which put Washington in a hole it could never climb out of, it was appropriate that Reed's second interception of the day sealed the deal for the Ravens. Stepping in front of a pass intended for Chris Cooley, Reed snuffed out the Redskins' last-ditch effort.
"I don't see how you could not put him in the MVP conversation," Harbaugh said. "He scores on defense. He makes plays every single week. If he's not an MVP candidate, I don't know who is."
An MVP-caliber season seemed a longshot back in Westminster as Reed battled his neck injury. That has made it extra special for the four-time Pro Bowler.
"It's hats off to the trainers, and hats off to my doctor who I see every Friday," Reed said. "I just continue trying to focus. It's not easy, but at the same time, if I can be out there for my teammates and help, then I am going to be out there."
The Ravens are just happy that "out there" continues to be the right place for Ed Reed.