The Ravens suffered their first loss of the season Sunday, falling to the Raiders 28-27 at M&T Bank Stadium.
Here's a look at the game film to get a deeper look at what happened in the game and points you may have missed. (All of these plays were viewed using NFL Game Pass, which is available for fans to purchase.)
Ravens Get Creative In Run Game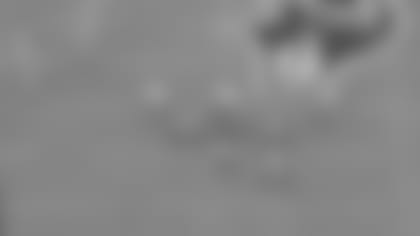 Making the move to Terrance West as the starting running back wasn't the only change to the ground game. The Ravens also looked for opportunities where they could scheme up some unique runs, and they go creative with that early in the game. The Ravens split out left tackle James Hurst and right tackle Rick Wagner, leaving just three down linemen in front of West and quarterback Joe Flacco. The Ravens ran out of the formation, and West picked up a 6-yard gain before a questionable holding call on center Jeremy Zuttah nullified it. Plays like this show that Offensive Coordinator Marc Trestman is looking for creative ways to jump-start the running game.
Steve Smith Sr. Can Make A Difference Without Football
Veteran receiver Steve Smith Sr. showed he's still one of the team's biggest playmakers on his 52-yard touchdown catch. But Smith also demonstrated that he can make a difference even when the ball isn't in his hands. On a pass to tight end Dennis Pitta early in the fourth quarter, Smith absolutely blew up a defender with a block that actually took two Raiders out of the play. Smith has said that he's always looking for opportunities to deliver the crushing block when the pass doesn't come his way, and that's exactly what he did on this play.
Michael Pierce Gets A Chance As Lead Blocker
Defensive tackle Michael Pierce was one of the surprises of training camp by making the roster as an undrafted prospect out of Samford. Pierce has played well as a rotational lineman during the first quarter of the season, and the Ravens are even putting a little more on the rookie's plate. They used him as a lead blocker for West in a goal-line situation, which is a role he actually played in college. Pierce threw himself right in the middle of the pile, but wasn't able to clear a path for West to get into the end zone.