For the last 12 weeks, Ray Lewis has been working his way back from a torn triceps tear to make one more run at a Lombardi Trophy.
That run will begin Sunday against the Colts at M&T Bank Stadium, and the veteran linebacker is expected to be full-go when the Ravens take the field. [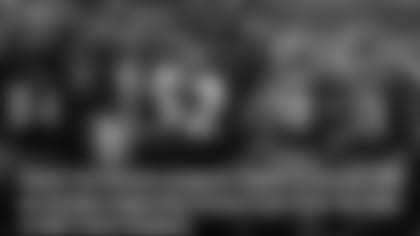 ](http://www.baltimoreravens.com/videos/videos/)
"He's ready to go," Head Coach John Harbaugh said. "He's going to play in this game. He should be full speed."
Lewis was a full participant in practice all week and is listed as probable on the final injury report. He told reporters earlier in the week that his arm feels 100 percent.
Leach Probable After Practicing
Fullback Vonta Leach (ankle, knee) is listed as probable on the final injury report after Harbaugh indicated that he had a good final day of practice Friday. There was some concern after he missed practice Thursday, but the Pro Bowl fullback appears to be fine.
"He looked pretty good today, so he might be OK," Harbaugh said.
Leach was a limited participant in practice Wednesday and Friday.
He has dealt with the ankle injury in the second half of the season and he also tweaked his knee in Sunday's game against the Bengals. Leach tweeted after the game that he would be ready to play against the Colts.
Leach left the Bengals game after the second play and didn't return, and veteran tight end Billy Bajema filled in at fullback.
Ngata Probable After Week Off
Defensive tackle Haloti Ngata was one of the players Harbaugh decided to rest last week against the Bengals, and the week off was just what the Pro Bowler needed heading into the playoffs.
"I feel great," Ngata said. "Last week definitely helped with what I think I needed and hopefully this week I can help the team win."
Ngata was a limited participant in practice all week and is listed as probable on the final injury report. After battling through injuries for much of the season, Ngata is getting his strength back and hopes to be a force for the playoffs.
Pollard, Doss and Reid Questionable
The Ravens have just three players listed as questionable on the final injury report.
Safety Bernard Pollard (chest), wide receiver Tandon Doss (ankle) and Jah Reid (toe) are all questionable.
Pollard has missed the last three games with the injury, and veteran James Ihedigbo started in place of him.
Doss, the team's No. 4 receiver, has missed the last two games. With him on the bench, the Ravens have given more snaps to Jacoby Jones and also given David Reed and Deonte Thompson some looks at receiver.
Reid played Sunday against the Bengals and has started the last seven games at left guard. If Reid is unable to play, the Ravens could look to veteran Bobbie Williams to fill in on the line.
19 Players Listed As Probable
The Ravens injury report is full of names this week, but they appear to be healthy as 19 players are listed as probable.
In addition to Lewis, Leach and Ngata, the other probable players are safety Ed Reed (shoulder), outside linebacker Terrell Suggs (biceps), wide receivers Anquan Boldin (shoulder) and Torrey Smith (knee), right guard Marshal  Yanda (shoulder/knee), linebackers Dannell Ellerbe (ankle), Adrian Hamilton (illness) and Albert McClellan (shoulder/thigh), tackle Kelechi Osemele (knee), running backs Anthony Allen (head) and Bernard Pierce (head), tight end Billy Bajema (head), cornerbacks Jimmy Smith (abdomen) and Chris Johnson (thigh), defensive end Arthur Jones (thigh).
Suggs, Boldin, Yanda and McClellan all had last week off to rest for the playoffs and are expected to be ready to play.
Colts Without Starting Guard, Five Players Questionable
The Colts are also dealing with a few injuries of their own, and they have already ruled out one starter for the game.
Left guard Joe Reitz (concussion) was ruled out Friday after missing practice all week.
The Colts also have five players listed as questionable, four starters. Safety Tom Zbikowski (knee), nose tackle Antonio Johnson (ankle), center AQ Shipley (knee) and right tackle Winston Justice (shoulder). The other questionable player for the Colts is reserve running back Delone Carter (ankle).
Zbikowski, a former Raven, has missed the last five games with the injury, but was able to participate fully in practice on Thursday and Friday. Justice, Johnson and Shipley were also able to practice fully during the week.
The Colts have 10 players listed as probable, including quarterback Andrew Luck (knee), linebackers Dwight Freeney (non-injury), Robert Mathis (non-injury), Pat Angerer (illness) and Jerrell Freeman (thumb), offensive linemen Bradley Sowell (illness) and Samson Satele (ankle), defensive end Cory Redding (quad), defensive tackle Kellen Heard (illness) and cornerback Teddy Williams (knee).