Odafe Oweh has off-the-charts athleticism, but underwhelming college stats. For that reason, the Ravens' first-round edge rusher has been labeled by some pundits as a boom-or-bust pick.
Baltimore and General Manager Eric DeCosta don't see it that way, however. The Ravens see Oweh as having a high floor and a sky-high ceiling.
DeCosta explained why on a recent appearance on "The Lounge" podcast, pointing specifically to how strong Oweh is against the run.
"We spent a lot of time on Oweh as a prospect," DeCosta said. "One thing that stood out about him was his size and speed, but also really how effective, and at times dominant, he was as a run defender."
DeCosta made a reference to the Ravens' top pick in 2012, Courtney Upshaw. That year, Baltimore traded back from pick No. 29 in the first round to No. 35 in the second round. That's where they took Upshaw, a rugged, physical edge setter from Alabama.
Upshaw turned out to be a solid pick. He helped the Ravens win a championship as a run-stuffing starter as a rookie, and even forced a key fumble in Super Bowl XLVII. Upshaw started for four years in Baltimore before moving on to Atlanta, where he played two more seasons.
"Courtney was a dominant run defender coming out, but his measurables were nowhere close – I mean nowhere close – to Odafe Oweh's measurables," DeCosta said.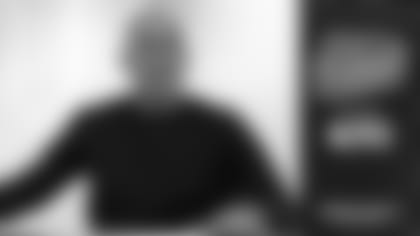 Eric DeCosta Breaks Down the Draft
General Manager Eric DeCosta talks about the Ravens' approach in the 2021 Draft, what he envisions from the top picks and much more.
The Ravens believe Oweh will be similarly strong against the run, but also brings much more potential as an explosive pass rusher.
"We saw the flashes as a pass rusher, we saw his ability to impact games, we saw his ability to disrupt. We've also seen young players who don't have sack production who get to the NFL and emerge. We've seen that repeatedly," DeCosta said.
"This is a guy that's a younger player, underclassman, tremendous physical gifts, critical factors, position specifics on the come. So we think his ceiling is extremely high. And, quite honestly, given the way that he plays the run – given his motor, given his toughness, given his intelligence – we think his floor is extremely high. For us, that's what makes him a great pick."
One prime example of a player that DeCosta is talking about is Minnesota Vikings defensive end Danielle Hunter. Hunter had just 4.5 sacks (fewer than Oweh) over his three college seasons at LSU, including 1.5 sacks in his final year. However, he showed phenomenal explosion and athleticism at the NFL Combine.
With a similar physique and playing style to Oweh, Hunter was drafted in the third round and put up six sacks as a rookie. He then posted 12.5 sacks in his second season and 14.5 each of the past two years. Hunter has a whopping 54.5 sacks (and two Pro Bowls) in his five seasons in the NFL.
The Ravens hope they can get that kind of breakout with Oweh. They'll utilize him against the run as he develops his pass-rushing tools to match his elite physical gifts.
"On first and second downs, this guy is going to be a highly effective run player, edge setter, he's going to chase down screens and draws, he's going to do all kinds of different things," DeCosta said. "Plus, he's got the pass rush on third down, the unusual size-speed combination, the speed, burst, twitch – all those different things. We think, with coaching, this guy is going to really emerge and become a great player for us.
"One formula is talent plus mentality equals success. If you get a really, really talented guy – if they have the right mentality, the right drivers, and personality – you have a chance to hit on something special."