Baltimore Ravens Super Bowl XLVII
Super Bowl XLVII Champions
An emotionally-charged and thrilling six weeks kicked off the Baltimore Ravens' 2012 campaign. Despite playing their first four games in an 18-day span, the Ravens produced a 5-1 record, marking the best start ever under John Harbaugh. Highlighted by a season-opening victory on Monday Night Football against division foe Cincinnati and an exhilarating, last-second triumph over AFC rival New England, the Ravens immediately demonstrated the type of heart and resolve that would allow them to conquer anything in an NFL season.
Climbing to 9-2, Baltimore tied (2006) the best record to begin a season in franchise history. Following their bye week, the battle-tested Ravens won four-straight games – three of which occurred in hostile road clashes. Though a rash of injuries to key contributors left them shorthanded, the Ravens remained relentless and emerged victorious in hardfought contests at Cleveland and Pittsburgh. Baltimore's grit was never more on display than in Week 12 at San Diego, when Ray Rice converted a fourth-and-29 catch – later voted "NFL Play of the Year" – to send the game into overtime and help capture the comeback win.
While able to secure the AFC North Title with a decisive victory over the New York Giants in Week 16, the Ravens closed out the regular season by dropping four of their last five games. This stretch included three-consecutive defeats – two by three points – to begin December, all against emerging playoff contenders. Many outsiders perceived the run of losses to be Baltimore's late-season demise, but the Ravens felt otherwise. As each wintry week passed, the team's resilient chemistry never faded, nor did its genuine belief that the best was yet to come.
On NFL Wild Card weekend, before a sellout M&T Bank Stadium crowd that celebrated and saluted Ray Lewis in his final home game, Baltimore pummeled the Colts, 24-9, kick-starting an incredible playoff run. Holding Indy without a touchdown, the Ravens' defense was led by Lewis, who returned to action for the first time since tearing his triceps in Week 6.
"I think we're all appreciative, grateful for the opportunity to be here and to witness this historic moment in sports," head coach John Harbaugh said after the win. "And, it wasn't just about one guy [Lewis]. Nobody understands it more than the one guy we're talking about. It was about a team. It was about a city, a fan base, a great sport, about a great career."
Fresh off an emotional victory over Indianapolis, Baltimore traveled to No. 1 seed Denver for a Divisional Playoff bout. Riding an 11-game win streak, the heavily-favored Broncos had beaten the Ravens, 34-17, in Charm City four weeks prior.
But despite its underdog status, Baltimore approached the game with the brazen attitude of a champion. It was a boldness reinforced by strength gained while facing adversity throughout the season. It was also a resiliency the team had developed and a brotherhood that leaders such as Harbaugh, Lewis, Terrell Suggs, Joe Flacco and Rice had cultivated from Day One.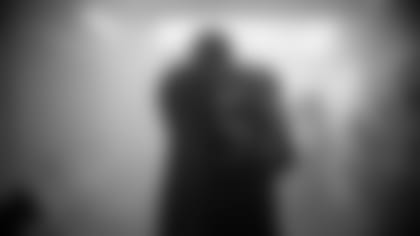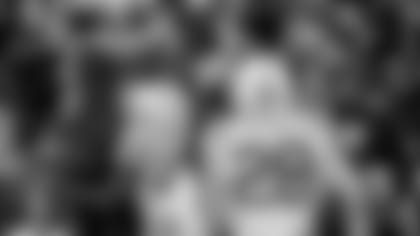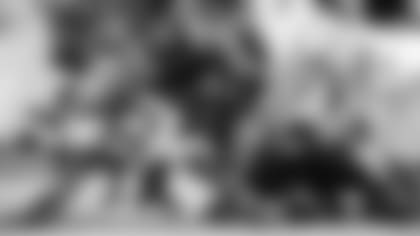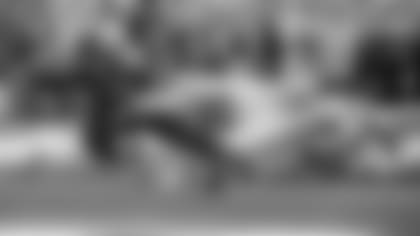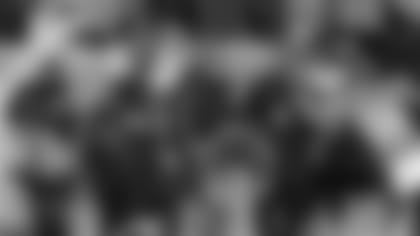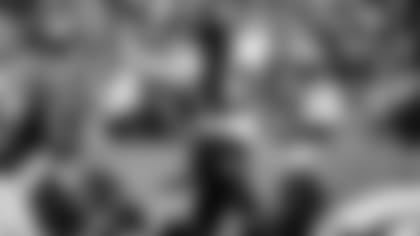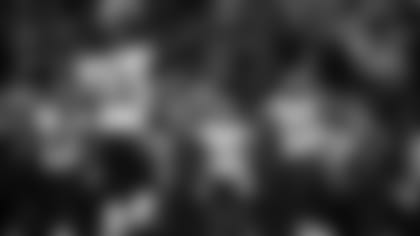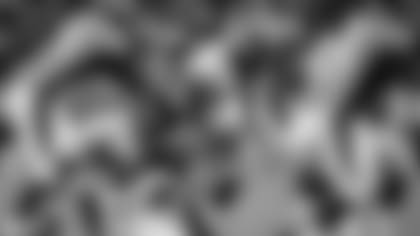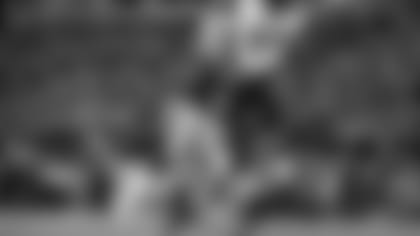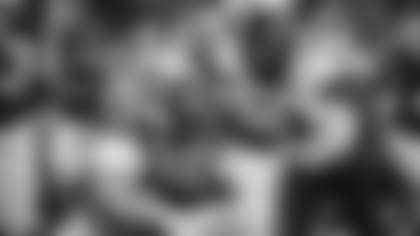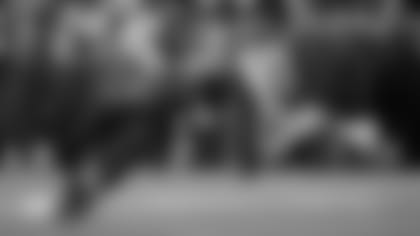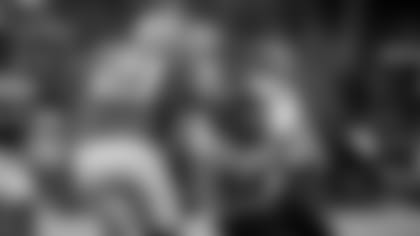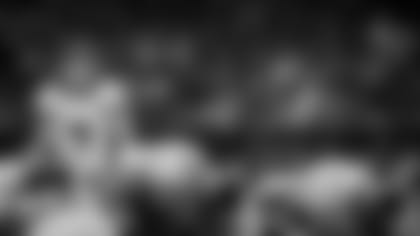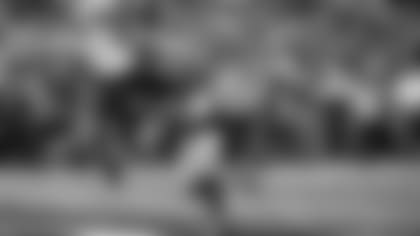 In what became the fourth-longest game (4:11) in NFL history, the Ravens outlasted the Broncos, 38-35, in double OT, producing an electrifying victory-turned instant classic.
Facing third-and-three with 31 seconds remaining in regulation, Flacco found Jacoby Jones, who had blazed past defenders down the right sideline, to manufacture an improbable 70-yard touchdown bomb. The crowd-silencing connection cut the deficit to 1, with Justin Tucker then quickly tying the game at 35 to force overtime. Near the end of the extra period, Corey Graham intercepted Peyton Manning, ultimately setting up a 47-yard game-winning field goal by Tucker in double OT and sealing the Ravens' 38-35 win.
"Thanks for bearing witness to one of the greatest football games you're ever going to see," stated Harbaugh after the victory, which sent Baltimore to the AFC Championship for a second-straight season and third time in five years. "That football game did the game of football proud."
Next up was an AFC Title bout with the No. 2 seed Patriots, who just 12 months prior had knocked out Baltimore in the exact same setting. Though the Ravens' hearts were battered following the 2011 playoff loss, the defeat served as an influential lesson and a unifying force. It was an outcome that simultaneously marked the bitter end of a poignant journey, but also some inspiration for a determined 2012 Ravens team.
All season long, as they grinded away for a chance to finish what they had started the year before, the Ravens got what they wanted. And this time, they didn't disappoint.
The Patriots, who owned the NFL's No. 1-ranked and highestscoring offense, were shut out in the second half by a dominant Ravens' "D" that found ways to constantly frazzle Tom Brady and pummel his normally-potent attack. In defeating New England, 28-13, Baltimore clinched a berth in Super Bowl XLVII, seizing the franchise's second conference title.
"Congratulations to our players, to our coaches," Harbaugh said. "[Tonight] was about a football team playing really good football in one of the biggest moments that football has to offer, and that's what I am so proud of as a football coach."
On Feb. 3, 2013, the AFC Champion Ravens battled the NFC Champion 49ers in Super Bowl XLVII. It was the first time in NFL history that two brothers, John and Jim Harbaugh, faced each other as head coaches in a championship game. "We've seen it all this year," Harbaugh stated before the game.
"We've had injuries; we've had adversity; we've had exhilaration; we've had great moments. That's what a season is made of. The team that navigates all these things the best, in the end, will be the one true champion."
And in the end, no team navigated its voyage better than the 2012 Ravens. In what would become a timeless NFL masterpiece – one bursting with drama at every turn – Baltimore defeated San Francisco, 34-31, becoming the NFL's one true champion.
After taking an early 28-6 lead, the Ravens produced a valiant goal-line stand to clinch their second Super Bowl title. Overcoming a feverish 49ers' second-half comeback and a bizarre 34-minute power outage in the third quarter, Baltimore started fast and finished strong, all while entertaining millions of spectators around the globe.
Spurred by Flacco, who was named the game's MVP after completing 22 of 33 passes for 287 yards and three touchdowns, the Ravens capped a remarkable journey – one that will forever live in football lore.
"We've got a lot of resolve. That's why we won the game," stated Harbaugh, who with the victory set an NFL record for most playoff wins (nine) in a head coach's first five seasons. "It wasn't perfect, it wasn't pretty, but it was us."