Newsletter - May 2019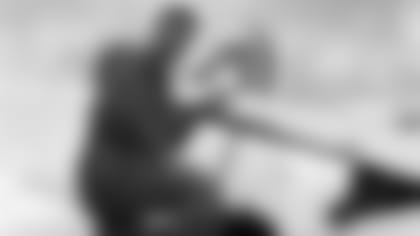 Heap Takes Flight
Former Ravens TE Todd Heap was invited by the Air Force Thunderbirds to go on the ride of his life! Taking off from Joint Base Andrews just outside of Washington D.C. on May 9, Todd received a full day's worth of military briefings before launching into the sky at over 1,000 MPH and pulling up to 9 G's at times during a thrilling 45-minute flight that included numerous turns, rolls and inversions. And through all of this, Todd did not pass-out or throw-up!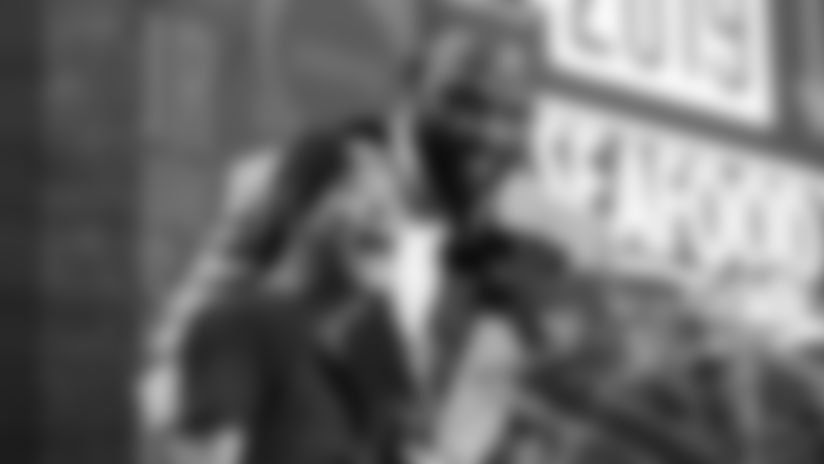 Legends Celebrate Draft Day
The Ravens added eight rookies to the roster during the 2019 NFL Draft in Nashville, Tenn. April 25-27 and brought back many former players the same weekend to welcome the new regime. Former Ravens LB Adalius Thomas was in Tennessee to announce the team's 3rd round selection. With the help of Ravens fan Miles Taylor, a 24-year old strength athlete with Cerebral Palsy who captivated the attention and admiration of millions with an Instagram video showing him deadlifting more than twice his bodyweight, the duo welcomed OLB Jaylon Ferguson from Louisiana Tech to the Ravens Flock.
The final day of the draft brought many new draft picks and even more Legends back to Charm City. Former Ravens RB Justin Forsett, LB Jarret Johnson, WR/RS Jacoby Jones, WR/RS Jermaine Lewis, DB Haruki Nakamura and DB Tom Zbikowski participated in the Ravens Flock Festival at Baltimore's Inner Harbor where thousands of fans celebrated the optimism of the team's newest draft picks and reminisced about the history created by Ravens Legends.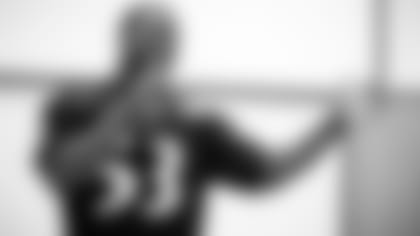 McClain Promoted
After almost two years in the Ravens front office as the Assistant Director of Player Engagement, former LB Jameel McClain has been promoted to Director of Player Engagement and will lead the team's efforts to support and educate players to help them succeed on and off the field.
To get in touch with Jameel, email him at Jameel.McClain@ravens.nfl.net.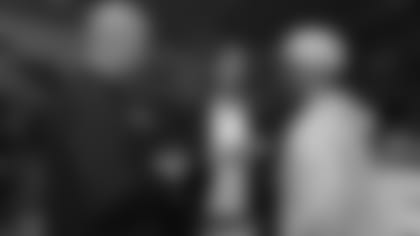 NFL Legends Cocktail Party
NFL Legends living in the Maryland-area were invited to the Ravens Under Armour Performance Center on May 1 for an evening of fun, fellowship and education. Former Baltimore Colts and Baltimore Ravens enjoyed cocktails and appetizers at the recently renovated training facility before receiving informational presentations by the NFL Legends Community and NFL Alumni Baltimore Chapter on benefits and resources available to former players.
To learn more about the NFL Alumni Baltimore Chapter, email current chapter president and former Ravens P Kyle Richardson at kyle.richardson@nflalumni.org.
NFL Legends Community
The NFL Legends Community was launched in October of 2013 to celebrate, embrace and connect former players with each other, their former teammates, and the League. Legends will learn about the benefits and exclusive opportunities available to them, as well as various events taking place throughout the country. The Legends Community works with all affinity groups (Hall of Fame, NFL Alumni Association, NFLPA's The Trust, Gridiron Greats, Player Care Foundation, etc.) and all 32 NFL Clubs to ensure players are utilizing all available resources.
To date, over 8,400 Legends across the country are registered. Registration is free and specifically limited to former NFL players. 
How to Register:
Go to Players.NFL.Com
Click "CREATE ACCOUNT"
Fill in ALL required fields (Name, Email, DOB, Team and Years played) and hit "Submit"
Once submitted, you will be notified of account approval
Building on the progress since the 2011 deal and enhanced collaboration between the NFL and NFLPA, the new 2020 CBA establishes unprecedented benefits to provide comprehensive support to Legends throughout their post-NFL lives.
The new deal commits nearly $2 billion in additional funds to provide extraordinary improvements in pension for more than 11,500 Legends, as well as expanded health care benefits and increased tuition assistance.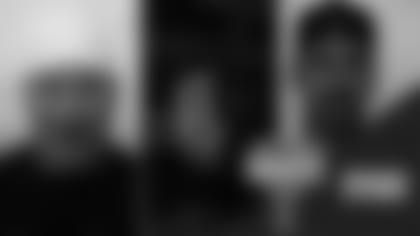 Crash the Draft
While the Ravens added 10 new Rookies to the squad during the NFL Draft in April, 19 Ravens Legends crashed Zoom parties around the country dropping in to surprise fans during Rounds 1, 2 and 3.
Legends who participated included:
DB Gary Baxter 
OL Jason Brown 
WR Mark Clayton 
RB Justin Forsett 
TE Todd Heap 
WR Qadry Ismail 
LB Jarret Johnson 
WR/RS Jacoby Jones 
FB Vonta Leach 
WR/RS Jermaine Lewis 
LB Ray Lewis 
OL Edwin Mulitalo 
TE Dennis Pitta 
LB Jamie Sharper 
DB Duane Starks 
K Matt Stover 
LB Adalius Thomas 
TE Daniel Wilcox 
DB Cary Williams 
Season ticket holder, Michael Ward, was one of many fans to note how much the Legends outreach meant to them – "Thank you so much! This is such an amazing experience during these crazy times."
Long Term Care Plan
Vested Former Players are eligible to apply for Long Term Care insurance coverage through Transamerica from age 50 through 75. The current open enrollment period will run through Friday, May 31. Spouses of eligible Former Players are also eligible to apply for coverage and are eligible for significant discounts, however, they will be responsible for paying their own premiums. Eligible Former Players who are not already enrolled in the Long Term Care Plan received a mailing from Transamerica notifying them of the coverage available and the open enrollment period.
Discount Prescription Drug Program
A discount prescription card, which provides savings on prescription medication at more than 57,000 pharmacies nationwide, is available to Vested Legends and their eligible dependents after Continuing Veteran coverage ends. To enroll in the program, contact the Former Player Life Improvement Plan Customer Service Center at 800-NFL-GOAL.
Medicare Supplement Benefit
At age 65 or older, Vested Legends are eligible to receive a monthly subsidy of up to $160 when enrolling in a Medicare supplement policy available to Legends through United Healthcare. To enroll in the program, contact the Former Player Life Improvement Plan Customer Service Center at 800-NFL-GOAL.
Collectively Bargained Player Benefits Summaries
Summaries describing all Player Benefits available to Vested Former Players and Pre-1993 Vested Former Players are attached.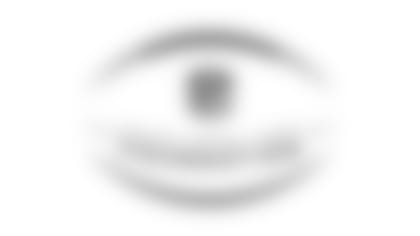 Youth & High School Football Coach Grants
Former NFL players who currently serve as coaches (beyond a volunteer basis) for youth or high school football teams are eligible to receive up to $8,000 in funding for their football programs. This grant does not require a financial match and grants are awarded based on both need and merit of the application.
Grant applications will be accepted until November 2019.