Baltimore Ravens Official Ravens License Plates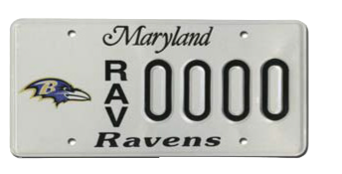 The Ravens Foundation (RF) is the team's charitable arm committed to encouraging and enabling the healthy development of youth in Baltimore and other parts of Maryland. Over the 2022 offseason, through the Ravens' signature project, the Ravens Foundation invested $200,000 into Franklin Square Elementary / Middle to help transform and beautify the school. Previous projects and renovation sites include Curtis Bay Elementary school (2021), Edgecombe Circle (2020,21), Webster Kendrick Boys and Girls Club (2019), Douglass Homes (2018), Mary Ann Winterling Elementary School (2017), Ravens Bookmobile (2016) and Charles Carroll Barrister Elementary #34 (2015).
In July, the foundation also distributed $100,000 in grants to area nonprofits to increase youth physical activity and nutrition education. Ravens license plates cost $55, which includes the $25 MVA fee and a $30 tax-deductible gift to the Ravens Foundation.