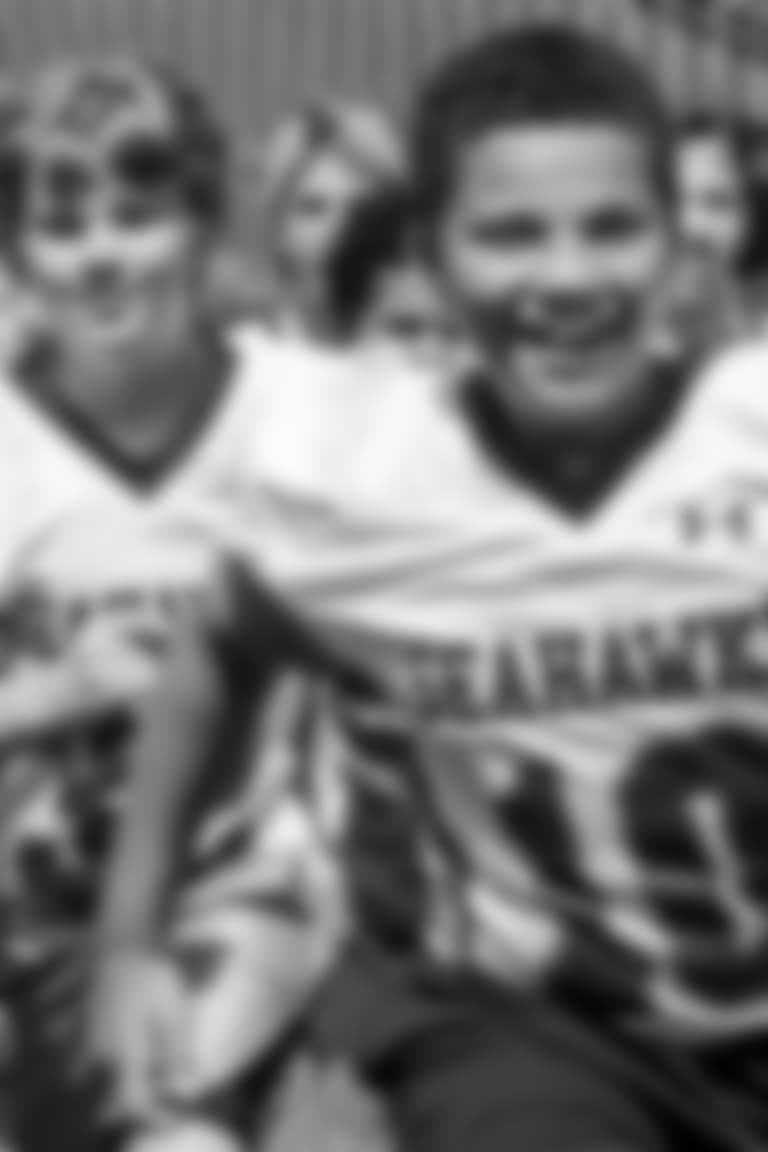 Ravens Foundation
The Baltimore Ravens Foundation serves as a separate non-profit entity of the team's community outreach efforts.  In addition to ravens appearances and in-kind donations, the foundation provides support to Baltimore area non-profit organizations. Ravens players are also active in the community through individual foundations of their own.
The Baltimore Ravens and Ravens RISE are committed to improving, encouraging and enabling the development of youth football in the Baltimore-area. With the support of Under Armour, youth football programs throughout Maryland are invited to apply for a Ravens Youth Football Grant for the opportunity to outfit all players in their program in either brand new jerseys or cleats.
NEW IN 2018: Applications for grants must be submitted by program – not by team as requested in years past.
For example: the Baltimore Ravens 8U, 12U, 14U, etc. would not apply for this grant, but the Baltimore Ravens program as a whole would submit an application for consideration of all the players on all their teams to be awarded either jerseys or cleats.
Entering its seventh year, this grant has served over 3,000 area children providing them jerseys, cleats and other football accessories.
2017 Ravens Youth Football Grant Recipients
Baltimore Stallions Academic and Sports Program; Baltimore Terrapins Youth Football & Cheer; Benjamin Franklin High School; Brooklyn Park Broncos; Caesar Rodney High School; Cumberland Valley Midget Football Association; East Baltimore United Bills Youth Football and Cheerleading, Inc.; FCA Bucks; Frederick Steelers; Gettysburg Area High School & Middle School Football; Indian River High School; Milford High School Football; Northwest Bulldogs Football; Northwood Football League, Inc.; Oldtown Gators; Peninsula Athletic League; South Baltimore Bulldogs; South Caroline Mustangs
If you have any questions about the grant, please email RavensRISE@ravens.nfl.net.
The Ravens Foundation, Inc. is committed to improving, encouraging and enabling the healthy development of youth in the Baltimore area, as well as other parts of the state of Maryland. For the 12th -consecutive year, the foundation is executing the Ravens PLAY 60 Grant, which provides funding of up to $5,000 to qualifying nonprofit organizations that create and/or continue programs or projects promoting physical fitness and nutrition education.
The grant program continues the foundation's commitment to increasing physical activity among area youth and seeks to encourage healthy youth activities. The Ravens will consider funding requests that meet the following criteria:
Organizations that submit requests must be a 501(c)(3) organization.
Programs or projects must be directed at youth (5-18) and must promote physical fitness and/or nutrition education.
Nonprofits must illustrate a programming component with measurable goals in order to be considered. Through the Ravens PLAY 60 Grant, the Foundation will not consider funding for the construction of buildings/fields/etc.
Programs or projects must take place in Maryland.
ll applications MUST be submitted via hard copy mail. Hard copies can be mailed to: Attn: Community Relations 1 Winning Drive, Owings Mills, MD 21117
For more information about the NFL Play 60 initiative, visit: www.nfl.com/play60
July 27, 2018
Ravens Foundation Grant Awards Announcement
The following are examples of grants made through this project from 2017:
Girls on the Run of the Greater Chesapeake, an independent council of Girls on the Run international, inspires 3rd – 8th grade girls to be joyful, healthy, and confident using a fun, experience-based curriculum that creatively integrates running. The program combines training for a 5K with an interactive 10-week curriculum targeting the promotion of pertinent life skills and development of a lifelong commitment to physical activity and healthy living. The iCARRe Foundation provides free baseball clinics for youth ages 5-9 and introduces youth to baseball, it's rules, regulations, and basic skills. St. Francis Neighborhood Center, which serves elementary and middle school-aged youth, aims to educate Baltimore City students on healthy living via nutritional workshops, field trips introducing students to new sports, and participating in several community-health focused service projects.
Through this grant program, over $1.1 Million has been distributed to area nonprofits over the last 11 years, funding 200 programs and impacting more than 25,000 Baltimore-area youth.
2017 Ravens PLAY 60 Grant Recipients:
10:12 Sports; Annapolis Recreation and Parks; Baltimore Area Special Hockey; Baltimore City Recreation and Parks; Baltimore Community Rowing; Baltimore County Public Schools-Allied Sports Program; Baltimore SquashWise, Inc.; Boys and Girls Club of Cecil County; Boys and Girls Club of Harford County; Charm City Youth Lacrosse; Friends of Patterson Park; Girls on the Run of Central Maryland; Girls on the Run of the Greater Chesapeake, Inc.; Horizon Day Camp; iCARRe Foundation; Kids Enjoy Exercise Now (KEEN); KIPP Baltmore Inc.; Lutherville Timonium Rec Council - Soccer; Maryland Agricultural Resource Council; Maryland Community Health Initiatives; Mount Lebanon; Mt. Washington Pediatric Hospital (MWPH); Springboard To Opportunities; St. Francis Neighborhood Center; Team Captain Kids Foundation; Umar Boxing Program, Inc.; University of MD St. Joseph's Medical Center
Baltimore Ravens Scholarship Program
Five (5) $5,000 scholarships (renewable)
The Baltimore Ravens established this scholarship program to enable local youth to continue their education on a collegiate level. The team has a long-standing history of service to local communities, and this fund will support those who do the same. In addition, this renewable scholarship will be based on financial need and academic achievement. The $5,000 scholarship is renewable, and open to high school seniors who attend Baltimore City, Baltimore County or Carroll County public high schools. Applicants must also be U.S. citizens or permanent residents.
2018 Ravens Scholars:
Victoria Able, City Neighbors High School
Adonijah Bourne, Owings Mills High School
Kyra Davis, Baltimore City College
Ashley Pena, Digital Harbor High School
Clarity Willoughby, Carver Vocational-Technical High School
Official Ravens License Plates
The Baltimore Ravens have announced the release of the official Ravens license plate, offered by the Maryland Motor Vehicle Administration. More than 3,000 plates are currently on the street, resulting in a $120,000 donation to the team foundation.
The Ravens Foundation (RF) is the team's charitable arm committed to encouraging and enabling the healthy development of youth in Baltimore and other parts of Maryland. Recent foundation projects include the renovation of the football stadium at Baltimore Polytechnic Institute and the playground at Collington Square School in north Baltimore City. In July, the foundation also distributed $100,000 in grants to area nonprofits to increase youth physical activity and nutrition education. Ravens license plates cost $55, which includes the $25 MVA fee and a $30 tax-deductible gift to the Ravens Foundation.
Ravens' Current Charitable Partners
Reading Partners Baltimore - Reading Partners places community volunteers in low-income schools to help kids master basic reading. By partnering with Baltimore community members and leaders from local school districts, government, corporations, community organizations, universities, churches, and more, Reading Partners is mobilizing the people who care about Baltimore's children to give back to local schools in a meaningful way. The ultimate goal is a future where every child in Baltimore has the support they need to become strong readers and lifelong learners.
Bridges - Bridges is an academic and cultural enrichment program for Baltimore City youth that enables long-term student success inside and outside of school. Baltimore City students enter either Bridges at St. Paul's School or Bridges at Gilman as early as the summer after third grade and stay involved in programming (various summer, school time and mentoring opportunities) through the end of high school.
Playworks Maryland - The mission of Playworks is to improve the health and well-being of children by increasing opportunities for physical activity and safe, meaningful play. The 2014-15 school year marks the 10th year of Playworks in Maryland, with the program expanding to 24 Baltimore-area schools, providing approximately 11,000 students with the opportunity to engage in healthy, inclusive play and physical activity each school day.
Athletes Serving Athletes - The organization's mission is to empower athletes living with disabilities to train and compete in mainstream running and triathlon events. Athletes Serving Athletes (ASA) uses athletic activity as a catalyst for personal development – improving physical fitness, increasing self-esteem and empowering challenged youth to meet their highest potential. ASA's WingMan program allows able-bodied volunteers to lend their hearts and legs by participating alongside ASA athletes in all training sessions and racing events. The organization's reach extends from Baltimore City throughout the Mid-Atlantic region, offering mentoring, training and competitive opportunities.
Sisters Circle - A comprehensive, relationship-based program designed to mentor disadvantaged girls in Baltimore during their challenging transition to middle school, throughout college and into college.