Round 2 – WR George Pickens, Georgia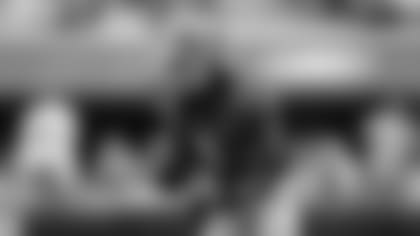 "Lanky perimeter wideout with exciting ball skills but in desperate need of additional play strength and a clean bill of health. Resilient to make it back so quickly after an ACL tear, but needs to show quick-cutting ability for route-running. Pickens possesses borderline elite ball skills with in-air adjustments, strong hands and an enormous catch radius." – Lance Zierlein
Round 2 – OT Bernhard Raimann, Central Michigan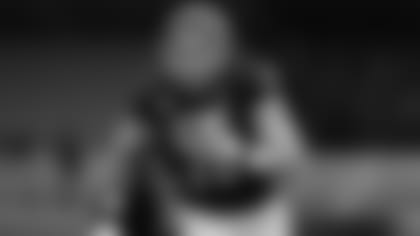 "With alluring athleticism and an impressive skill set, Raimann is just scratching the surface of his potential. His initial transition from tight end to left tackle occurred in 2020 amid the COVID-19 pandemic, making his rapid transformation fairly remarkable. He is a much better technician than he should be at this stage, but his approach is also mechanical and he could struggle against sophisticated edge defenders until he learns to diversify his pass sets and hand usage." – Zierlein
Round 2 – CB Kyler Gordon, Washington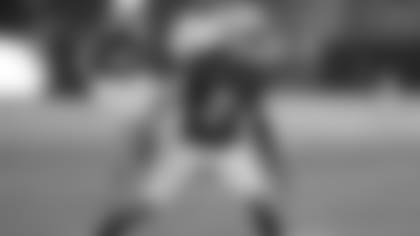 "Cornerback who comes with an elite, high-performance engine but a GPS still in the process of loading. Gordon's dynamic athletic qualities will show up in testing, but more importantly, they are all over his tape. His blend of play strength and explosive burst affects the passing game from press, off-man and zone coverages. He plays with an alpha demeanor and hitting is definitely part of his overall package." – Zierlein
Round 2 – OLB David Ojabo, Michigan
"Emerging edge defender who should see a substantial leap in play consistency with more time to work on his technique and learn the game. The upside is evident, despite his inexperience. … He's not ready to take on pro run blockers, but Ojabo is in the early stages of his physical and play development. The Achilles tear he suffered at his pro day is likely to hurt his draft stock, but it will be hard for teams to pass on his upside if he remains available in the second round." – Zierlein
Round 2 – CB Roger McCreary, Auburn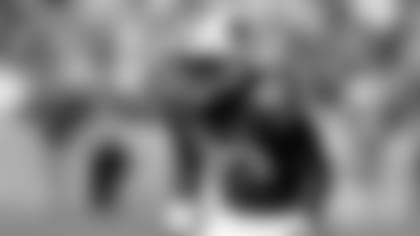 "Press-man cornerback with physical limitations that could create occasional roller-coaster matchups on Sundays. McCreary is aggressive, with the play strength to bully the release and alter route timing. He lacks fluidity in lateral transitions from off-man and lacks make-up burst to stay connected to cross-country routes. Tall receivers have advantages on jump balls and fades, but finding catch space will be a chore for opponents when he's in phase on vertical routes." – Zierlein
Round 2 – LB Quay Walker, Georgia
"Walker had to wait his turn at Georgia, but he has become a well-schooled, instinctive linebacker ready for the NFL game. He has good size and clear eyes from the second level, with a talent for recognizing play design. He plays disciplined, team-oriented football but is unlikely to become a top-level playmaker as a pro. His chase speed and body control are just average when ranging to tackle or covering in space." – Zierlein
Round 3 – OT Daniel Faalele, Minnesota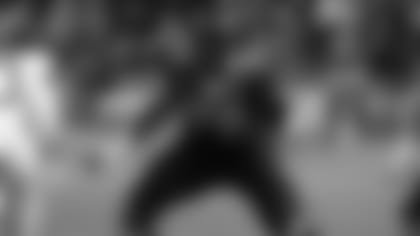 "Enormous right tackle prospect who often feels like he's going through an internal checklist of movements rather than cutting it loose and playing. Faalele has been able to overwhelm and move opponents with his sheer mass but might need a little more spice in his play demeanor to become a more willful, nasty block finisher against NFL linemen. He's ready to stuff a face-up rush attack right now, but lacks the lateral change-of-direction quickness to succeed if left out on an island against speed." – Zierlein
Round 3 – CB Coby Bryant, Cincinnati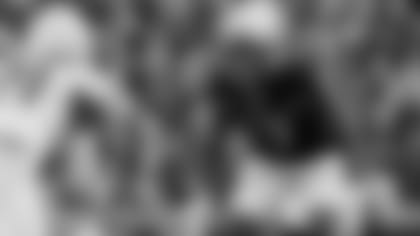 "Productive four-year starter whose experience sharpened his football IQ and leadership qualities. Bryant has good size and can be a real-time route reader, with above-average ball skills and an anticipatory brand of coverage. He will need help against NFL deep speed and could struggle in an off-man capacity when he has to transition and match route breaks throughout the game." – Zierlein
Round 3 – LB Chad Muma, Wyoming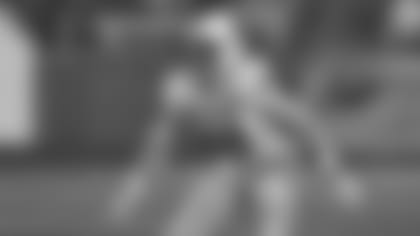 "A high-cut linebacker, Muma has a nose for the football but his methodology for getting there will need an upgrade to earn NFL playing time. He falls prey to false steps and wasted motion at times. He has a see-ball, get-ball mentality and hunts runners with good build-up speed and an aggressive demeanor." – Zierlein
Round 3 – EDGE Joshua Paschal, Kentucky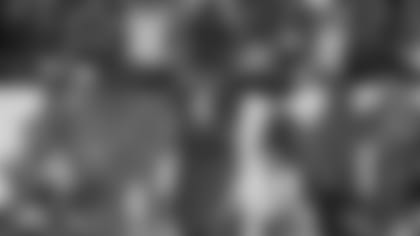 "Fully grown defender with the play strength and versatility to contribute in odd or even fronts. Paschal's urgent, full-tilt demeanor helps him control his fair share of engagements, but it also leads to occasional lapses in footwork and balance. He's like a block of granite at the point of attack with low pads and a heavy anchor. He has the twitch to see-and-shed against single blocks and the range to make a tackle a gap away." – Zierlein
Round 3 – WR Alec Pierce, Cincinnati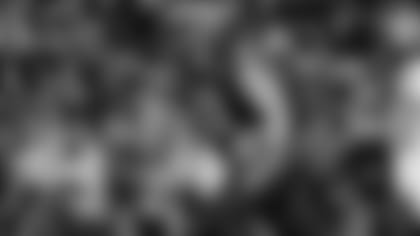 "Pierce was a mismatch as a deep-ball target at Cincinnati, but is more likely to be tabbed as a possession receiver with the ability to create some downfield trouble as a pro. He plays a physical brand of ball and has combat-catch toughness, which is important because he's not an elusive route runner. He can work underneath or challenge a bigger, slower cornerback deep, but the route tree is going to be limited."
Round 3 – OT Nicholas Petit-Frere, Ohio State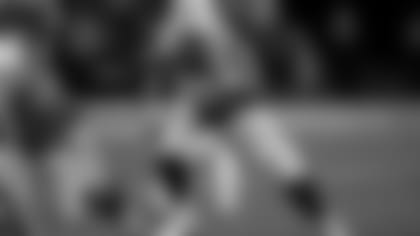 "Talented, athletic left tackle prospect who needs more time to develop before he's ready for next-level edge attacks. Petit-Frere possesses clutch strength and mirror quickness in pass pro but is soft on his edges, which will be identified and attacked until his play strength and hand-fighting improve. His inability to stalemate stronger players with consistency is a real concern in any scheme."
Round 3 – OG/C Luke Fortner, Kentucky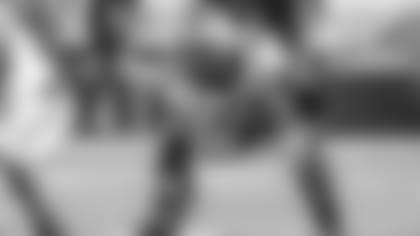 "Center prospect with outstanding character, leadership and intelligence to go with position flexibility. Fortner has a proportional frame with adequate length and room to get bigger. He plays with above-average body control and hand usage to maximize his leverage and is consistent at the point of attack. He's not a bad athlete but has issues timing his work-up blocks, which limits his second-level success at times." – Zierlein
Round 4 – RB James Cook, Georgia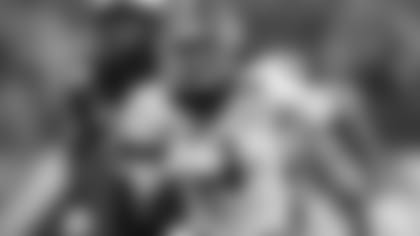 "Change-of-pace runner with vision and flow but a lack of functional play strength. The younger brother of Vikings running back Dalvin Cook, James has his brother's one-cut talent and ability to stack cuts seamlessly through the second level. However, he is missing his big brother's build, contact balance and toughness between the tackles, which will surely cap expectations and asks from an NFL club." – Zierlein
Round 4 – OT Rasheed Walker, Penn State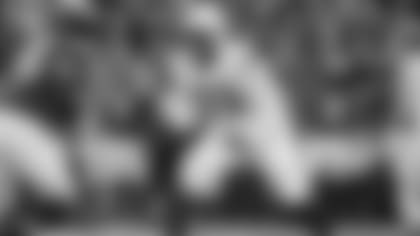 "Walker possesses enticing power and measurables but has issues that could be challenging to correct if he stays at tackle. Ohio State defenders were able to burn up his outside edge, which creates concern about his pass pro range, but it can be hard to beat his anchor with pure power. … He's capable as a run blocker and should keep getting better with more hand work." – Zierlein
Round 4 – CB Tariq Castro-Fields, Penn State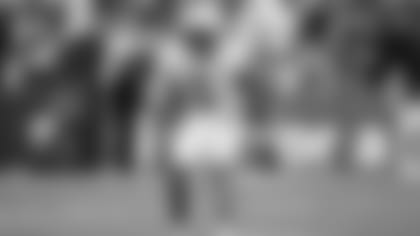 "Perimeter cornerback with appealing size and traits for press-man, but confidence and consistency were missing from his 2021 tape. Castro-Fields' length, strength and athleticism are likely to be viewed as moldable features by defensive back coaches. However, he is missing the desired stickiness to the route and lacks spatial awareness and ball-hawking instincts from zone." – Zierlein
Round 4 – EDGE Alex Wright, UAB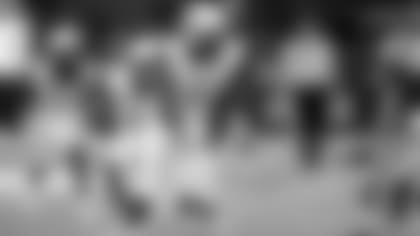 "Developmental defensive end who is still growing into his body and his position. Wright will likely look much different in pads within a couple of years. His current play lacks recognition, sophistication and technique. However, he's a young player who flashes and still posts good rush production, albeit versus lesser blockers." – Zierlein
Round 4 – TE Chigoziem Okonkwo, Maryland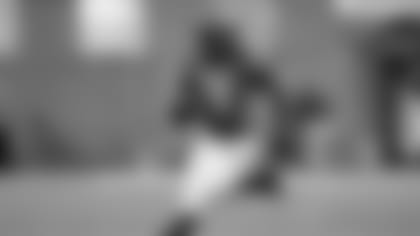 "Muscular, short-armed tight end with explosive athletic traits who could make for a challenging projection. Okonkwo has the physical tools to become better as a route runner and blocker, but he's still very raw in both facets. He's talented after the catch but his hands are very average and he's still in the developmental phase, so finding a way to get the ball in his hands could be tough early on." – Zierlein
Round 4 – TE/C Zach Tom, Wake Forest
"Center prospect who spent the last two seasons at left tackle. Tom was extremely impressive in pass protection at tackle despite a lack of desired size or length, but he's likely headed back to center in the pros. He plays with technique and plus body control, but his aggression level is a little lacking in the run game and his mass is below average." – Zierlein
Round 4 – WR Kevin Austin Jr., Notre Dame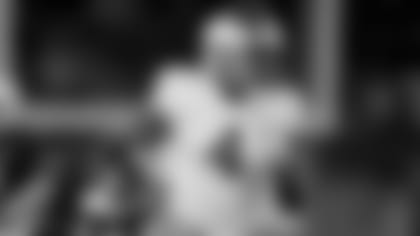 "Austin's progression in 2021 might force evaluators to tear up early season notes and pay closer attention to his second half of the season. Despite noticeable in-season improvement, he hasn't played much college football and should require a little longer developmental period for route-running, catch consistency and instincts for the position. His size, traits and ball skills on deep throws are instant checkmarks in his favor and his reputation as an elite practice player earlier in his career should carry some weight." – Zierlein