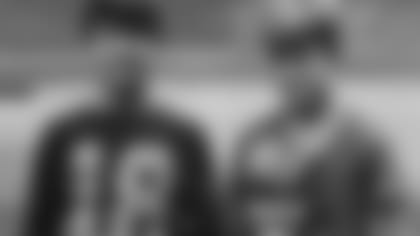 An 11-year-old John (left) poses for a picture outside the family's home in Ann Arbor, Mich., with brother, Jim, and little sister, Joani. John is 15 months older than Jim.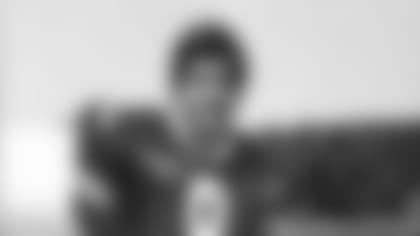 John played defensive back at Miami (Ohio) University, where he won the Football Scholar-Athlete Award and graduated with a degree in political science.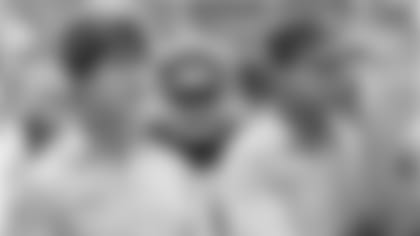 John's first taste of coaching came in 1984 when he served as a graduate assistant on Jack's staff at Western Michigan. John coached for three seasons under his father. Jack later won the Division 1-AA national championship at Western Kentucky in 2002.
As for John, his journey to become head coach of the Ravens can be traced back to childhood memories. They are times shared with his father – impactful moments and experiences – that shaped who he is and guided him along the way.
**
Filled with excitement, John eagerly awaited his introduction. Just as focused and wound up, Jack and Jim were also in prime position. The time had come for the trio to put on a show.
Such was life in the Harbaugh household when John was growing up, or as he succinctly describes: "Everything we did was competitive fun. And Dad was always instigating it."
**
As youngsters – at schools such as Bowling Green, Iowa and Michigan – John and Jim spent a great deal of time around Jack's football teams. The brothers were fixtures on the practice fields, soaking up every bit of interaction they had with players and coaches.
"Something happened during practice, and Bo came running into the secondary," John recalls. "Bo was yelling at him, and Dad said something and started walking away. I saw Bo running, and I said, 'Oh geez!' Dad turned around, and Bo was right in his face. Dad looked directly at him and didn't say anything – he was very respectful – but he didn't wilt either. I was very proud of him, and afterwards, all the players in the secondary where yelling his name, like, 'Yeah, Jack!' because they felt he was sticking up for them."
**
After finishing his playing career as a defensive back at Miami (Ohio) University, John began calculating his next steps in life. A scholar-athlete who graduated with a degree in political science, he set sights on attending law school. However, after experiencing a change of heart, John switched gears to take a stab at the "family business."
"What I also saw was this amazing camaraderie of being a part of the coaching team. I asked myself, 'Honestly, what job could be better?' You can now have that camaraderie you experienced as a player and keep it the rest of your life while doing your job."
**
John spent 14 years as a college assistant. He bounced around several schools, coaching the most seasons (eight) at the University of Cincinnati. Though he never served as an offensive or defensive coordinator, he tutored nearly every position, becoming somewhat of a jack-of-all-trades. He contends that the years in Cincinnati were some of his favorites (the team produced several winning seasons, and he also married his wife, Ingrid). However, John began to feel "bogged down" there and realized he was ready for a new challenge.
Believes Like You Do**
In 1997, John "got a break" when he was hired as the special teams coordinator at Indiana, where Cam Cameron held head-coaching duties. John had spent only one season working with the Hoosiers when the Philadelphia Eagles came calling and offered the same position.
"When I went to Philly, I said: 'This is your chance. This is your chance, and you've got to make the most of it.'"
With the Eagles' special teams units consistently excelling during his tenure from 1998-2006, John capitalized on his newest opportunity. As he continued to raise personal and team goals each year, the Eagles' success mounted, and so too did his knowledge and experience. As the only assistant coach who worked with nearly every player on the roster, John regularly prepared for and focused on everything that would enhance the probability of becoming an NFL defensive coordinator or head coach.
Again though, similar to the adversity he faced collegiately, opportunities to advance were few and far between. Even when the Eagles made him their secondary coach in 2007, John would tell Jack, "Maybe I'm just not on the right path."
"I was pretty sure I wasn't going to get a chance," John states. "It was difficult to move up this way. It wasn't a specific path – like strictly coaching quarterbacks – that so many other [head coaches and coordinators] had followed. I knew Dad felt that I was a really good coach, but I just didn't have the résumé or credentials to get a top job."
However, that all changed when Ravens owner Steve Bisciotti entered the picture. After receiving several top-notch recommendations from people throughout the league – and then shining during a grueling interview process – John Harbaugh was hired as the third head coach in franchise history.
"Words can't describe how I felt," John admits. "When it did happen – and it could only happen with a guy like Steve Bisciotti – for Steve to do that, well, I was stunned. I knew the interviews went well and that we were a good fit, but for me to tell my dad, 'Hey, somebody else sees it and believes it like you do,' there are just no words."
When Jack received John's phone call announcing the official news, he too was overwhelmed with unspeakable emotion. It was a moment he best describes as surreal – something that blessed him with the purest sense of pride.
"You could just hear the thrill in John's voice," Jack affirms. "He had achieved that moment of success, and there was no doubt in my mind that he was going to make the most of it.
"Jackie and I were in this profession 43 years," he adds, "where we had those kinds of moments – things like being on the coaching staff at Michigan or being a head coach – which were thrilling for me. But to me, when your youngster can have a similar type of success, and you can hear it in his voice, and you share it with him, it's far more gratifying than anything you experience in your own life."
Proof again, that Jack has never been one to shy away from emotion.