Aloha, Ravens fans! It's Tasha from your Ravens cheerleaders, here to bring you some sunny thoughts from the 2009 NFL Pro Bowl! 
Back in December, I received the greatest surprise of my life when my teammates and coaches selected me to represent the Ravens cheerleaders at Pro Bowl this year. Believe me when I say that *every day *I am so grateful to them for this honor! From the moment I found out the wonderful news, life became a whirlwind of learning twelve different routines from DVDs and practicing hours each day to prepare for the 8-day trip. Our former Pro Bowl cheerleaders had told me that, while it would be an amazing experience, it would be a lot of hard work. I can now say with complete confidence that they were right!
Many mixed emotions fluttered through me on the way to the airport during the cold, early morning hours of February 2nd. I was so excited, but I was equally nervous. Entering a whole new place with all new people can be intimidating. On the plane to Oahu, though, I immediately began to feel more at ease, as there were seven other Pro Bowl cheerleaders on board!
Needless to say, there was a lot of excitement in the air, and it was so nice to get to know some of the other cheerleaders before touching down in Honolulu. After a total of thirteen hours of traveling, we were excited to get to our hotel, the beautiful Sheraton Waikiki, unpack, and meet our roommates! My roommate turned out to be the wonderful cheerleader representing the Arizona Cardinals!
We got our bags and took some pictures (a trend for just about everything we did all week!), and then we were on our way! As we drove and talked excitedly, I couldn't help but soak in the beautiful scenery and tiki torch-lined streets leading up to the hotel. I was truly in paradise!
The following morning really set the tone for the week. Our directors were amazing, and as they gave their welcoming speeches at breakfast, we learned quickly how positive and inspiring the week would be. They emphasized the role of "compressed time" and how it would factor in throughout the week. As we would normally have several months with our home teams to practice material and solidify as a squad, we would have only ONE DAY at Pro Bowl to get ready before the first performances of the week began!
One of the directors put it very well when he said, "A play can capture a lifetime in two hours. A song can sum up the feeling of a generation in one line." It's all about fitting as much as you can into a short period of time.
Breakfast that day was followed by our team photo shoot and a ten-hour practice! Yes. Ten hours. Add in the exhaustion from traveling and the five hour time-difference, and I was more than a little concerned about my ability to remain standing at the end of the day.
But as we walked out to the pool area all dressed in our different team uniforms and took our places for the picture, I was completely rejuvenated! The practice that followed was long, but we truly needed every minute of the ten hours for polishing the twelve routines we had learned prior to our arrival, as well as setting our AFC and NFC lines and formations. We also learned an additional routine that would be performed at pre-game! Compressed time.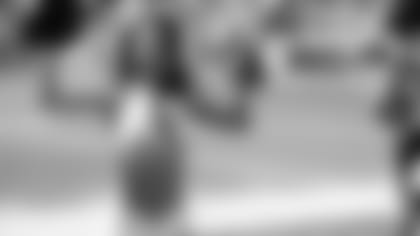 The next morning consisted of another three-hour practice and a quick lunch before my line, called AFC2, was off to our first performance at the Aliamanu Military Reservation! My line was made up of the cheerleaders representing the Oakland Raiders, New York Jets, Tennessee Titans, Buffalo Bills, San Diego Chargers and Indianapolis Colts, all of whom were just amazing! We performed two routines, and then got to spend some time with the many families and children in attendance.
One young girl, a Ravens fan, even gave me a purple sharpie! My feeling that Ravens fans are the best was confirmed!! That evening, we got to attend an authentic luau, complete with performances by hula and fire dancers. We received beautiful flower leis, ate delicious Hawaiian fare, and just enjoyed being able to relax by a Hawaiian sunset!
The next morning was our first practice at Aloha Stadium! It was thrilling to walk through the tunnel and onto the field for the first time. I immediately thought of the excitement I always feel running out onto the field at the start of a Ravens game! We spent several hours rehearsing our material before heading back to the hotel to film bumpers for NBC (those quick segments you might see on TV between the game and commercials). The sun was bright and warm at our stadium rehearsal, but I unfortunately got ridiculously sunburned on just one arm. I spent the rest of the day either hiding or explaining that one!
The next day, I had my first hours of free time since I had arrived, so some of the girls and I decided to sit by the hotel pool and catch a few rays! I hoped to even out my weird sunburn. Afterwards, we took a walk on the beach and found it hard to believe it was February! The water was a little chilly, but the sun and scenery were amazing. I felt as though I had stepped into a postcard.
But alas, even free time was compressed! That afternoon, I was scheduled with three other cheerleaders to conduct a dance clinic for the cheerleaders of the NFL Japan, which turned out to be one of my favorite activities of the week. The girls we met were extraordinary dancers and learned so quickly, despite the fact that we did not speak the same language!
We exchanged pictures afterwards, and they even gave us t-shirts picturing every different Pro Bowl logo since 1980. That night, my line was set to perform again at an event called Sunset on the Beach. A stage was set up right on the beach, and as the sun went down, we performed! It was hard to believe that yet another day was coming to an end, and that the weekend had already arrived. With only two days left, I was really starting to feel the true meaning of compressed time.
The following morning, we headed back to Aloha Stadium for Ohana Day (ohana meaning family), which is a day for families to come see the players and cheerleaders practice. It also served as a dress rehearsal for us and really got the excitement pumping for the next day's game! After the families departed, we took some additional time to practice the presentation of the National Anthem with last year's American Idol first runner-up, David Archuleta! What a voice he has!!
The day ended with more performances at the Block Party, a huge event for which streets are closed and five different stages are set up for performances of all kinds! My line had a blast performing at both a VIP party and then back on the beach where we had performed once before.
As I woke up Sunday morning, I couldn't believe the day of the game had arrived so soon! The time had really flown by, and the moment we had been preparing for was finally upon us! We took the field for our pre-game performance, hit our positions, and waited for the announcer to introduce us.
At that moment, right before our music began, I wanted to freeze time. The girls on on the field and our directors on the sideline had all come to mean so much to me so quickly. In such a short period of time I had made friendships and memories that will last a lifetime. I never wanted the experience to end. And then, the music started.
From that point on, the game was pure adrenaline. The energy surrounding us was electric! Beach balls bouncing through the stands signified the spirit of celebration throughout the stadium. Traditions of the beautiful Hawaiian culture were woven in throughout the game. Performances by the mascots stole the show, including those by our very own Poe! The fans loved him, as usual, and seeing the numerous Ravens fans in attendance filled me with such a sense of pride! The day was an incredible ending to an incredible week.
Since returning, I find myself at a loss for words at times when asked, "How was Pro Bowl?" To say it was amazing, even life-changing, seems to be a bit of an understatement. To say that the experience will live in my heart forever doesn't begin to describe the wonderful people I met and all that they taught me.
While the week in Hawaii was certainly about compressed time, I am reminded that life in general is compressed time, too. While it may be difficult to summarize the Pro Bowl experience in just a few words, I can easily say that it inspired me to fit as much as I can into every day! With that, I will sign off and get out of my apartment for a little while. I've heard the weather's going to be a little warmer this weekend...