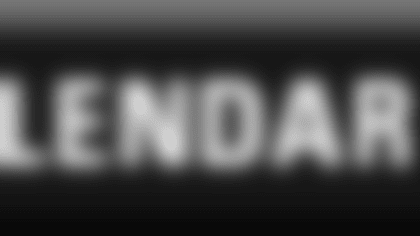 ](https://www.stanza.co/button/launch?calendar=https://spoton.it/schedules/nfl-ravens&timeline=true#/ "Add To Calendar")      [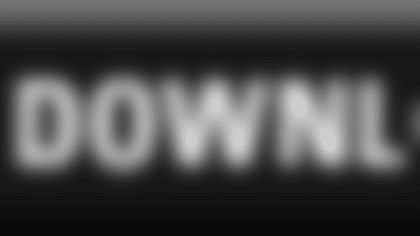 ](http://blogs.baltimoreravens.com/documents/2018RAVENSSCHEDULE.pdf "Download Schedule")
Start purchasing your tickets and planning your trips. The Ravens' 2018 schedule is out.
2018 SCHEDULE
WEEK 1
Sun., Sept. 9
vs. Bills
M&T Bank Stadium
1:00 pm ET
WEEK 2
Thu., Sept. 13
at Bengals
Paul Brown Stadium
8:20 pm ET
WEEK 3
Sun., Sept. 23
vs. Broncos
M&T Bank Stadium
1:00 pm ET
WEEK 4
Sun., Sept. 30
at Steelers
Heinz Field
8:20 pm ET
WEEK 5
Sun., Oct. 7
at Browns
FirstEnergy Stadium
1:00 pm ET
WEEK 6
Sun., Oct. 14
at Titans
Nissan Stadium
4:25 pm ET
WEEK 7
Sun., Oct. 21
vs. Saints
M&T Bank Stadium
4:05 pm ET
WEEK 8
Sun., Oct. 28
at Panthers
Bank of America Stadium
1:00 pm ET
WEEK 9
Sun., Nov. 4
vs. Steelers
M&T Bank Stadium
1:00 pm ET
WEEK 10
BYE
WEEK 11
Sun., Nov. 18
vs. Bengals
M&T Bank Stadium
1:00 pm ET
WEEK 12
Sun., Nov. 25
vs. Raiders
M&T Bank Stadium
1:00 pm ET
WEEK 13
Sun., Dec. 2
at Falcons
Mercedes-Benz Stadium
1:00 pm ET
WEEK 14
Sun., Dec. 9
at Chiefs
Arrowhead Stadium
1:00 pm ET
WEEK 15
Sun., Dec. 16
vs. Buccaneers
M&T Bank Stadium
1:00 pm ET
WEEK 16
Dec. 22 or 23
at Chargers
StubHub Center
TBD
WEEK 17
Sun., Dec. 30
vs. Browns
M&T Bank Stadium
1:00 pm ET*
Here's a look at some of the notable aspects of the schedule, chronologically:
The Ravens will kick off the season at M&T Bank Stadium against the Buffalo Bills (9-7), just as they did two years ago when Baltimore celebrated a 13-7 win. The Bills ended up edging out the Ravens in making the playoffs last year, however.
Just four days later, the Ravens will have a chance to exorcise more frustrations from the way last season ended when they travel to take on the Cincinnati Bengals (7-9) on Thursday Night Football. The Bengals beat the Ravens in Week 17 to keep Baltimore out of the postseason.
It's the first of just two currently slated primetime games for the Ravens, with both on the road.
After a home game against the Denver Broncos (5-11) in Week 3, the Ravens have three straight road contests. That means four of Baltimore's first six games are away from home.
On paper, the most challenging stretch of Baltimore's schedule is from Week 4-9. It's a six-game stretch when the Ravens will compete in five games against teams that made last year's playoffs, and begins with three straight road games.
It kicks off on Sunday Night Football in Pittsburgh (13-3). It's the 12th-straight year that the AFC North rivals will square off in primetime and the fifth-straight year that the night game will take place at Heinz Field.
The Ravens then have what's always a tough road game in Cleveland (0-16). All three of Baltimore's divisional road games will be done by Week 5, the earliest that's ever happened in franchise history (previously Week 9 in 2014).
That game is followed by a trip to Nashville, where the Ravens fell to the Tennessee Titans last season. Tennessee eventually reached the playoffs at 9-7, the same record as Baltimore.
Baltimore then returns home to take on the New Orleans Saints (11-5), who won the NFC South last season, then heads to Carolina (11-5) for another NFC South showdown. The six-game stretch ends with a rematch, this time at home, against the Steelers.
Following their bye, the Ravens have just two games against teams that made last year's playoffs. That sets up for a potential strong finish for Baltimore.
The Ravens start at home against the Bengals and Oakland Raiders (6-10), meaning the team won't leave Maryland during the entire month of November.
Baltimore then has back-to-back road games against the Atlanta Falcons (10-6) and Kansas City Chiefs (10-6) at the start of December. Baltimore's last three games are against the Tampa Bay Buccaneers (5-11), at Los Angeles Chargers (9-7) and home against the Browns.
The date of the Week 16 game against the Chargers has not yet been decided between Saturday, Dec. 22 and Sunday, Dec. 23.  The NFL will decide no later than after Week 8. If the game is played on Saturday, it will be at either 4:30 p.m. ET or 8:20 p.m. ET on the NFL Network. If it's on Sunday, it will be 4:25 p.m. ET on CBS.
Finally, the Ravens don't play the Bengals in Week 17 as they've done in seven of the past eight seasons (three straight). Cincinnati had beaten Baltimore in Week 17 five-straight times, dating back to 2012. Instead, the Ravens will get last year's winless Browns.
The Ravens have the league's 12th "easiest" schedule based on opponents' records last year, but half of their games are against teams that made the 2017 postseason.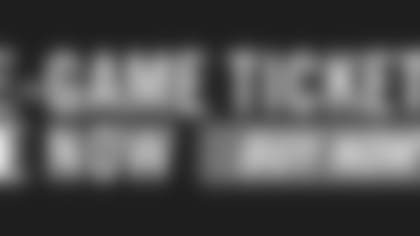 ](http://www.baltimoreravens.com/tickets)