*Throughout the week, BaltimoreRavens.com will bring readers the stories behind each of the 24 cheerleaders' 2009-2010 Swimsuit Calendar photo shoots. *
Behind the Shoot: Meaghan S.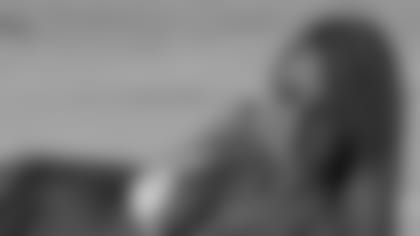 With the sun freshly beneath the horizon Thursday night, four-year veteran Meaghan S. was hurried over to her spot on the sand and sprawled out for what turned out to be the final individual shoot of this year's swimsuit calendar trip.
"The sun had already gone down for my shoot," said Meaghan. It was very rushed, but I think that was better for me because it didn't give me a lot of time to worry about all the little things."
Wearing a fun but beautiful white top with turquoise flower beading and a matching turquoise bottom, the camera flashed on Meaghan as she positioned herself in two different poses. "I did one laying down on my side and then one kind of crawling towards the camera a little bit with my hands in the sand," she explained.
And once photographer Shawn Hubbard felt he had captured perfection in Meaghan's shoot, the words, "That's a wrap!" were exclaimed by multiple people and the Ravens were finished shooting their 2009-2010 calendar.
"I didn't even know I was last until we were on the boat going back to the hotel and they were like, 'that's it.' I was so surprised," uttered Meaghan.
Adding that she was not even concerned with earning a full-page month in the calendar, Meaghan reflected on her amazing experience this week in the Bahamas. "I'm excited that it's all over, but a little sad it went so quickly. I can't wait to see the calendar. I cannot wait to sign my name on it. It's a lot of hard work that's paid off for this."
Behind the Shoot: Amanda
Even though it didn't grace the cover of last year's calendar, photographer Shawn Hubbard admitted this week that his stunning photo of Amanda wearing a cowboy hat, kneeling on a pier at sunrise was his favorite shot from last year's shoot. Leading up to that moment, a lot went into capturing that perfect picture. This year, Amanda hoped to rekindle that magic right away.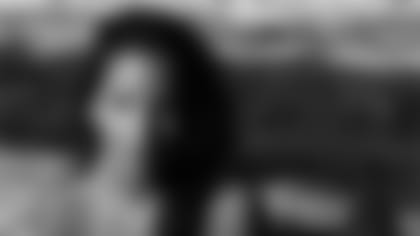 "Last year, I got to shoot three different times," Amanda recalled. "This year, I shot once, but I really think that we got an awesome shot."
The crew had Amanda pose in a sultry, all-yellow bikini that matched flawlessly with the magnificent sky as the sun set. She felt a bit rushed as the photographers hurried her into position on the sand, hoping to capture her glory under the last few remaining minutes of daylight.
"I was nervous because I knew that it was going to be a really quick shot and I just wanted to get the perfect picture for the calendar," told Amanda. "We came all the way from Baltimore for that."
The self-proclaimed "goofball" loves turning it on the moment she gets in front of the camera and has the unique ability to quickly get in the zone and dazzle in each shot. "I just think how fortunate I am to be here and it really motivates me."
Despite not yet seeing any of her photos, Amanda feels very confident about not only her shots, but also those of all the girls from this week.
"I think the fans definitely have something to look forward to," she declared. "It was a lot of work, but we all came together to make a great calendar and I think that everyone is going to be surprised at how great this is going to come out. I'm really excited." 
Behind the Shoot: Ashley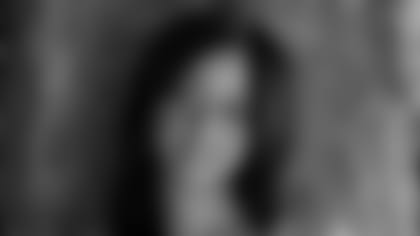 Many people in the world don't consider themselves to be "morning persons." It seems to take this group a few hours to really get going each day. We can't be sure if it's fair to put Ashley in this group. But one thing is certain about the light-skinned bombshell: once she gets warmed up, she can definitely bring it.
"Wednesday we shot at a beautiful location, but it was very obvious to the coaches, the photographer, myself that I wasn't feeling it," explained Ashley of her early morning first calendar shoot. "So they gave me the opportunity to shoot again."
On the secluded, private island Thursday night, with the sun dropping toward the horizon behind her, Ashley got in her zone and turned it on for the camera. "Because they gave me another chance to shoot, I knew that I needed to bring it and step up to my "A" game," said a much more comfortable Ashley. "That was my motivation, knowing that I needed to feel it today and make it work."
In addition to a location change, Ashley also switched up her bathing suit from a sexy, black two-piece to a contrastingly fun, bright pink bikini. "At first I was a little skeptical because it's like a hot, bubblegum pink. But it looks gorgeous against my skin complexion and it really popped off that background," said Ashley of the suit.
"I think I nailed it," Ashley confidently said after the shoot. "I was way more comfortable today. I got positive reactions from everyone. Now I just want to see my picture. Hopefully Ravens fans will like it!"
Behind the Shoot: Amy
Wearing the title of Baltimore Ravens Cheerleader is something each girl on the squad takes very seriously. It's an honor for them to sport the purple and gold pom-poms. Likewise, each of the girls here in the Bahamas this week feels privileged to shoot for the 2009-2010 swimsuit calendar. Amy is one of those few lucky girls who feels fortunate about her entire Ravens experience thus far.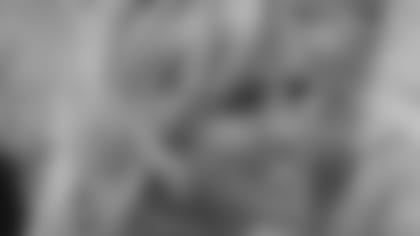 "I'm a complete rookie to all of this," said Amy who made the team for the first time this year and had never done a photo shoot before this week. "It's so exciting and I feel very blessed to be here."
After her shoot time was changed twice this week, Amy also lucked out when she was told she'd get her chance in front of the camera on a private island away from the resort. "I was very lucky. I got to go onto this beautiful tropical island and I shot on the rocks with the cliff in the background and the water just flowing up everywhere. It was incredible," described Amy.
For her shoot, Amy wore a white, string top with patterned jewels around the inner edges and a bright orange bottom. "My bathing suit really depicts my personality, just being cheerful and very bright and very optimistic. It was fantastic."
The cheery rookie seemed enormously happy throughout her shoot and it showed as her glowing smile lit up the camera with each snap of the shutter. Although she admitted she felt slightly awkward holding difficult poses on the uneven rocks, Amy explained what her secret was to nailing the perfect shot. "I just tried to be myself, be confident, smile, just kind of go with the flow and not be too tense with the entire thing. Just be happy."
And when it was all over, a sparkle in her eyes and a gleaming smile on her face, Amy proclaimed, "Not only am I a Baltimore Ravens Cheerleader, I'm on the calendar shoot! How exciting is that?!"
Behind the Shoot: Andrea
Shooting a swimsuit calendar is certainly not as easy as it may look and capturing that "wow" photo is something that can't be forced. Sometimes, when the magic is not there, a change of scenery is all it takes to find the perfect shot. This ended up being the case for Andrea.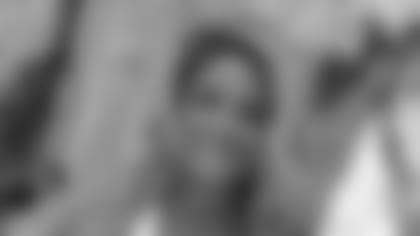 Wednesday night, the four-year vet shot on the pier behind the hotel and the feeling was just not right. "We took 500 pictures and didn't get the shot we were looking for," said Andrea. The crew quickly realized that their model didn't feel comfortable and decided to schedule a second shoot for her Thursday morning.
Andrea accompanied several other girls on a boat trip to the private island. On the island, the photographers picked out a scene in front of an aged, large tree stump for her second shoot. "It wouldn't have been anywhere I ever in a million years would have thought to take a picture by, but with the lighting and the timing and the way they had me positioned just really worked out great," told Andrea.
Wearing a brilliantly white bikini with beading on the top and on the two hips, Andrea felt the suit simply reflected her personality. "The bathing suit was plain and simple, but it fit because I'm simple, laid back, relaxed and a little goofy."
The confident cheerleader made the most of her second chance as she hit a home run during the shoot at the secluded location. "I would say the biggest difference today was that there weren't so many people around and it was a lot easier to relax," Andrea revealed. "Yesterday was tense. I was pumped to be on this island. Today was a lot more enjoyable and really felt good."
After viewing just one photo from the shoot, the relieved Andrea was able to walk away with a good feeling and a huge sense of relief in mind. "We switched up the bathing suit, switched up the scenery, switched up the pose, and it definitely worked out a lot better than I could have imagined."
Behind the Shoot: Melissa
Just like Angel, veteran cheerleader Melissa experienced some challenges of her own while shooting her poses for the calendar on a sailboat out on the water. But similar to her teammate, the brunette beauty used her experience to put the difficulties aside and turn it on in for the camera.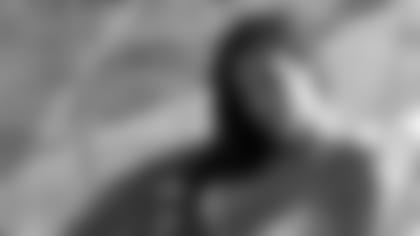 "I think the rocking back and forth and the wind and different angles of the sun was more of a challenge for the camera crew," said Melissa. "For me, I needed to make sure my mind wasn't drifting away and I wasn't falling asleep. The focus was more on keeping my body in a good alignment."
Melissa laid on her side, positioned on the boat's port side, with her legs stretched out over the cables that ran around the boat. "Your hip is digging into the fiberglass and your legs are on the side of the rope," explained Melissa. "It isn't comfortable. You just have to deal with it and go with it."
After wearing a white bathing suit with green gems on it as she emerged from a palm tree in the 2008-2009 calendar, Melissa went for a sexier pose this year. To help achieve that look, she sported a top adorned in gold sequins along with a matching gold bottom adorned with sequins on the sides.
"I actually saw this top in Sports Illustrated's Swimsuit Issue and just fell in love with it," remembered Melissa. "Most people probably wouldn't have even noticed it if they were glancing through the magazine quickly, but I think the gold really stands out. I went straight out and bought it."
Likewise, it's a safe bet that the Ravens fans who go out and buy the 2009-2010 cheerleader swimsuit calendar will fall in love as well when they lay their eyes on Melissa.
Behind the Shoot: Angel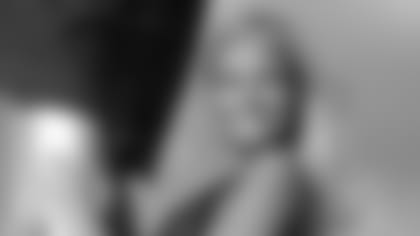 In last year's calendar, Angel steamed it up for the camera with a sultry pose on the sandy beach. It marked the first time she posed for a photo shoot and she passed the test with rave reviews. During this year's calendar shoot, the veteran cheerleader was presented with a new challenge to master. For her Thursday morning shoot, Angel modeled on a moving sailboat more than 50 miles off the coast of Nassau Island.
"I think they wanted to try something different with me this year," told Angel of being shot in such a unique location. "They know that I can handle the elements and adapt to any environment. They knew this would probably be a more difficult shot and they felt I could handle that."
When asked about the difficulties entailed by this type of shoot, Angel did not hesitate in detailing the demanding parts of her experience. "Oh, the challenges of shooting on a boat. Number one: trying to stay on the boat," began Angel. Not only was the sailboat rocking in the morning wake, the off-shore wind gusts blew made balancing somewhat tough and keeping hair in place impossible.
"I had to deal with a lot of the elements," said Angel. "I was constantly pulling my hair out of my face. There are a lot of wires and ropes on the sailboat and they were constantly telling me different ways to lean so I would position myself right so I would look great."
Despite this shoot on the boat being much harder than last year's shoot on the beach, the striking blonde was very happy at the opportunity to attempt it. "The boat was more interesting and more fun.
"I didn't think anything could beat last year's shoot," Angel admitted. "This just beat it." 
Behind the Shoot: Spencer
Spencer was the fifth and final model to shoot Wednesday night. After a location change and a near-swimsuit switch, the Carrie Underwood look-alike hurriedly put it all together to create an amazing photograph on the beach as the sun descended beneath the horizon.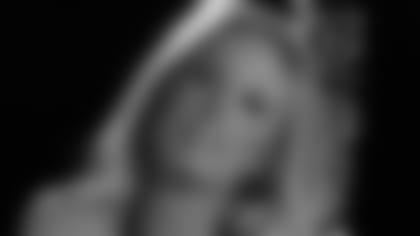 Wearing a black two-piece with gold, textured, rectangular cuffs right at the straps and a string bottom, Spencer sprawled out on the sand as the evening tide ran around her body. "I got shocked by the water a little bit because I wasn't really looking down at it," Spencer explained. "It was a little cold, but the sunset was just perfect; beautiful colors in the background. It contrasted really nicely with my black bikini."
Despite being extremely nervous before her time in front of the camera, the rookie cheerleader vowed to give it "100 infinity percent" with the hopes of turning in a fantastic shoot. As the shoot began, Spencer got comfortable in her element and shined just as brightly as the emerging stars in the night sky. "There were quite a few people around and it made me quite anxious," she admitted. "But once I got down there and started posing, I really just zoned everything out. It was just like it was the photographer and I."
At the end of a very long and tiring day, an exhausted Spencer seemed very proud of her photographic accomplishment, but felt even more satisfied with the greater process that the Ravens are working toward this year in the Bahamas.
"I can honestly say that I'm very happy and proud to be a part of the Ravens. We're extremely classy and I'm so happy I could be a part of a swimsuit calendar like this because these are photos that I can be proud of. I can show my little sister and my parents and my grandmother and not be ashamed or embarrassed. I can feel confident and happy and proud of our photographs."
Behind the Shoot: Sarah
Head coach John Harbaugh has said that the three most important priorities for the Ravens are, "#1, the team, #2, the team, and #3, the team." It seems that the same philosophy proves true for the women standing on the sidelines at M&T Bank Stadium cheering on the men on the field in purple and black jerseys. Sarah B. feels like the cheerleaders are coming together in the Bahamas and recognized that everyone is doing what is best for the team.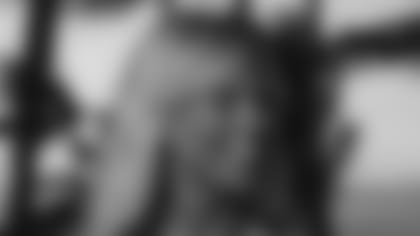 The second year cheerleader herself stepped up and made an adjustment on short notice to benefit the squad Wednesday night. "Spencer was supposed to be before me tonight, but she had to have a swimsuit change and we were running out of sunlight," explained Sarah. "I wasn't expecting to shoot and I was just thrown into it."
Despite the change of scenery and time, Sarah was ready for her moment in front of the lens. "I had been preparing all day. I came into this week ready for it. I was ready to go and excited."
Sarah was very happy with how her photo shoot turned out at her spontaneously chosen setting inside a white cabana. "It was a beautiful location that worked really well with my swimsuit color – a bright coral color," articulated Sarah. "I think my bathing suit matches my personality perfectly. I'm a pretty bright and outgoing person and this suit really reflects who I am."
After shooting for the first time, Sarah agreed that the making of the calendar truly involves the entire team. "You don't see all that goes on behind the scenes and what everyone puts into it. Everyone's working to bring your best personal shot out and it's amazing to see," she explained.
"People have asked if this is a competition, but it's really not. All the girls are just so helpful and friendly and that's what our team's all about. I think it's what sets our team apart from many other teams. Our girls really come together and support each other. It's not about putting yourself before everyone else. It's about building us all up as a team."
Behind the Shoot: Abbie
Some people say it's not easy being green. On Abbie's calendar shoot Wednesday at dusk though, she proved that green can be golden.
"I shot in the water and in the background were rocks that were covered in green trees," veteran Abbie told of her shoot. "They love me against green. I guess with my skin tone and my green eyes, they wanted me against a green background."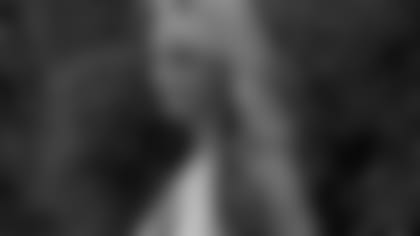 It was truly a team effort that went into ensuring Abbie's shoot would produce some stunning photographs. "Jamie did my make-up and she did an awesome job. She worked with my green eyes to make them pop with the background where I was shooting," explained last year's co-captain on the squad.
Abbie wore an astonishing golden two-piece bathing suit. The top was ornamented with four golden beads in the middle and the bottom was supplemented by a long, hanging golden sash on the side. It's model felt it looked perfect against her tan body. "It really made me pop," she commented.
Despite being nervous going into this year's shoot – comparing her feeling to the one she felt at cheerleader tryouts – Abbie drew on her experience of shooting last year's calendar and relaxed once she stepped in front of the camera. "I was more confident this year because, last year, they were like, 'do this, do that.' There was always something for me to fix. This year, I didn't really have much to do, which I was excited about."
After standing in just one pose, the shoot was a wrap in less than 10 minutes.
So, Ravens fans. Make sure you don't forget to order your copy of the 2009-2010 swimsuit calendar to check out Abbie's golden moment. It will surely make your friends who missed out on it green with envy of you. **
Behind the Shoot: Meghan D.
After returning home to Havre de Grace, Md. each summer after college, Meghan D. worked a job at Beechtree Golf Club. Now, several summers later, the Ravens cheerleader again found herself standing on the greens, but with a much different purpose.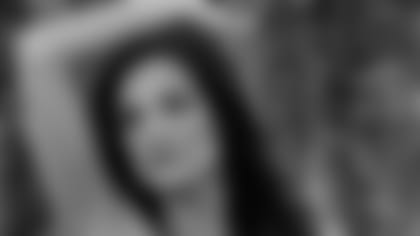 Wednesday morning, the swimsuit calendar crew decided to get away from the resort for a few hours and headed down the road to a nearby golf course, providing a unique photo opportunity for one of its calendar veterans.
"Last year I kind of did my own thing in the water," said Meghan. "Shooting on the golf course this year was fun," she admitted, thinking back to the summers she would drive around the course, picking up stray golf balls.
After a last-minute swimsuit change, Meghan wore a black and white bikini that featured zebra stripes on one half and leopard prints on another in addition to a snakeskin pattern and black sequins. Even though this was not the suit she had originally intended to wear, Meghan still approved of her look.
"I think we all look great. We get our hair and make-up done. We've been working out. We look awesome in our bathing suits," explained the athletic brunette.
The photographers on the shoot initially tried to pose Meghan leaning against a stone wall, before letting her loose to feel the moment and do her own thing. "I tried to practice different poses before the shoot that I think look good on me because I knew I'd feel comfortable doing it," said Meghan. "I wanted to look confident and comfortable, so I just went out there and did what I needed to do."
When asked how she felt once her shoot was over, Meghan didn't say anything. She just smiled and gave an emphatic two thumbs up. Expect a similar reaction from Ravens fans once they get a look at Meghan's picture in the calendar.* *
Behind the Shoot: Chase & Paige
Adjacent to the 11th hole at the golf course down the street from the Wyndham Nassau Resort sits a tall, gangly tree. When twins Chase & Paige took their first glance at it, both of them immediately uttered the same words. "It's the Lion King tree!"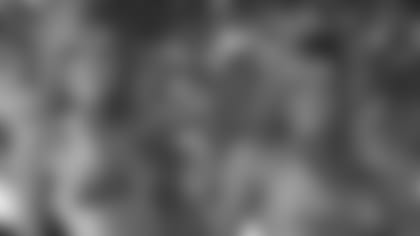 For their swimsuit shoot, the second-year cheerleaders posed together sitting on one of the tree's branches about seven feet off the ground. The results were beautiful, but the process turned out to be one of the more difficult shoots of the week.
"I love the spot. It's a beautiful spot," said Paige (positioned on the right). "But I didn't realize how intense it was going to be," added sister Chase (on the left side). "We had to use all our strength to balance on the branch. I was squeezing Paige so that she wouldn't fall and stabilizing myself at the same time."
Both girls wore green colored bikinis that not only complimented each other, but also their Lion King tree and their matching green eyes. Chase's suit featured a white to green gradient look, while Paige's was patterned with green diamond shapes.
The shoot wasn't just difficult for the girls, as hair stylists and make-up artists needed to partially climb the tree or position themselves on the roof of a golf cart to tend to the twins. "They had somebody climbing up on this tree, taking the pins out of our hair," explained a giggling Paige.
With the support of photographer Shawn Hubbard and the entire Ravens crew though, the arduous shoot yielded some spectacular results. "I thought I was so tense trying to hold on," said Chase. "But Shawn kept telling us that we looked so beautiful and that helped us just relax and feel more comfortable."* *
Behind the Shoot: Kellie Lee
Although the official holiday is not until Sunday, Wednesday could have been considered Mother's Day in the Bahamas. To start off the afternoon, rookie Kellie Lee – the only mother on the Ravens cheerleading squad – hit the beach for her photo shoot.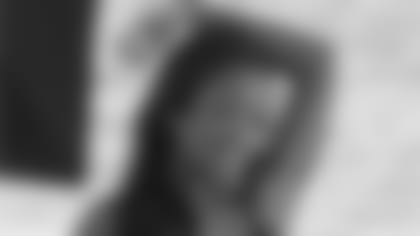 "I am the mother of a beautiful seven year-old son named Darien," said the very proud first-year cheerleader. During the trip, she has spoken to him every morning and every night before he goes to bed. "He's very excited for his mommy."
Darien is not the only person excited for Kellie Lee. "Everyone on the team has been so supportive," she added. "They call me 'madre' and 'mommy.' It's very welcoming."
Recently, "madre" realized her lifelong goal of becoming a professional cheerleader and had the added bonus of being selected to come to the Bahamas. "I would have never imagined myself being her, but I'm so grateful and thankful that I am," she confessed.
For her shoot, the photographers had Kellie Lee lie on the beach as the waves crashed around her. "I'm a very laid back person. I felt very calm, very comfortable with the water splashing on me. It just really put me in my element."
For the shoot, she wore an all-black two-piece bathing suit shrouded in blue and green sequins that matched the afternoon color of the ocean. With a blissful smile that could be seen down the length of the beach, photographer Shawn Hubbard was able to capture breathtaking photos.
"The pictures were fantastic," pronounced an exuberant and confident Kellie Lee. "From the lighting to the water, to my bathing suit, to my hair and make-up. Everything just correlated well together to work."
And for a mother who is used to focusing her attention on her loving son, her moment in the sun was something special. "I felt like a super-model, like a superstar. All eyes were on me. It was a feeling that I've always wanted – just to feel that important, that special. It was a once-in-a-lifetime moment." **
Behind the Shoot: Heather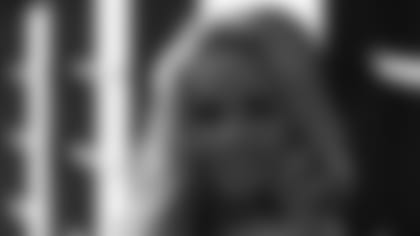 Photo shoots at sunset typically feature very dramatic poses and serious facial expressions on the models' faces. Heather proved that by being herself, it's possible to break that mold and still come away with a brilliant picture. She also proved that some things are worth the wait.
The rookie cheerleader was the last girl to shoot on Tuesday, but had to wait a little longer than expected before taking her turn in front of the camera.
"We ended up waiting about 45 minutes for the sun to come down so we could get the sunset in the background."
Sitting on the pier, decked out in a light blue bikini with the dark blue ocean in the background, the contrasting colors at dusk helped accent Heather's strikingly blue eyes. Instead of looking overly sensual though, the look in those dazzling eyes was more of an endearing one while still remaining flirtatious.
"It was more of a cute pose which kind of fits my personality," Heather explained. "I'm one of the younger ones on the team and I'm not so good with the serious face. I just kind of had to put my own style into it."
That style was something that Heather had spent quite a bit of time practicing up all the way up until the day before her shoot.
"Me and my three roommates last night stayed up until about 10:30 practicing our facial expressions in the mirror," Heather recalled. "The key is relaxing. It's the one time you're allowed to be cocky."
Whether it was cockiness or just natural beauty, Heather proved that being cute and adorable doesn't have to end when the sun goes down.
Behind the Shoot: Cassandra
Picking shooting locations for each of the cheerleaders is all about finding the right spot that works best with a girl's natural look as well as her bathing suit. It's an added bonus when the scene reflects her personality. But sometimes, the right setting involves taking a girl out of her natural element.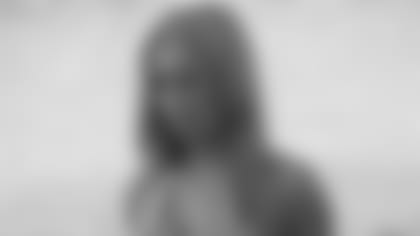 Most would agree that placing Cassandra thigh-deep in the lagoon just before sunset situated her in the perfect setting. When she's not posing for the camera though, you're unlikely to find this gregarious beauty in that area.
"I actually never go in the water. I'm not much of a swimmer," admitted Cassandra. "But I think it was good that I got to try something new for the shoot. I'm more of the athletic type and I think that was the reason they put me there. Plus my suit matches so it's perfect."
The suit she was referring to is a simple, yet stunning light blue two-piece that fades up to white. The color-combination not only matched the water, but beautifully accented Cassandra's naturally blue-gray eyes.
In the middle of her shoot, everyone on the set witnessed an example of why Cassandra does not go in the water very often.
"There was this one thing floating in the water. I'm not really sure what it was," she described while laughing. "It tried to attack my leg, but we took care of it." (Editor's note: We're pretty sure that the thing that tried "attacking" Cassandra's leg was a dead plant.)
Also during the shoot, it appeared that a birthday party was taking place in a nearby cabana. The loud music and crowd of people didn't seem to faze Cassandra. The veteran cheerleader commented that is an experience to which she is used to by now.
"Being at the shoot and having a lot of people around you is actually a lot like being at the stadium because if you pay attention to everyone, it will break your concentration and throw you off," she said. "Once you focus, you get in that zone and you really feel it."
When Ravens fans get a look at Cassandra's steamy photo in the 2009-2010 calendar, they may question this girl's true natural element – the sidelines at M&T Bank Stadium or bikini-clad in a Bahamas lagoon.
Behind the Shoot: Dana
Around the time many hotel guests ventured out for dinner Tuesday night, the Ravens calendar shoot crew was huddled around a wooden cabana and it was Dana's turn in front of the camera. After having cheerleaders pose at various settings near the water, the shoot moved to a highly trafficked area very close to the hotel. The location drew some extra attention to the ravishing veteran getting photographed.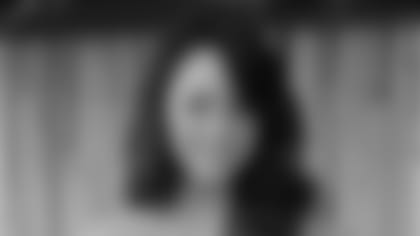 "It was kind of crazy, kind of surreal," said Dana of the crowd of guests that gathered to get a glimpse of her calendar shoot. "I guess this is what models go through all the time."
Fans took the opportunity to snap a few shots of their own and get a look at the behind-the-scenes of the making of a swimsuit calendar. A few others sought out other cheerleaders for autographs.
In addition to dealing with the throngs of adoring fans, Dana also learned that the other aspects of a model's life are not as easy as they seem. "I give a lot of credit to our make-up people and hair stylists," expressed Dana. "They sat there and dried my hair and, layer by layer, meticulously did each curl. They spent a lot of time on me and did a fantastic job."
Even before coming to the Bahamas, Dana struggled with the task of finding the perfect bikini. Speaking of her embellished, earth-toned, beaded bathing suit from Victoria's Secret, Dana recalled, "I tried on about five million suits and this was just one that jumped out. It was unique and different and that's why I chose it."
In the end, Dana was quite pleased with the way her photo shoot turned out. But it didn't mean that the New Jersey native is ready for a career change.
"It's kind of cool, but I don't know that I'd want to do it all the time because it's really nerve-wracking. It was a lot of fun though and I'm really happy with the way it went."
Dana also had a message to the Ravens fans back in Baltimore: "Wish you were here with us!"
Behind the Shoot: Courtney D.
There was no lifeguard on duty Tuesday afternoon, but it was clear to everyone on the beach that a cheerleader was on duty. As hotel guests strolled across the sand and swam in the ocean, it was hard to miss Courtney D. hanging off the top of the lifeguard tower.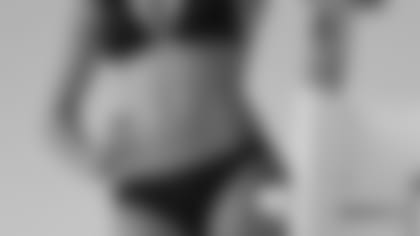 "It was very playful and carefree," said Courtney of her calendar shoot. "I like to think of myself as a very fun, carefree person and the shoot was very laid back and all smiles. It definitely reflected my personality."
Sporting a solid, brown bikini, the natural look of the bathing suit perfectly complimented the rookie cheerleader's all-American look. And her satisfaction with that look was something that helped her feel comfortable as she stepped in front of the camera.
"I was actually nervous beforehand, but I went into hair and make-up and when I walked out, I felt like a Barbie doll and then I wasn't nervous anymore."
Also increasing her comfort level was the presence of almost the entire team. After playing beach volleyball, on a nearby court many of the girls walked over to offer Courtney words of encouragement. "The team is really just there for support and I was really happy they came. They were giving me thumbs-up so it was good."
Luckily, no hotel guests attempted to fake their drowning during the shoot with the hopes of being saved by the calendar beauty.
"I think at one point I maybe wanted to be on Baywatch, but I have never been a lifeguard," Courtney admitted. "I always wanted to be though."
Don't get too excited Ravens fans. Courtney didn't run down the beach in slow motion after her shoot. You'll just have to buy a calendar to see her in action.
Behind the Shoot: Michelle
Some veteran swimsuit models have offered some simple advice to calendar newcomer Michelle: "Let your personality shine." This morning, the rookie cheerleader was able to do just that despite being slightly unprepared to shoot.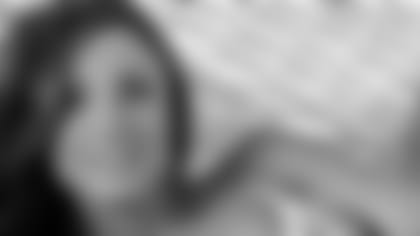 "I was really excited because I was the last shoot of the entire trip and I would really know what they would want," Michelle explained. However, Monday night around 8:00pm, she was told she needed to report to hair at make-up at 3:00am Tuesday to prep for a morning shoot. "I had just eaten a big dinner before they told me. So my diet for this photo shoot included pizza, soda and chocolate cake!"
The schedule change didn't seem to make a difference, as everyone present on the shoot was able to witness Michelle's true personality emanate with each click of the shutter.
For the fourth and final shoot of Monday morning, the crew positioned Michelle in a hammock on the beach. "I think they put me in a hammock because I have a really playful personality. I can't really be too serious," admitted the spunky calendar model. "They told me to just have fun and enjoy the scene."
The bathing suit Michelle was dressed in was one selected at the swimsuit test shoot. "They selected the bathing suit because of the unique beading on the top, and the bottom is complementary to my body. We just decided this was my color and would be perfect for the look that they would be going for."
It seemed the biggest stress faced by Michelle on this day was her concern over not falling out of the hammock. As she joked and smiled throughout the shoot, her fun and lively attitude became apparent to all who were present. It was this approach that helped create the perfect calendar image.
"To be yourself is the biggest key," said Michelle. "And I really think that helped in my shoot."
Behind the Shoot: Serena
There were more than 20 people looking on as Serena stood next to the rocks and knelt in the ocean for her calendar photo shoot Tuesday morning. And although she took directions from the photographers and Ravens staff, there was one person the rookie model constantly looked to for motivation and approval.
Quietly standing in the middle of the crowd behind the camera was Serena's mother, who joined her daughter on this week's Paradise Getaway.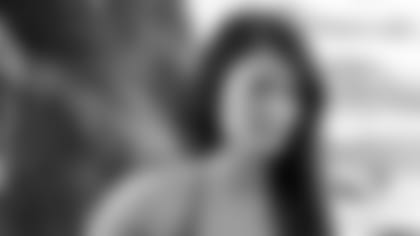 "My mom's birthday was in April and since Mother's Day is this weekend, my dad decided that she should come for her birthday/Mother's Day," explained Serena.
In addition to playing the role of photographer as she captured some behind-the-scenes memories of her daughter's Bahamas experience, Serena's mother also helped her strive for that perfect shot that will grace the pages of the 2009-2010 calendar. And it's safe to say that most people didn't even notice.
"During the shoot, I just kept seeing her smiling and nodding, making facial expressions," Serena told of her mother. "She didn't say anything. She would just smile and give a thumbs up. It just motivated me a little bit more. You hear lots of things from everybody else, but my mom kept me on earth, on task and focused a little bit more because I she made me realize I was doing my job."
Wearing a tiny, lacy, purple bikini, Serena's shoot started out on the rocks. She didn't stay dry for long as a wave splashed into her, drenching her entire face. The wet look seemed to work for her though, as the crew decided to position her in the water.
"I love the ocean," said an excited Serena. "I wanted to be in the water and it was kind of easier to maneuver there."
The large crowd on the beach for her shoot and the multiple people offering directions did not seem to faze the youngest member of the Ravens cheerleading squad.
"With everyone's eyes on you, you feel special. You feel like you're one in a million."
It's safe to say that Serena's mother feels the same way about her daughter.
Behind the Shoot: Sammi Jo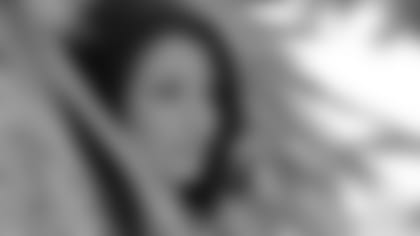 Once a swimsuit photographer realizes he's captured perfection, there's no need to keep snapping pictures. It didn't take long for Shawn Hubbard to put down his camera during Sammi Jo's morning shoot, which may have been the shortest of all the shoots at this early point on the trip.
"We were by a Tiki hut and I was playing with the leaves on the hut with the ocean in the background," Sammi Jo told of her calendar shoot. "I think I kind of have an exotic look and they picked a location where they could really use that look – in the palms."
All the elements seemed to be rightly in place as the combination of a solid, dark gray bathing suit on Sammi Jo's golden brown body flourished in front of a deep blue ocean and red sky.
"I thought everything went well, but after seeing the photographs, I liked it even more because of the water and the coloring in the background," added the repeat calendar model who has a unique strategy to achieving that magical shot. "I just think to myself, this might be the last time I ever do something like this and I've got to make it work."
Before walking off the beach, the Latrobe, Pennsylvania native had a message to deliver to Ravens fans: "We're going to the Super Bowl next year, baby!"
Behind the Shoot: Leslie
Everything was prepared for the first sunrise shoot of the week. The photographers' equipment was set up, Leslie's hair and make-up were done and the crew was ready to get the day started. There was just one thing missing – the sun.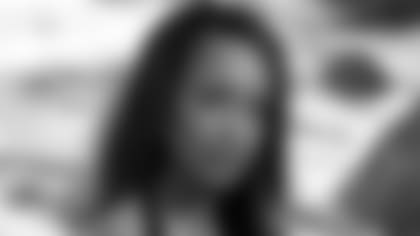 "I think Gabrielle [Dow, Ravens VP of Marketing] went to God and asked him to bring the sun up," said Leslie while talking about her shoot. "We actually started very late, but it came up."
And just as quickly as the sun's rays warmed up the beach, Leslie's poses on the rocks and in the water steamed up the camera. Wearing a black, one-piece bathing suit adorned with crystals, it didn't take long for Leslie to feel the vibe of the photo shoot.
"The shoot had a sexy vibe. I think it felt a lot like the vibe I have. Being on the rocks and wearing this nice, stunning bathing suit just made me feel sexy."
Sexy was not the only vibe Leslie was giving off during her early morning shoot. The most-tenured veteran cheerleader here in the Bahamas also seemed intensely confident throughout her half-hour time in front of the camera.
"After being on the team for eight years and being in front of 69,000 fans, a photo shoot is not as difficult as it seems," she commented. Leslie also felt that the photographer plays an important role in making her feel confident. Speaking of her relationship with Shawn Hubbard, she realized an instant connection, adding that, "he gave great direction and I had a lot of feedback and positive energy from everyone that was on the set."
In the end though, Leslie's greatest confidence may have come from her preparation.
"I actually practice a lot. I have poses in my head. But when you get into the element in the sand, the hair and make-up is done, everything just connects. So far, I think we're all satisfied with the finished product."
Behind the Shoot: Shamea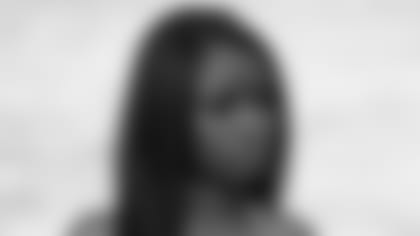 A five-year vet with the Ravens, Shamea returned to the squad this season after a three year hiatus from the team. And even before the shutter captured her athletic physique for the first time this afternoon, one of her goals had already been realized.
"Last year, while the ladies were in the Dominican Republic, I kept up online with everything they were doing," Shamea said after her shoot. "It definitely had an influence on my coming back and auditioning this year and, luckily, I made it here."
Also before the first click of the camera, Shamea learned to put her trust in the Ravens staff. "I like to do my own hair and make-up and, at first, I was very nervous going in. But the stylists were excellent and I feel that they did a good job capturing my personality."
Donning a white bikini with gold hardware, Shamea posed in the bushes while striking a "semi-serious, sexy pose." Noting that this was her first ever swimsuit photo shoot, the confident cheerleader felt very ease as she focused on the photographer as Ravens officials looked on. "It's a little nerve-wracking, but then you see that they're being very supportive of you and trying to make the shoot very easy."
Like many of the other girls, Shamea woke up at about 2:00am and had not slept a wink before the afternoon shoots. Still, her mood was charged and enthusiastic by the time she had finished. "I'm just going off of adrenaline right now, but I can't wait to see what the photos look like. Hopefully we put a good product out there for our Ravens fans."
Behind the Shoot: Adriene
Monday afternoon marked the beginning of this year's calendar photo shoot and the first girl to step in front of the lens was Adriene. "It's nerve-wracking, being the first," said last year's cover girl as she prepared to pose on a wooden dock overlooking palm trees and the clear, blue-green ocean.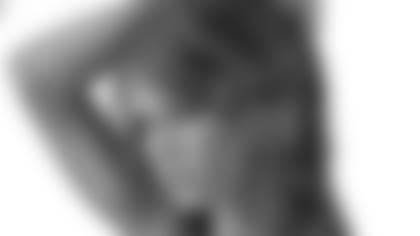 The weather didn't make things any easier as strong gusts of wind constantly blew Adriene's hair out of place and had crewmembers scrambling to hold up large screens to block the breeze.
Adding to the anxiety, all 23 other cheerleaders – as well as 98 Rock staff members, contest winners and fans – were on hand to witness what it takes to create the perfect shot. Still, the redhead felt comfortable despite the crowd. "The photo shoot didn't start out as planned with all those issues at first, but I could hear the words of encouragement from my teammates from afar and it helped me get in the groove."
Also helping her get into her grove was photographer Shawn Hubbard. After working with Hubbard on last year's calendar, Adriene feels comfortable taking direction from him. "Once I realize Shawn's all set and ready to go and I can see he's got his game face on, I put my game face on too and try not to focus on anything else that surrounds me."
For her shoot, Adriene posed in an aqua green bikini, reminiscent of the bathing suit she wore on last year's calendar cover. "I'm blessed and unique with my red hair and blue eyes. It's usually the coaches' goal to find a bathing suit that brings out and accentuates those two features of mine."
After about 45 minutes in front of the camera, Adriene walked away with a good feeling about the first photo shoot of the week. "It seemed a little chaotic at first, but then it all came together and felt pretty good. Once I locked into that camera lens, I just focused on making a beautiful piece of artwork."