The Ravens placed Boller on Injured Reserve Wednesday after his injured shoulder did not answer to treatment, ending the final year of his contract early.
With Troy Smith sidelined indefinitely due to a tonsils infection, the Ravens tabbed Bouman, 36, to back up rookie Joe Flacco.
The Ravens also have Casey Bramlet – a Cam Cameron student that was successful running the offense in the preseason – on the practice squad.
But, who is one in-game snap after Bouman, an experienced 10-year veteran now playing for his sixth team?
That would be wideout Mark Clayton. Bouman, Flacco and all the Ravens are hoping it never gets to that point.
"I've been in this situation a lot of years," said Bouman, who spent one month with the Jacksonville Jaguars in 2007 and their entire 2008 training camp. "You have to prepare like you're going to be the starter because you're one play away, and you've got to go in and be ready.
"If you're not, you're going to look foolish."
Actually, Bouman looked sharp in a workout in front of Ravens officials this week, where he beat out Joey Harrington and Chris Simms.
Bouman said he ran a similar version of coordinator Cam Cameron's offense while in Minnesota from 1997-2002.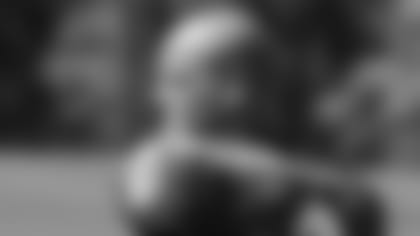 "We thought he was the best fit for us," said head coach John Harbaugh. "He's been in the offense before. He had a very good workout. The other guys had good workouts as well, but we thought that he was the best fit for us at this time."
Bouman's signing was so fresh, he suited up in a nameless purple No. 2 jersey and joined the Ravens' remaining signal-callers Wednesday, standing out among his fellow quarterbacks that donned the requisite red shirts.
"The hardest part right now is getting used to how the day goes – meetings, when you get a little time off, when practice starts, when walk-through is – just getting accustomed to everyday routines," Bouman explained. "Once you get used to that, things start flowing a lot easier."
Boller, on the other hand, was not seen by the media during the open locker room session or the open portion of practice.
The 2003 first-round draft pick (19th overall) hurt his right shoulder in Baltimore's Aug. 16 preseason matchup with the Minnesota Vikings and hasn't thrown since a brief session just days after the game.
"Kyle's situation is that he has one of two things," Harbaugh explained. "He's either got the torn labrum, but we don't know for sure, or he's got – I don't know the medical term, but there's a connection of the bicep and the shoulder. It might be that.
"The torn labrum has not responded to medication, and the other injury is a season-ender."
Boller received a one-year extension last year with the expectation to serve as an insurance policy behind Steve McNair. But when McNair retired in mid April, the California native was back in the running for a starting spot with Smith and eventually Flacco.
Boller, who has started 42 of 53 career games for the Ravens, was in an even better spot coming out of training camp when it was determined that the race would not include Flacco, only to be taken out by with a tough shot to the shoulder.
"It's frustrating, knowing how much time he put in this offseason, knowing how much time he's put in up to this point," said tight end Todd Heap, a close friend of Boller's. "That's the most frustrating part, getting to see him, talk to him about it and know his feelings about it."
Over his five-year career, Boller completed 746 of 1,311 passes for 7,846 yards for 45 touchdowns and 44 interceptions.
Smith also has a long road to full health. He spent some time in the hospital last weekend to receive intravenous fluids and has lost around 15 pounds. The Ravens will move forward with Smith on the active roster as the former Heisman Trophy winner regains his strength.
Meanwhile, the newest Raven is just hoping to gain a basic understanding of the playbook heading into the season opener against the Cincinnati Bengals at M&T Bank Stadium.
Said an earnest Bouman: "Right now, I'm just taking it day by day, week by week, being prepared and being ready to go."