This blog was written by Ravens defensive tackle Bandon Williams, and originally posted on the NFLPA website.
The season is going really well. Defense is getting a lot better. Offense is doing a great job. Special teams are doing wonderfully. We're coming into our own and doing great things.
It feels great to start. Last year was a bit bumpy because of my injury early on and I only played about half the season. It's great starting, having a role on the team and having people count on me. I'm working week in and week out to keep my spot.
One thing I wanted to blog about is my biggest role – being a father. I have a son, Ryder Jaymes Williams, who turned 2 years old recently. Having a child changes life drastically because now I have someone else counting on me other than myself.
We had Ryder when I was a senior in college (he was born on Saturday, Sept. 29 at 4:56 in the morning; it was a gameday). Having him made me step my game up a lot more. I knew there was that much more of a reason to provide for my family, provide for my son.
He comes to my home games, but usually goes to the daycare at the stadium where the players' kids go during the game. Sometimes he's out there in the stands, but most of the time he's in daycare.
When I'm playing on the road, he's usually watching, wearing his little Brandon Williams jersey. He starts yelling at the screen when he sees me on TV. My girlfriend sends me video and pictures of him watching the game. It's awesome to see him getting into it and it feels great to know he's watching.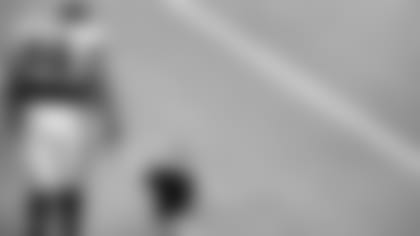 I try to talk to him on the day of the game, either on Skype or FaceTime, to say hello, see him and get that lift before the game starts. We are usually at the hotel the night before the game, so I don't see him the night before or in the morning.
I got a roof over his head, shoes on his feet and clothes on his back. But this is different than college because someone is always trying to take your spot so you can't get comfortable. You have to work every day – and get better and better – because there is always someone trying to work harder than you. I have to make sure that I'm working my hardest to continue to play on a high level and stay on the team so that I can continue to provide.
I also work as hard as possible because I definitely see myself as a role model for my son. He sees what I do and how I act. I try to get as much time with him as I can … put him to bed, wake him up, feed him, watch cartoons with him, teach him right from wrong. I try to do as much as I possibly can for him every day.
Having a son also impacts how I carry myself on and off the field a great deal, especially nowadays with the Internet. Soon enough he's going to learn how to use the Internet, and he's definitely going to Google his father's name. Whether it's good or bad, he's going to see what pops up. And I don't want him to see anything that I'm not proud of. He's going to see that or his friends are going to see it and tell him about it, and I don't want anything negative to ever pop up that will disgrace our last name.
So that keeps me conscious of leading by example and being as good of a person as I can be, so he can see and know that his dad is a great guy, very humble, good father. That's very important to me.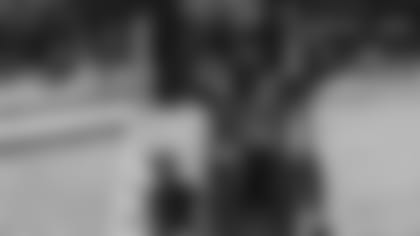 And one last thing…Happy birthday, Ryder!