Tales From Training Camp; Hard Work And Some Fun
Fourth-round pick Alex Lewis is 6-foot-6, 315 pounds and plays on the offensive line. He seems to be a serious individual dedicated to the football profession.
We saw more from him the other day. We just weren't sure it was him.
Last week I wrote about first-round selection Ronnie Stanley fitting into a chicken suit and then entertaining the team with an R Kelly tune. It was fun, and, in some ways, team building.
When a giant Minion appeared in front of the team last Friday, murmurs in the room indicated that many did not know who was in the costume.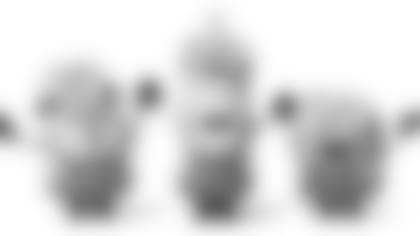 The muffled voice from the front of the room came: "It's hot in here!"
"Who are you?" came the shouts.
"Alex Lewis." He then offered some of his vitals, and it was time to sing. Alex was robust as he started the familiar words to "Play That Funky Music White Boy." His voice was good, and he could dance. (His mother started the Phoenix Suns dance group; his father Bill played seven NFL seasons and, like Alex, was a team captain at Nebraska.)
By the end of the song, Lewis was jumping, twisting and twirling. Players and coaches joined the chorus enthusiastically. It was fun.
Training Camp Is No Picnic; Goose Was Shooting
Training camp is hard, both physically and mentally. There's a grind to it, and team-building events like rookies in costumes opening the nightly team meetings relieve some of the pressure while building bonds.
Camp is not what it used to be when teams would go to remote locations for over a month, living in dorms or motels. There were two practices every day, usually in full pads, and meetings would extend to 10 p.m. The Ravens did that at McDaniel College, where the Baltimore Colts trained when it was called Westminster College.
Some players get bored and "energized" these camps. Tony Siragusa, the great Raven who anchored the defensive line of the 2000 Super Bowl championship team, loved to spice up things (and terrorize rookies.)
In 1998, paint guns were hot, and Goose brought a number of these to Westminster. He and fellow veterans like Rob Burnett, our Pro Bowl defensive end, would shoot at – well, everything. Rookies' cars, buildings, people – no one was immune. It got to the point when then-Head Coach Ted Marchibroda was forced to address the shootings in a team meeting.
"Guys, fun is fun, but the people at the motel are threatening to kick us out if some of you continue to splash paint on and in their building. So, it has to stop. Does everyone understand that? Goose, do you understand that?"
"Yes sir, no more paint guns," Siragusa replied.
The next day, I pulled into the motel parking lot after a practice, trailed by the big truck driven by Tony. I was on the phone. There was a worker on a ladder cleaning a paint splash off the second level of the building.
Goose got out of his car, opened his back door and pulled out a paint gun. "Hey you up there." The guy on the ladder: "Me?" "Yeah, you one of those complaining about the paint guns?" Before he answered, Tony fired a shot that just missed the worker.
I jumped out of my car. "Goose, come on man, what did Ted say? You can't do that." Goose smiled: "Just had to do one more. I had one pellet left."
With that, Siragusa walked over near the ladder and asked the guy to come down. He pulled some money out of his pocket, gave it to the gentleman and said: "No hard feelings. You want the gun?"
Howard Cosell And That Simon Says Game
Let's see if I can tell this training camp story with you understanding the language used by the head coach without me using his words.
This goes way back. My first year in the NFL, 1977. I was with the then-St. Louis Cardinals, and our head coach was the late Don Coryell, whose offensive genius made him a serious candidate for the Pro Football Hall of Fame.
We played six – yes, count them – six preseason games in those days. Our fifth of these was scheduled for national TV against the Bears with Frank Gifford, Don Meredith and Howard Cosell calling the game. In a strange business arrangement, Cosell had purchased the rights for the Monday night halftimes, which he also produced.
By the way, we had not scored an offensive touchdown in the first four preseason games. And, the Cardinals had been the NFL's best offense the year before.
(For those of you a little older, you know about Cosell, who was both loved and hated by fans who flocked in record numbers to watch Monday night telecasts. For those of you don't know Cosell, think of a combination of Stephen A. Smith, Bill O'Reilly and Donald Trump all in one person.)
Cosell called and told me that he had hired a "professional 'Simon Says' caller" to entertain at our TV halftime, and Howard wanted to pit our starting offensive linemen against the Bears' famed defensive front. I asked Cosell, "You mean the game where a person goes: 'Simon says put your hand on your head and things like that.'"
"Exactly," Cosell said. He told me the Bears were in and could tape around 3 p.m. the day before or anytime the morning of the game. Seemed easy enough to me. Checked with a couple of our linemen, including future Hall of Famer Dan Dierdorf, and they liked the idea – plus, I thought, it's preseason and players had some flexibility with their time.
A week before the game, I mentioned this to Coach Coryell, and he indicated that "That's your call. I just coach." That was the easy part. Told Cosell we were a yes, and the newsman asked the obvious: "When (can we film?)"
Early the week of the game, I went back to Coach Coryell and asked him when players will be available the day before and the day of the game. He asked: "What for?" I said "To tape the Simon Says game for ABC and Cosell."
"What are you talking about?" Coryell asked. I offered that he and I had talked the week before and that I needed to find a time to tape the Simon Says game between the Cardinals and Bears offensive and defensive lines.
Coryell leaned into me: "Simon Says? You mean Simon Says, the freakin' kids game?" Yes, I proudly replied. "You're talking to me about a freakin' kids game?" And, he walked away.
An agitated Cosell, one of the most famous people in the U.S., called me later that day: "Look, you're new to the NFL. I don't want to make this a big deal, but we need a gosh darned time to film this thing."
The next morning – two days before the game – I wandered up to Coryell as players finished practice with a 10-minute stretching period. It was about 100 degrees. "Coach, hate to bother you, I still need to pick a time so we can tell Howard Cosell what time we could film the halftime piece."
"Film what?" he said, squaring off in front of me. Stupidly, I answered: "Simon Says."
His rant was loud and served with gusto, while the team gathered around the two of us: "You mean Simon Says, the freakin' kids game. We haven't scored one freakin' touchdown this whole preseason, and you're asking me about Simon Says, the freakin' kids game. What is wrong with you? Simon says, my rear end! Freakin' kids game. Jesse James."
Did I mention that Coach Coryell had a lisp and spit a little when he yelled?
After the head coach finished and walked away without giving me my answer, Dierdorf put his arm around me and said: "Don't talk to Don during the season. We don't. Tell me what time you want us, and I'll get the line there."
Whew! We filmed the piece the next afternoon. ... And I never mentioned it again to Coach Coryell.
Simon Says this is the end of the column. Talk with you next week,