Reed, Pitta And The Best-Ever Ravens
Ed Reed retired as a Raven yesterday. It was uplifting to have Ed in the building, and his press conference covered a variety of subjects.
Since his first day with us in 2002 when we selected him in the first round, Ed has always carried himself with a maturity beyond his years. He has the countenance of a wise older person, and his answers yesterday reflected that. He talked of Art Modell and Steve Bisciotti. Ray Lewis and Lardarius Webb. He thanked Ozzie and Harbs. He gave shout outs to other staff members and departments.
And, Reed talked a lot about Baltimore and how much this community and our fans mean to him. He passionately spoke about his long-time relationship with Booker T. Washington Middle School, a school he adopted in his rookie season and one that he continues to help. Ed emphasized the importance of reaching out to kids and serving as mentors. "Many don't have the resources; I was one of them. If you can reach one, reach one. … And you may never know that you did reach someone," Reed said.
During his 50-minute press conference, Ed showed the many sides of why he is an important hero. Yes, he was a great Ravens' player. One of the two or three best to ever wear the purple and black. But, Ed also is dedicated to help those around him, and he does it in a humble, serving manner.
He was asked twice yesterday about the most memorable play of his career. He answered to our website and in the full press session. What does it say about this great player that the play he chose was the Cary Williams interception near the end of the 2012 AFC championship victory in Foxboro? It was not one of Reed's Ravens-record 64 interceptions. It was a teammate's.
"I remember telling Cary, take us home. Go get one, and let's go to the Super Bowl." And Williams stole Tom Brady's next pass, and we, of course, headed to New Orleans for the Super Bowl triumph over the 49ers.
Ed Reed has always been about the team, Baltimore and the community. How lucky are all of us.
Reed gave us all a reminder yesterday that it's a privilege to be a Raven. When he arrived for his announcement yesterday afternoon, Ed asked his advisor and friend, Glenn Younes, to take the picture below. "Ed was excited to be back in your building. He loves the Ravens," Younes said.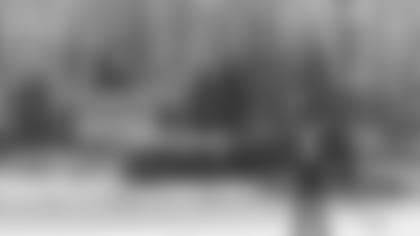 Lardarius Webb And Ed Reed
Thought it was pretty cool that a number of Reed's former teammates attended yesterday's press event. One of those was Lardarius Webb, whose idol when he was in high school and college was Reed.
"I had two No. 20 posters in my room when I was in college. One was Ed, and the other was me in my uniform," Webb said yesterday. "When I was preparing for the draft in 2008, I was at the Ravens' playoff game in Miami. Ed had two interceptions in that game, one for a touchdown.
"After the game," Webb continued, "I got the chance to meet Ed. You know what he did – he gave me his cell phone number. Then I get drafted by the Ravens, and he treated me and the other rookies nice. He was humble and respectful. He was my idol, and he treated me like I was somebody. Ed taught me how to study the game, how to be a good teammate, especially to the younger guys, and how important it is to get involved and help kids.
"My time with Ed as a teammate went too fast, and I'm lucky that we are friends," Webb added.
You've probably heard that our season ticket holders voted and picked the 10 best players in our history, and these players' images will be on our home game tickets this season. We listed the 10 in alphabetical order: Peter Boulware, Joe Flacco, Todd Heap, Jamal Lewis, Ray Lewis, Haloti Ngata, Jonathan Ogden, Reed, Matt Stover, Terrell Suggs and Marshal Yanda.
Notice, there are 11 Ravens listed. That's because NFL rules prohibit us from putting a player from another team – Ngata (Lions) – on our tickets. So, one of those players whose image will grace our tickets finished 11th.
We've decided not to share who finished where in the voting, but I'll give you a couple of nuggets. Ray and Ed were one and two in the vote. Flacco was third. Among those who finished in the Top 20 are Ring of Honor member Michael McCrary, our two current kickers – Justin Tucker and Sam Koch – Tony Siragusa, Jarret Johnson, Elvis Dumervil and Matt Birk. In showing the list to two of our long-time personnel experts – the guys who study the players – both agreed that the fans did a good job with the voting. The fact that players like Anquan Boldin, Hall of Famers Shannon Sharpe and Rod Woodson, Chris McAlister and Torrey Smith did not make our Top 20, indicates we have had some really good players representing Baltimore over our first 19 seasons.
The NFL started what is called "Phase Two" of the offseason program this week. Coaches are now allowed on the field with the players, and individual instructions take place. Teams can run plays without opposition.
These drills are completed in shorts, no pads, no helmets, but it sure looks and smells like football.
When the Ravens took the field on Monday, a buzz went around the building: "Dennis Pitta is out there running with the team."
"He did," John Harbaugh said. "And, he looked good. We didn't know what to expect. Dennis was excited, and we're excited for him."
"I don't know where this puts me in three weeks or three months, but so far, so good," Pitta told me yesterday. "I'm encouraged, but it's a process, and I'm taking it one day at a time. It did feel great to be out there doing football movement with my teammates. Felt very good."
We have our rookie camp this weekend. Good to see the new players. We feel pretty good, too.
P.S. Met a couple of the new rookies last night, including third- and fourth-round choices Carl Davis and Za'Darius Smith. These guys pass the "eye" test. They are big human beings: 6-foot-5 and 320 pounds and 6-4 and 275 pounds, respectively.