Iron Sharpens Iron; Lessons Taught And Having Fun
Football is not a game for the physically meek.
You can't succeed if you can't embrace the physicality the game brings. It's a tough, hard, complicated competition that requires bravery.
But, even at the highest level of football – the NFL – there are teams considered more physical than others. There are teams with earned reputations for being more physical, more tough and that play with more tenacity. There might be as many as five or six teams who, among the coaches and the players in the league, have reached that elite "It's going to hurt to play that team" status.
The Ravens and 49ers are two of those teams. They are teams that "bring it" every single play. Heck, they do it at practice; that's how they climb this elite "most physical" list. It's not a face you can apply only on gameday or against certain teams.
YOU HAVE TO PRACTICE THIS STYLE.
You saw it last night. Each team is filled with rough, tough men who try to dominate the person across from them every play. That's one of the reasons this preseason game was more fascinating than most.
(And, how about the offense on its opening drive last night? Joe Flacco was precise, and the running game, behind a revamped offensive line, was charging downhill. We ended up rushing for 237 yards. Preseason game or not, who played and who didn't play, that's impressive.)
A few of us, including Ravens fans who won lotteries to attend, will get to see these stalwarts face each other in three practices beginning tomorrow and ending Monday before the 49ers fly out of Baltimore.
You've heard John Harbaugh and our players say that for years. It was part of our battle cry during our Super Bowl-winning run in 2012. It reflected how our players pushed each other through intense training camp and regular-season games and practices.
Now we have two teams with hardened edges, pushed by a pair of Harbaugh brothers who share DNA and similar football beliefs. Iron sharpens iron. This will be fun to watch, and both teams will be better for it by Monday night. We'll improve, and so will San Francisco.
Last Monday night (8/4), the Ravens were privileged to practice at Navy-Marine Corps Memorial Stadium.
That morning, Associate Head Coach Jerry Rosburg started the Ravens' day with a special teams meeting. Jerry first showed an aerial view of the stadium and indicated where our buses would enter, where the locker room is and marked where players would report on the field.
Coach Rosburg then noted that the Naval Academy's home stadium "is a memorial dedicated to men and women who risked and some who gave their lives in battle for us. They fought for our freedom and our way of life."
(Rosburg's father, Elmer, was a prisoner of war in World War II, earning two Bronze Stars.)
The coach pointed out that there are 44 battles listed prominently on the facade inside the stadium: Midway, Guadalcanal, Iwo Jima, Okinawa, Normandy, Afghanistan and Iraq are all featured.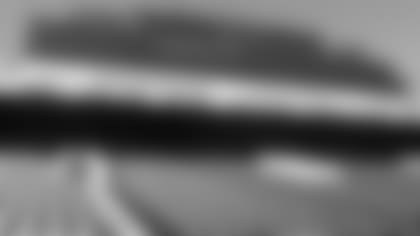 "Our bus trip down there tonight will take about an hour. Instead of sleeping or daydreaming through that ride, you might check your iPad and read about some of these memorable battles. We've sent a brief description of each of the 44 battles listed at the stadium to you," Rosburg said.
He then asked safety Jeromy Miles, who started his college career at the Naval Academy before transferring to Massachusetts, to speak. Jeromy spoke about his time at the Academy and said: "It's a great place to play football, and the stadium is very important to the current students and history of this memorial."
Rosburg called on Tony Coaxum, a West Point grad who served our country as an Army captain and is a coaching intern with the Ravens this season. "Coach Coaxum, does West Point have a memorial stadium?"
Coaxum was ready. "Yes sir, it's Michie Stadium. In 1890, Dennis Michie was a West Point cadet. Navy already had a football team, and West Point did not. Michie organized a team of Army students and challenged the Navy team. That game started the Army/Navy series we know today."
Nice. Some lessons taught – and learned.
Training camp is a grind. It is tedious, intense and tiring. ... And you need to have some fun to help you get through this rigorous time.
And, the Ravens have some fun.
Last week I mentioned that rookie quarterback Keith Wenning sang R Kelly's "I Believe I Can Fly" while dressed in a penguin suit. Terrell Suggs described the effort as "terrible."
Getting better reviews from the veterans this week was a performance by rookie wide receiver Michael Campanaro. Dressed in a leprechaun outfit provided by fellow receiver Steve Smith Sr., Mike sang an enthusiastic version of the Sponge Bob Square Pants' theme song.
But, the showstopper was a special performance by kicker Justin Tucker. He started an evening meeting by performing three songs, accompanied by his excellent guitar play. Tucker can sing, can play, and he knows how to work a crowd. He would compete well in the various talent shows now dotting the national TV landscape.
To the delight of the room, Tucker sang "Sweet Home Alabama," "Jumper" (by Third Eye Blind) and the Eagles' famed "Hotel California."
"That intricate guitar play that starts 'Hotel California,' was perfect. He sounded like the Eagles," Coach John Harbaugh complimented. After singing the first stanzas of the song, Tucker shouted out, "Juan (Castillo), sing with me." And, Tuck sang the next verses in Spanish.
At the end of last Sunday's practice, which ended around 7 p.m., Harbs offered this to the team: "We'll cancel tonight's meetings if DeAngelo can catch a punt."
DeAngelo Tyson smiled. Suggs and Haloti Ngata quickly started coaching their fellow defensive lineman. Other players either yelled encouragement or threatened Tyson, "If you drop this..."
Suggs asked for a sample from the Jugs machine approximately 55 yards away from Tyson. The ball shot out of the machine and landed five yards ahead and 10 yards to the right of where Tyson stood. "Sizzle" grabbed the big defender and placed him at the spot the ball landed. "He's ready," Suggs yelled.
Just then a gust of wind picked up. The ball sailed high in the air and drifted 15 yards to Tyson's right. DeAngelo moved quickly, extended his arms and the ball ripped through his outstretched fingers. The collective groan was loud. Soon, some chanted, "Give him another chance." Harbs smiled and said: "One more, the wind got that one."
This time Tyson settled under it like Jacoby Jones and smoothly caught the ball. Ninety players cheered. Harbs smiled, and the meetings were cancelled.