Starting with the loss against the Bengals on Sunday and then the elevator video on Monday, this has been an unusual few days for the Ravens.
There was tension, self-examinations, sadness and maybe even some doubts.
President Barack Obama did not have as many cameras and reporters around the White House this week as we did at the Under Armour Performance Center. One national reporter announced that the Ravens were a franchise under siege.
It was not the normal build-up to this great Ravens/Steelers rivalry game. To some, last night's battle was an afterthought.
But, God love Terrell Suggs.
We couldn't just go into a shell, dig a bunker and bury our heads in Pittsburgh preparation. The NFL requires that the head coach and the players have to be available to the media. Harbaugh has no choice. He has to meet with reporters five times a week. Players are required to spend time with reporters three and four times per week (but some dodge and dart when they can get away with it.)
When players and coaches arrived for work on Tuesday, they were greeted by 11 TV satellite trucks and 75 reporters. We planned to have John Harbaugh and four players address this throng in a press conference-type setting. Suggs, Joe Flacco, Steve Smith, Sr. and Jimmy Smith "volunteered" to face this media mob.
There is always some jockeying by players to try and be first at the microphone in these situations. They want to complete this assignment and then grab a little time for other work, food or the trainers' room. Suggs is the best at finding a way to go first, even in front of the head coach sometimes. For example, one time during last season, Harbs was just about to head to the mic when "Sizzle" stopped him and said: "Coach, I want to get an extra lift (weights) in. Better let me go first."
On Tuesday, when Senior Director of Public Relations Chad Steele reminded Suggs at the end of practice that he was scheduled to meet with the media, Terrell didn't rush to the podium. "Let somebody else go. I have to do something," Suggs explained.
When he came out to address the media, Suggs was beaming. I didn't notice the shirt at first. But there he was, wearing a shirt with a picture of Mike Tomlin jumping off the field with Jacoby Jones right next to him. The colorful shirt had these words above the picture: "We Will Never Forget." On the bottom of the front, it read, "The North Remembers."
It was Suggs' way of saying: "Hey, we may have some chaos right now. But, we have those damn Steelers coming to town in two days, and we have to be ready. And, why don't we have a little fun with it?" Talk about a tension breaker!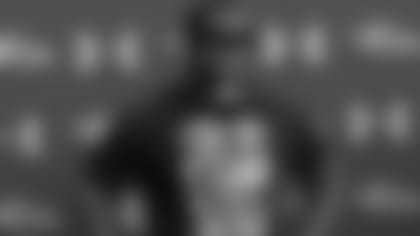 And I loved Suggs' explanation for the shirt: "In the offseason, I took a pilgrimage to Ball So Hard University and Hogwarts. I just dug deep within myself, and this is the image I came up with to show this whole Steelers rivalry. We just wanted to let their head coach know we will never forget what transpired here in this game last year."
During pre-game warmups last night, Tomlin shouted over to Terrell: "Hey, we going to split the money on those t-shirts?"
None of us knew that Suggs would be wearing a gladiator helmet when he was introduced to the sold-out stadium last night. The crowd went nuts. He's unbelievable.
After Harbs gave his final proclamation to the team in the locker room, ending with, "We're built for games like this," Suggs lingered as the team headed out for intros. He had the helmet, which he purchased in Rome in June, wrapped in a towel in his locker. Since he was introduced last, he was able to keep the secret from his teammates and coaches.
It was fun. And, he made his point. Let's go get the Steelers! By the way, the helmet is not a piece of plastic. It's heavy. "I thought we needed a boost. We couldn't afford to start slow," Suggs said after the victory.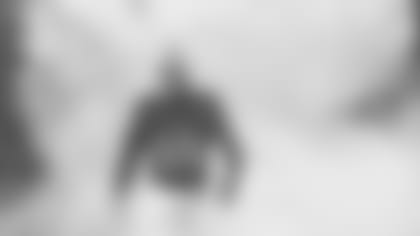 That was an important victory last night. Bigger than most. Had we lost and been down 0-2 to the teams in the AFC North, our confidence would have been seriously shaken. To win convincingly against the arch rival, well, that's pretty damn good.
Steve Bisciotti came to the locker room after the victory. He rarely does that. He hugged and shook hands with lots of team members. He had long embraces with Harbs and Ozzie Newsome. He and Dick Cass beamed at each other. This was no ordinary early-season win.
We won because our coaches assembled excellent game plans, and our players performed at a very high level with few mistakes. As Harbs told the players, "That's a complete team victory."
We also won because Steve, Harbs, Ozzie and Dick, the leaders of this franchise, kept our ship heading in the right direction during a very unusual few days.
Let's watch some football this weekend, especially those Browns, the team we face a week from Sunday.
In the meantime, savor this triumph over Pittsburgh. It was big, very big.