It's Sunny, It's Hot…It's Football
The Castle is buzzing. … And, this ain't Game of Thrones.
Over 80 Ravens players were out on the fields, rocking the weight room, hitting the books and using new recovery methods this week when the team completed the first week of OTAs (Organized Team Activities).
By the way, that's a stupid name. Grade schoolers have organized team activities. Football teams have minicamps.
It might be Memorial Day weekend, but it looked and smelled a lot like real football around here. Players weren't in full uniform, and there's no true blocking and tackling, but these were serious pro athletes flying around, lifting grownup weights and studying like we were playing the Steelers on Sunday.
Here are a few observations (and some of this is from what I heard from our Ravens football experts –people who coach and evaluate talent for a living):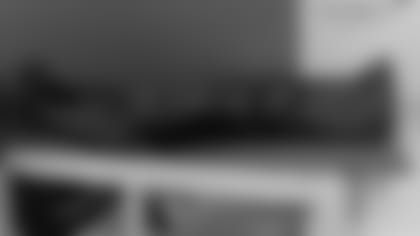 Let's start with the body bags. We now have a "recovery" area near the back of our weight room. There are eight training tables there. Walking past these yesterday, it appeared each had a body bag laid out on top. That startled me. What are we doing? Steve Saunders, our new director of performance and recovery, explained: "No, they're not body bags. These are devices created by a company called Normatec. Players wrap these around the lower half of the body, and they basically receive an air massage to help revitalize the muscles."
I love taking guests to our weight room. Under the direction of strength coach Bob Rogucki, this place rocks. The weights are clanging, players are grunting, music is blaring, and strength is being gained. There's no "maxing out" when NFL players lift. We're not trying to win power lift awards, we're getting men ready to compete on the football field. (Once walked into our room at our old facility, and Orlando "Zeus" Brown, the big right tackle, had 1,000 pounds on a bar, and he had bet someone a good chunk of change that he could squat with that weight. To the good fortune of his knees – and the rest of his body – the strength coach came by and put an end to the contest.)
You don't have to be Ozzie Newsome or Eric DeCosta to look at No. 1 draft choice Ronnie Stanley and figure out that he can be special. He has "tight end" feet and a long wingspan – prototypical for the best tackles in the business. Think he'll be hard to keep off the field.
It's only minicamp, but last year's No. 1 pick, receiver Breshad Perriman, is startling. That's one big and very fast wideout flying down the field. I know, he has to prove he can be healthy and beat NFL corners, but he leaps out when you watch practice.
Oh, almost forgot for a second about the guy on the other side until he raced down the sideline and caught a touchdown pass in the end zone. Mike Wallace, wearing No. 12, welcome to the Ravens. Wow, Wallace on one side, Perriman on the other, Steve Smith Sr. when he gets back, Kamar Aiken – was that a smile we just saw on Joe Flacco, standing with Offensive Coordinator Marc Trestman behind the Wallace play?
Remember, it's not full pads, and it's touch football, but the fourth-round receiver Chris Moore clearly has a burst. He was noticed in a kick return drill.
How about the "Svelte Club?" There are a good number of veterans who just look better physically after months of focused training. Offensive linemen Rick Wagner and John Urschel have maintained their weight while lowering body fat. Second-year linebacker Za'Darius Smith, fullback Kyle Juszczyk, defensive tackle Timmy Jernigan, converted tight end Darren Waller and safety Terrence Brooks are all noticed.
Sometimes young players give you an indication of where they're headed by how they play late in the season. Jernigan and Z. Smith are two guys who were coming fast last December and could break out this season. Jernigan is disruptive even when they're playing a sophisticated form of touch football at these camps.
And, man, how about Dennis Pitta? Can we be happier for any player? If he makes it back, first, he will make our offense better; and second, he is a* *guy worth rooting for. C'mon Dennis, you deserve some luck and karma after the last few years. He's big, fast, smart, Joe loves him, and his hands are terrific. Great to see him practicing.
Impressed that Crockett Gillmore is out there after a couple of hard months of shoulder rehab. In fact, you look at the tight ends working as a group early in these sessions, and there's a wealth of talent. Our second-round pick from a year ago, Maxx Williams, is bigger. He has ability, and football is important to him – that's a good combination. Benjamin Watson leaps out, and he caught 74 passes for the Saints a year ago. Nick Boyle showed he can play as rookie last season, and he's better (but he'll be suspended for the first 10 games of 2016.) Then there's Darren Waller, the large (6-foot-6, 250) wideout from Georgia Tech (sixth round in '15) we are converting to tight end. His potential is special.
And, speaking of groups, the secondary is better. No doubt. Start with new Secondary Coach Leslie Frazier, the former head coach of the Vikings. He's a noted teacher/coach. Then you watch Lardarius Webb and Eric Weddle work the safety spots. That's a lot of speed back there. And leadership. They're lining up the corners, calling out assignments. And Weddle is clever. He gives one look, adjusts and seems to know where the ball is going all the time. Shoot, Dean Pees is smiling just with the number of healthy corners. We were awfully thin and green there at the end of the season.
Running backs, there are a lot of them, and Pro Bowler Justin Forsett will battle them all for playing time. They all recognize they have a chance to play – Lorenzo Taliaferro, who is right up there with Flacco and a few others who have spent a lot of time in our facility since the middle of January; there are rookie Kenneth Dixon, Buck Allen, who showcased as a rookie, and Trent Richardson, the former third pick in the draft who is on the comeback trail. And, Terrance West, who propelled Towson to the NCAA title game three years ago, appears quick and decisive. He has worked hard to be at his healthiest. His body is different from six months ago. This competition will be ablaze at every practice.
Linebacker Albert McClellan, a steady player capable of playing inside and out – and is a top special teams player – competes hard every play. Another one who shows regularly how important football is to him.
New second-rounder Kamalei Correa is a joy to watch. He's a bundle of energy and explosion. One of those kids whose parents and teachers were probably always telling to "sit still." He's like a young thoroughbred at the starting gate, giving every indication to "Let me go and play."
Just noticed the big fourth-round tackle from Nebraska, Alex Lewis. He was running at guard. Looks the part, and he has the countenance of a veteran. None of what we're throwing at him seems too big for him.
Mentioned a lot of our newer guys, but here's a shoutout to some vets. Center Jeremy Zuttah is back after missing the last six games of '15 with a chest injury. He's good, and he's a steadying force on the O-line. Justin Tucker is here after he and his wife Amanda just had their first (son, Easton). We've seen guys under the franchise tag skip OTAs. And, Flacco, not enough is said about his influence around here – and he's around here a lot. His teammates see how hard he is working to come back from the knee injury. That makes us better. Way to go, Joe!
Hey, this week has been fun. One more week of OTAs before the full-team mandatory camp on June 14, 15 and 16. Sorry you can't be here to see, but hope these words give a little glimpse of the energy – and talent – at The Castle right now.
Talk with you soon. Enjoy the holiday weekend. Remember our soldiers,