Didn't like "The Goose" very much after I first noticed him playing against the Ravens when Tony Siragusa was a defensive tackle for the Indianapolis Colts in 1996. It was at the old Hoosier Dome, which was one of the loudest stadiums in the NFL.
We were on our way to a 26-21 loss, our fourth defeat in five games, when Tony sacked quarterback Vinny Testaverde for a 13-yard loss. Not only did Siragusa celebrate on the field, he waved his arms like he was a flying goose when the stadium cameras found him on the sideline. The crowd went wild. His helmet was off, and his cocky smile pissed me off.
"Act like you've been there," was my thought at the time.
Not too many months later, Ozzie Newsome came to my office to tell me that we had acquired Tony. Soon after, then-head coach Ted Marchibroda offered, "You'll like Goose. He has some personality, and he can play. Tough guy with exceptional quickness for a big man, and he is a big man." (Ted had coached Siragusa when he headed the Colts before coming to the Ravens.)
Tony Siragusa, The Goose, is our "Legend of the Game" this Sunday. We will introduce him, coming out of the tunnel, prior to kickoff, and then bring him back for some inspiration before one of our defensive series in the first quarter. The crowd will celebrate his tremendous NFL career, his influence on our community with his generous charity work and the part he played for the single-season best defense in NFL history – the 2000 Ravens.
It's appropriate Goose is here for the Steelers game. He loved those confrontations when he was a Raven from 1997 through 2001. He helped establish what many believe is the best rivalry in football. Toughness and physical play are at the heart of these battles, and few can match the presence and combat Tony brought to these memorable games.
Goose was even willing to battle the Steelers after he retired. For our 2010 divisional playoff game at Heinz Field, the NFL asked each team to designate an "Honorary Captain." We invited Goose to be ours.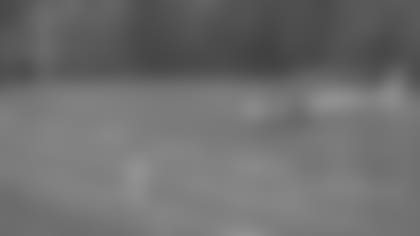 Teams do partake in some gamesmanship for these big postseason events, mostly done with a smile. Members of the Ravens' travel group who needed field access were given "Official" passes. And, on the back of these, which you wore around your neck, it stated that the wearer was allowed access to any place in the stadium. The Steelers also gave our security staff stickers and said, "We'd like you to put on the passes for anyone who will be going on the field."
The stickers had a picture of a smiling donkey – a jackASS – on them. I didn't notice that when one of our security folks placed one on my pass.
I went to take John Harbaugh to his pre-game radio show with Gerry Sandusky, which takes place on the field, Harbs said, "Come over here, let me take that sticker off your pass."
Huh? He then scraped it off, showed me it was a jackass, and asked if we had to have these stickers. I said no, that our passes already gave the access. We then left the locker room, headed to the field. John had his gameday clothes on, his game-face mindset ready, but I noticed he wasn't wearing his official pass. (Few head coaches wear passes on gameday. They're pretty recognizable.)
As we arrived at the tunnel entrance to the field, an offensive-lineman-sized Steelers security guard – who, by the way, had a long ponytail – stopped the head coach and me. (We could see Sandusky waiting in the corner of the end zone. Goose was talking with our gifted play-by-play man.) The security guy looked at Harbs and said, "You can't go on the field without a pass, and you need a sticker on yours" (pointing to me).
Coach Harbaugh: "None of us are wearing the stickers." The guy told us then that we were not going to the field and stepped in front of us. "Look, you know this is the Ravens' head coach, and we're just going right there for his interview," I said. The guy said again: "You can't go without the passes and stickers."
I shouted out to Goose. "Tony, we have a problem here. This guy won't let John down on the field." It wasn't a sprint, but Goose was quickly up the tunnel. "Hey 'Ponytail,' you got a problem?" Goose said with emphasis. Before he could answer, Goose was close and explained: "Look, they're going to the field. Any problem with that?"
Siragusa then walked us to the field, followed by the security guy, who was yelling into his walkie: "I need police and help here right now." That was the last we ever saw of that security person. Next time I came down that tunnel, the Steelers had someone else there.
Expect Unusual And Fun With Goose
Tony enjoyed his tenure with the Ravens and had fun. There was the time he arrived at training camp in a helicopter. He stole people's clothes when they showered. He'd take keys and move players' cars – sometimes out of the area. He showed up for our charter flight for the season finale in 1999 in a top hat, tails and a tux. (It was New Year's Eve.)
He brought paint guns to training camp in 2001. The manager threatened to throw the team out of his Westminster motel if he found one more paint blotch on a wall or one of his workers was splattered with paint. Head Coach Brian Billick addressed it in the team meeting. "Guys, no more paint guns. They're going to kick us out. Goose, you got that?"
Next day, I parked my car at the motel after the morning practice at McDaniel College. Goose was right behind me and parked a few spaces away. There was a man on a ladder cleaning a paint splotch off the second story of the wall. I watched as Tony got out of his car, opened his trunk, took out a paint gun and shot at the guy, barely missing, but making another mark on the wall.
The worker was not happy. "Goose, what are you doing?" I yelled. Tony then approached the guy, who was now fuming after coming down the ladder. "Hey Pal, I'm sorry. Want me to go and clean it? I will. Let me do it," Siragusa offered. I then saw Goose take some bills out of his wallet and hand it to the gentleman. We got to stay at the hotel through camp.
Tony is more than a class clown. He is kind and big hearted. On Christmas Eve in 1999, Ravens defensive end Fernando Smith burned down his apartment and other units around it when a turkey he was frying spilled out of the pot and caught fire to the kitchen. He and his family lost everything. Goose rallied instantly, produced $10,000 worth of clothes and took some of the toys his children would be receiving the next day and gave those to Smith's kids on Christmas morning. Today, Goose is like the big brother for some members of our Super Bowl XXXV championship team. He'll call and say, "Hey, we need to do this for so and so. He's struggling a little right now."
I like Goose a lot more now than when he was wearing that Indy uniform.
M&T Bank Stadium will be rocking Sunday when we introduce the very popular Tony Siragusa. A lot of fans loved his blue collar toughness and entertaining way. The fans will let him know that. Let's keep that energy up the entire game. Let's beat the Steelers.
P.S. One more Goose story. In 2001, ESPN started a nightly half-hour "live" show dedicated to NFL news. For its second one, ESPN wanted to have Tony as the "live" guest. They asked the day before if we could get Goose for them. (Remember, the day before.) Siragusa said he would do the show, which started at 7 p.m. He would be on at 7:06. A young producer and his crew set up in our weight room. At 6:30, the producer was already nervous because Goose wasn't there. I wasn't worried; Tony was always punctual. At 6:58, Goose arrived, sat on the interview chair and a microphone was attached to his shirt. The producer was on a headset talking to his boss at ESPN. "Tony, they want you to take off your hat," the producer said. "I'm wearing the hat," he replied. Producer looked at me for help. "Goose, what's the deal with the hat?" I asked. Siragusa smiled under the brim of his Ridgid Tools' hat. "Kevin, I have to wear the hat."
He wore the hat … and the interview was terrific, making Tony and the Ravens look good. The next day, I asked Goose about the hat. "Here's what I did," Tony explained. "When you asked me to do the interview, I called a guy I know at Ridgid and said I'd wear his shirt or a hat on this new national ESPN show in exchange for some tools." I shook my head. "But, it gets better," Tony continued. "I'm taking the tools to another place and exchanging them for some wood to help build a deck on our new house."