Rookies can be motivated by a lot of things: money, fame, playing time.
But there's perhaps no better motivation than the ones the Ravens rookies are getting this year as they see their teammates walking around wearing Super Bowl rings.
First-round safety Matt Elam was with kicker Justin Tucker the other day when he noticed the bling.
Elam asked if he could see it for the first time. He was taken aback as he stared down at it. Elam didn't put it on, perhaps because it didn't have his name on the side.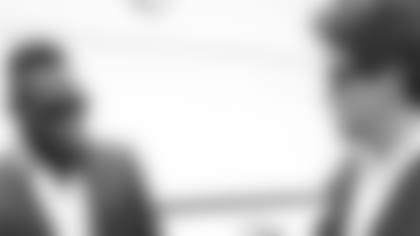 The rookie simply said, "I've got to get me one of those."
Tucker responded: "Let's get another this year."
The two pounded fists, smiled and that was it.
It was a cool little moment, and gave me a glimpse into what a Super Bowl ring means to those who don't possess one. It's the ultimate trump card, a badge of honor to all other players.
After seeing it, Elam tweeted this:
I play my first league game in less than a month & I can't explain how FRANTIC I am, it's MANDATORY that I be legendary..!  — Matthew Elam (@ElamVsElo) July 11, 2013
Tucker talked about the ring, and what it's like winning a Super Bowl in just his first year, with WNST's Drew Forrester earlier this week.
"I'd like to do it again. I'd like to do it real soon too," the kicker said. "I know I speak for a bunch of people saying that. You wake up the next morning after winning the Super Bowl and you want to do it again real quick."
Tucker was asked whether he's locked the ring up or whether he enjoys wearing it around town.
"A little bit of both," he said. "I'll walk by it and be like, 'You know what, I'm going to wear the ring today.' Then my arm is sore from carrying it around all day. That thing's pretty crazy heavy. That's when it gets surreal is putting on that ring and thinking, 'I'm 23 years old and I've got a Super Bowl ring. This is pretty cool, man.'"