Many NFL teams feel that having three quarterbacks on their 53-man roster is pushing it. in the Ravens' 34-3 victory at Cincinnati.
Offensive coordinator Cam Cameron has already shown his creativity by utilizing quarterback Joe Flacco![](/team/roster/joe-flacco/3e20766f-6520-4ca1-9901-44389aaea8b8/ "Joe Flacco") as a receiver in Game 7, so it should have surprised few that his latest wrinkle employs a receiver as a quarterback.
"We saw it in practice," head coach **John Harbaugh** said of Clayton's ability to throw the football. "We knew he could do it. That may have been the best that he's thrown it. He's a gamer, obviously. He'll be lobbying for more throws now."
Clayton got the handoff from Flacco, and rolled to the right before throwing a dead-on 32-yard connection to Mason with 8:20 left in the third quarter, making him the first non-quarterback to throw for a score in Baltimore Ravens' history.
"We practiced it a couple times," Clayton said of the trick play. "I'm just thankful coach trusted me with the ball to make a play like that to Mason."
But, No. 89's offensive production did not stop there.
"I think he had two long catches and a throw for a touchdown, right? That's pretty hard to duplicate," said Harbaugh. "Mark has done a really great job of just coming to work every day. He's as hard of a worker as we have on our team. Between him and Mason, they get out there and kill themselves in practice, and it shows up in the game."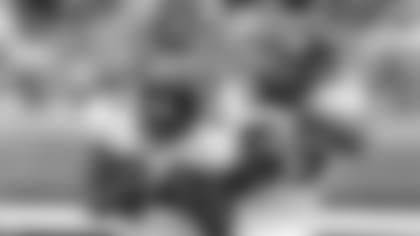 Clayton had a career-high day, with five receptions for 164 yards, the most by any Ravens receiver in a single game this season.
His fifth catch for 70 yards and a touchdown came with 6:04 left in the third quarter, only 2:16 after he threw for six points. The impressive one-handed grab tied the team's number for the longest reception of the season.
"They both were good," Clayton said of his two scores. "I'm just glad we were able to put points on the board and win the game, because at the end of the day, that's what it's about."
His touchdown reception was the perfect exclamation point to complete the dominatingg day.
"That stretch was pretty big," Flacco said of those two minutes in the third quarter. "In the first half, we went down and kicked some field goals. We wanted touchdowns in those situations, but we settled for field goals. To come out in the second half quickly and put two scores on the board was huge for the momentum of the game."
That was Clayton's fourth touchdown this year, and all of them have covered at least 40 yards.
Previously, he had a 53-yard catch on Nov. 23 against Philadelphia, a 47-yard catch on Nov. 2 versus Cleveland and a 42-yard run in the season opener, the first time the Ravens played Cincinnati.
Clayton has scored on the Bengals in almost every way possible offensively this season - first by running the ball in Game 1, then by throwing and receiving in Game 12.
This prolific performance against Cincinnati gave Clayton his seventh 100-yard receiving game of his career, putting him above former Baltimore receiver Derrick Alexander (six) for the most in Ravens history.
"You saw the guy go up and make catches today," Flacco commented when asked about the difference in Clayton. "Anytime you are one-on-one, you want the guy to make the difference for you, and you saw what he could do today."
Now that the Ravens have found their Renaissance man of football, it's good to know that if Joe Flacco, Troy Smith and Todd Bouman all go down, the offense won't suffer.
Apparently, Mark Clayton can handle the role of emergency quarterback in addition to being a standout receiver.