For every home game at M&T Bank Stadium, a member of the public relations team writes a feature story on a Ravens player in the gameday program. Defensive lineman Haloti Ngata is featured in the Redskins vs. Ravens preseason program.
* *Building a defensive line that is known throughout the NFL for its tenacity is no easy task. However, season after season, Baltimore Ravens fans have grown accustomed to their players delivering hard-hitting blows to opposing offenses. A significant piece of the Ravens' flourishing system has been Haloti Ngata, the dominant lineman who has vigorously climbed his way up the mountain of success.
In a 2006 draft class that featured college standouts such as Reggie Bush, Vince Young and D'Brickashaw Ferguson, the Ravens selected Ngata as the 12th-overall pick after a successful run at the University of Oregon.  During his four years in Eugene, Ngata earned numerous noteworthy accolades, including first-team All-American honors and PAC-10 Defensive Player of the Year.
Defensive Line Coach Clarence Brooks recalls how the team was thoroughly impressed with Ngata's college achievements and believed he would be a premier defensive lineman – someone who could continue Baltimore's tradition of tough and rugged play.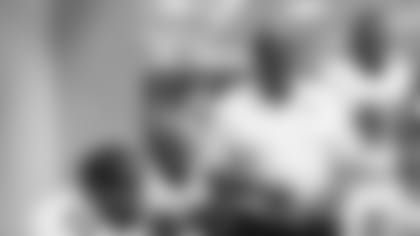 "A lot of things about him stood out," Brooks remembers. "His athleticism, his size, his playmaking ability – those are all things, when you watched him on tape, that you really marveled at, especially because he was able to do them as a big man."
The high hopes the Ravens' front office had for Ngata immediately came to fruition. He quickly honed the skills that separated him from other college stars and became an immediate starter for the purple and black. Since then, he has earned five Pro Bowl selections, establishing himself as one of the NFL's top defenders.
Ngata has also developed into one of the franchise's all-time greatest players, placing his name in the echelon of marquee Ravens defenders like Ray Lewis, Ed Reed and Terrell Suggs.
Combining his shear strength and knowledge of Baltimore's defense, Ngata has proven to be one of the game's most versatile players, moving regularly between nose tackle and defensive tackle.
"He understands what other people are trying to do to the defense," Brooks explains. "And he is able to adapt, go from one position to the other. We've used him in games at two or three different positions, and he is able to pull it all in.
"And sometimes, I say; 'Look, you're playing here, but you need to keep an eye on this, because we might have to use you,' and he understands all of that. He is very versatile and extremely knowledgeable about our defensive package."
By moving across the line, Ngata has proven invaluable for the Ravens defense, and it is certainly a key trait that has helped him sustain a productive NFL career.
Being a husband and father to three young boys has provided a solid foundation for Ngata to succeed. He especially credits his wife, Christina, for offering the encouragement he needs to accomplish his goals on the field.
"My wife is incredible," Ngata expresses. "She watches three boys by herself, and without her being supportive of me, I don't think I would be able to make it.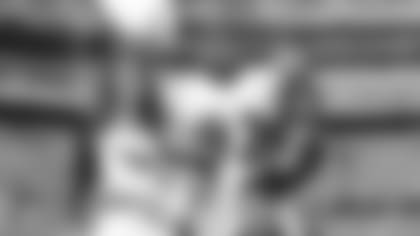 "I can't explain how lucky I feel and blessed I am to have a woman like that, to be able to support me and bring the kids to practice every now and then so I can see them and have fun. She is an amazing, amazing woman."
Since becoming a father in 2008 and watching his sons grow, Ngata has also increasingly dedicated time to shaping his Ravens family by selflessly mentoring fellow teammates.
"He works hard and respects everybody," Brooks has observed. "He is extremely helpful to the young guys and the new people in the program. He'll go out of his way to give a guy a tip or two about something. He's not threatened by anybody. He feels, 'Hey, if they get better, we all get better.' And that's his way of giving."
It is clear that Ngata molds his leadership technique to reflect the manner in which the Ravens' defensive leaders treated him upon his Baltimore arrival.
"Guys cared about you, guys wanted to see you succeed, see you make it, get better and better," he recalls. "So, right when I got drafted, I got a call from Ray Lewis and Kelly Gregg telling me what I needed to do to help the team. So, I was really impressed and glad I was able to come here."
While Ngata regularly encourages teammates, he also continues to set high standards for himself and is eager to improve his skill set every day. This year in particular, the 6-foot-4, 340-pound lineman has set his sights on attaining double-digit sacks.
"I really want to help contribute to the team, and [getting at least 10 sacks in a season is] something I have never done in my career," he affirms.
Like Ngata, Brooks has been a fixture in Baltimore since he joined the coaching staff in 2005.
Just as the 22-year coaching veteran commends Ngata for his character on and off the field, Ngata speaks fondly of his position coach, and the two men have grown close throughout their time in Charm City.
"I think the biggest thing about 'C.B.' is that he is versatile, too," Ngata describes. "We've had four or five different defensive coordinators since he has been here, and he is able to adjust to those coaches' wants and needs, and he does it without blinking an eye.
"So, he has been very consistent, but versatile at the same time."
Despite a tenured and robust NFL coaching career that includes stops in Chicago, Cleveland and Miami, Brooks is happiest in Baltimore.
"To be in this business – to be 10 years in any place – is really something," Brooks reflects. "I'm certainly proud to be here; I'm proud to be a Raven.
"I think I've been allowed to grow as a coach here and haven't been stifled. I really enjoy the freedom we have to coach and being around these guys. That's why I'm in this business, and that's the one thing I love about the business."
In a field as relentless and ever-changing as the NFL, it is rare to find a player/coach tandem that has impacted one organization for an extended period of time. However, Ngata and Brooks are an exception, and their consistency has helped contribute to the Ravens' renowned defensive success.
Looking back on their nine-year relationship, Ngata and Brooks are grateful for the unique bond they have formed while growing into their respective leadership roles. Now, with start of the 2014 season, Ngata hopes to make his two families proud by continuing the dominant, physical play that first caught Brooks' eye in 2006.