When deciding whether to take a job as the New York Jets' defensive line coach, **Mark Carrier** had to weigh being comfortable and taking a chance. In New York, he believes he found both.
Carrier, the Ravens' defensive backs coach for the past four seasons and an 11-year NFL cornerback, accepted a position as the Jets' defensive line coach Wednesday because he can advance his career towards becoming a defensive coordinator and join a familiar staff.
"This is a chance for me to learn the front end and put the whole defense together and help me with my goal," Carrier said. "It's stepping out of my box, out of my comfort zone. But it's a great opportunity for me to grow as a coach, to build my resume, to enhance my career."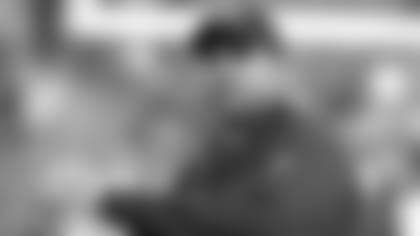 Carrier joins former Ravens defensive coordinator Rex Ryan, so he will be familiar with New York's defensive system. Carrier will also work under Jets defensive coordinator Mike Pettine, who coached outside linebackers in Baltimore from 2005 to 2008.
"Rex gave me my chance here [in Baltimore], so I feel very comfortable with him," Carrier said. "I can almost 100 percent say I wouldn't have done this for [just] anybody. It would have to be the right situation and this is the right situation for me."
Carrier talked to Ryan last weekend while Carrier was vacationing with his wife in Miami. The Jets head coach called back early this week to offer Carrier the job and the deal was finalized Wednesday.
"It was a tough decision," Carrier said. "I'm very comfortable here, my family is very comfortable here. As far as I know, there's no better place to work at. But it's also an opportunity to do something that I may not get a chance to do. And it's going to work with people whom I'm comfortable with."
Carrier said 2009 was a very satisfying year for him as a coach. Despite season-ending injuries to starting cornerbacks **Fabian Washington** and Lardarius Webb![](/team/roster/lardarius-webb/198340ed-25e5-4117-8d71-5fc28be24b71/ "Lardarius Webb"), and without Ed Reed![](/team/roster/ed-reed/89ece203-7de4-4b40-9651-f16f4c3b7699/ "Ed Reed") for four games, the Ravens secondary rebounded from a rocky start to finish the season ranked 8th in the NFL in passing yards allowed per game.
Carrier deserved some of the credit for that turnaround, but deflected the praise to the players. That, and his ability to relate to the players, made him well-liked in Owings Mills.
"Coach Carrier, he was a former player and he knows that sometimes what the defense asks you to do is not possible," linebacker Brendon Ayanbadejo![](/team/roster/brendon-ayanbadejo/0e939635-1a76-4e0f-a8e4-525731af352f/ "Brendon Ayanbadejo") said last week. "Carrier understands those types of nuances."
Carrier played 11 seasons in the NFL with Chicago, Detroit and Washington. The former first-round pick was named to three Pro Bowls, including in his rookie season when he was honored as the NFL Defensive Rookie of the Year.
He coached the secondary at Brophy College Prep (Phoenix) for one year and at Arizona State for two seasons before joining the Ravens.
Carrier is the third coach to depart Owings Mills this offseason, following quarterback coach Hugh Jackson and linebackers coach Vic Fangio. **Chuck Pagano** remains as the Ravens' secondary coach.