Much of the buzz this offseason around Baltimore is about the new weapons added at wide receiver, but don't sleep on second-year returner Devin Duvernay.
Duvernay didn't have a large offensive role as a rookie, catching just 20 passes for 201 yards and zero touchdowns, but after the departure of Willie Snead IV, Duvernay could be in line for more.
Duvernay hauled in the third-most receptions (106) in the nation during his senior college season at Texas, trailing only Justin Jefferson and current Ravens teammate James Proche II. But as is the case with almost every rookie, the opportunities shrink with the step up to the NFL. They have to be re-earned all over again.
Duvernay did well with his opportunities last year. He had the team's highest rate of catches per targets with 20 catches on 26 passes that came his way (77 percent).
With a thick frame and speed, Duvernay was one of the team's best at picking up yards after the catch. He's so dangerous in the open field that the Ravens also used him on four jet sweeps, in which he picked up 70 yards and three first downs.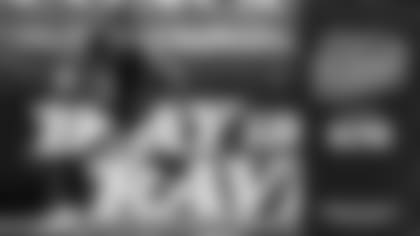 Devin Duvernay Joins The Lounge
The second-year wide receiver talks about his role ahead, lessons learned from his rookie year and whether he's the fastest guy on the team.
"Everybody definitely wants that bigger role and to have that bigger impact," Duvernay said. "But you learn patience and wait your turn. I just keep faith that it will come. I never lose faith, never lose patience. I just keep my head down and keep working.
"I have no complaints. I'm just excited to work and get better, develop and continue to be a bigger player."
Duvernay's most memorable play from his rookie year was as the team's kickoff returner. He ripped off a 93-yard return for a touchdown on Monday Night Football against the rival Kansas City Chiefs that put the Ravens back in the game.
"I remember catching it, getting around the edge, hitting the sideline and I blacked out," Duvernay said. "I didn't know what was happening. Running around the end zone, I was just blacked out. I can't imagine if there was a crowd there."
Duvernay was so good on special teams that he also eventually took over the punt return job from Proche. While special teams will likely continue to be part of Duvernay's gameday duties, he also has an opportunity to make more noise on offense.
Marquise "Hollywood" Brown is the team's top returning wide receiver, but it remains to be seen how big a slice of the pie incoming veteran Sammy Watkins and first-round rookie Rashod Bateman will get. Duvernay said the competition at wide receiver is pushing everyone, along with the instruction from new Wide Receivers Coach Tee Martin and Pass Game Specialist Keith Williams.
"We're improving every day tremendously," Duvernay said. "You can see it on the field, you can see it on the tape. They just keep encouraging us to keep going."
Duvernay played both outside and in the slot in college and said he feels he has the skillset to do both in the NFL too. Duvernay said adjusting to the speed of the game may have been his biggest hurdle last season, but speed is not a problem overall.
Duvernay, who blazed a 4.39 in the 40-yard dash at the NFL Scouting Combine and is a former 100-meter dash high school state champion in Texas, may be the fastest player on the team.
"I believe so," he said with a grin.