When Tyler Huntley stepped into his first competitive NFL game, it was in windy Buffalo in the playoffs. When he started his first NFL game, he found out while walking to the bus to head to Chicago's Soldier Field. When Huntley took over for Lamar Jackson last week in Cleveland, he was already staked to a 10-point deficit in a hostile environment.
Huntley has always prepared as if he's going to play. That's the job requirement of a backup quarterback. You're always one snap away from being in the game.
This week has a different feel, however, as Jackson is day-to-day with a sprained ankle and truly a question mark for Sunday's game at M&T Bank Stadium against the Green Bay Packers.
When Jackson was ill before the Chicago game, Huntley assumed the 2019 MVP would recover in time and surely be on the field playing against the Bears. This week, Jackson's status is more up in the air.
This week, Huntley is the guy everybody is looking to in hopes of leading the Ravens to an upset victory over a team tied for the best record in the NFC at 10-3. Topping surefire Hall of Famer Aaron Rodgers and the Packers would be a colossal upset for Huntley.
But ask anybody around the Under Armour Performance Center and they'll tell you it's not too tall a task for the second-year undrafted quarterback.
"We feel really confident about Tyler," Offensive Coordinator Greg Roman said. "Whether he starts the game, or enters the game at some point, we feel really good about him, the direction he's going, and the development he's shown. … I think he's a winner, and everybody believes in him."
Eleven-year veteran Justin Houston has seen (and sacked) a lot of quarterbacks. He can tell a contender from a pretender. Houston has been impressed with what he's seen from Huntley.
"When his number has been called, he goes out there and he's ready to go," Houston said Wednesday. "You don't see any nervousness about him. He makes some plays. He's putting us in great situations. He's showed that he can be a starter in this game. He definitely has the skillset, and I definitely believe in him."
Huntley has been successful wherever he's been. The South Florida kid ranks third all-time in career wins at Utah (23-10) as a starter. He broke the school records for career completion percentage and single-season completion percentage.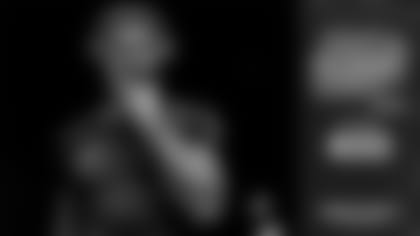 333: Tyler Huntley Stops By The Lounge
Baltimore Ravens QB Tyler 'Snoop' Huntley talks about the craziness of last week with Lamar Jackson's illness, his game-winning drive in Chicago, the emotions of winning his first start, and his South Florida and Utah backstory.
Despite that, Huntley wasn't one of the 13 quarterbacks drafted in 2020. Ravens Quarterbacks Coach James Urban had developed a relationship with Huntley throughout the pre-draft process and kept in contact with Huntley throughout the draft's final day. Urban called him during the seventh round to ask if he wanted to be a Raven. Huntley told him, "Hell yeah, Coach!"
Because of Huntley's unique playing style, he wasn't a fit for every offense. But he was perfect for the Ravens as a Jackson fill-in.
"They gave me the best opportunity of my life and now I'm here and I just owe it all to the Ravens, owe it all to the team," Huntley said on "The Lounge" podcast.
Head Coach John Harbaugh said he immediately knew Baltimore had something intriguing when Huntley stepped into practice.
"When I first saw him start throwing. He looked like he could throw," Harbaugh said. "Obviously, he's a really good athlete, hard worker and talented guy. But you could see that he could spin it. That's kind of where it starts for a quarterback. So, when we saw that in person, we felt like we had something to work with."
It wasn't all smooth sailing in training camp this year. Huntley had a lot of good days, but he also had one day, on Aug. 4, when he threw three interceptions in an eight-pass span. The way he responded told Roman a lot. A backup quarterback probably isn't going to light the scoreboard up, but they have to keep battling.
"I loved his attitude. I loved how his mind worked, and that goes a lot into it, too," Roman said. "Obviously, as a rookie quarterback coming into the league, you're going to … There are going to be moments, shall we say, and he had them just like anybody else. But we saw him learn from those mistakes and move on, and that's constantly the challenge."
After Trace McSorley suffered a back injury in the preseason, Huntley went from start to finish in two wins over the Carolina Panthers and Washington Football Team. In Washington, he threw for 285 yards and four touchdowns and ran for another score, cementing his spot as Jackson's top backup.
"If you watched every preseason game, that kid was special out there," Houston said. "He's the reason why we won all the preseason games. So, he's a good player. If he keeps working, he can be great."
The preseason was where Huntley expected his game action to end, or at least that's the hope. A couple weeks ago, he described being Jackson's backup as feeling like he's in a movie.
"I get front-row seats to a movie," Huntley said. "I get to see Lamar Jackson and the Ravens play every week. I think that's so amazing."
But Huntley stepped into the spotlight and had a made-for-TV moment with 72-yard game-winning touchdown drive in the final minutes in Chicago.
Now Huntley is the main feature, and a hot ticket around Baltimore after nearly leading the Ravens to another improbable comeback win in Cleveland. The Baltimore offense looked better with Huntley under center than it had in the previous several games with Jackson.
Roman said there are "subtle differences" between the game plans for Jackson and Huntley, but the Ravens feel fortunate to have a quarterback that can mimic Jackson's style so they don't have to blow up the offensive scheme. And with more practice and advance notice that he could start this week, the Ravens have "plenty of opportunity with Tyler to really get a feel for what he likes and what direction we want to go," Roman said.
Asked what changes for the offense with Huntley, rookie wide receiver Rashod Bateman, who exploded for his first 100-yard game after Huntley stepped in against the Browns, said "it's not really an adjustment."
"When [Jackson] goes down or anything, a lot of question marks go up in the air of if this offense can still run without him. But I think 'Snoop' comes in and proves to us that we're not just a one-man show; we're a team, and we can still operate at a high level," Bateman said.
"We're just picking up where we left off. We trust 'Snoop' just as much as we trust Lamar."