OK, here's a hypothetical question to ponder as the 2020 NFL Draft approaches:
If the other 31 teams participated in the event as usual later this week and the Ravens weren't allowed to make picks, would they still field a playoff-caliber team next season?
It's hardly fair, I know. Nonetheless, the answer to the question is, I believe, a resounding yes.
Sure, they'd likely have issues at inside linebacker, interior offensive line and wide receiver – positions they're hoping to address in the draft, which begins Thursday night at 8 p.m. (Fortunately, they DO get to make picks. My scenario is strictly hypothetical.)
But even with those issues, they'd still have one of the NFL's best rosters, one so deep in talent that, yes, it would still rank among the best even without the infusion of new blood a draft provides.
The Ravens went 14-2 last season with a dominant blend of veterans and young players. They sent 13 guys to the Pro Bowl. Twelve are back this year, including quarterback Lamar Jackson, the reigning league Most Valuable Player.
The loss of guard Marshal Yanda, who retired, is a major setback, but the additions of Calais Campbell and Derek Wolfe have fortified the defensive front and no one is suggesting the Ravens have lost much ground overall, if any. It could easily be argued they're better if several young players make the leaps expected of them.
That doesn't assure the Ravens of being similarly successful in 2020, but the smart money definitely is on them picking up where they left off whenever football resumes. And the fact that they're in such a position distinguishes this year's draft from most others in their history.
Normally, the Ravens are hoping to make personnel additions that provide depth and possibly help them ascend to the upper tier of Super Bowl contenders. But they're already in that upper tier this year, which alters the goal.
They aren't trying to go from good to great. They're trying to go from great to really great. (Or, if you will, from really great to really, really great, also known as from one really to two reallys.)
Actually, maybe the best way to frame it is they're trying to go from really potent to better than the Kansas City Chiefs.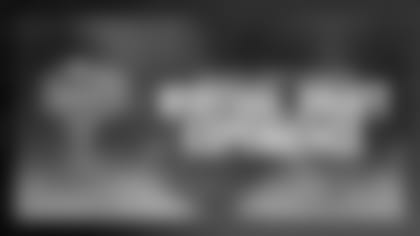 Tune In All Weekend
Join us throughout draft weekend for the best second-screen experience for Ravens fans. We'll have exclusive content with Eric DeCosta from his home, a live chat through all seven rounds, the latest news and analysis, opportunities for you to ask the decision-makers questions and a lot more!
The Chiefs won the Super Bowl last season after Baltimore succumbed in a playoff upset, and the champs certainly stand in the way of the Ravens' hopes of ruling the AFC. Kansas City is No. 1 in most offseason league power rankings, just ahead of the second-seeded Ravens. The Chiefs have beaten the Ravens in back-to-back regular-season meetings.
I'm quite sure the Ravens' decision to make a major investment in their defense by adding Campbell and Wolfe, franchising Matthew Judon and re-signing cornerback Jimmy Smith is based at least partly on doing what seemingly is needed to battle the Chiefs and their track team of an offense led by quarterback Patrick Mahomes.
Selecting a high-end inside linebacker with their top pick would pretty much complete the Ravens' overhaul of their defensive front. I predict they'll make such a move, taking LSU's Patrick Queen.
Sport's Illustrated's Gary Gramling also has them taking Queen, but he predicts they'll do so after trading with the New England Patriots to move up five spots and get the No. 23 overall pick.
Gramling wrote: "Queen is a perfect fit who fills a desperate need on Baltimore's roster. And with that, the other 31 franchises celebrate because apparently everyone wants the Ravens to have everything they want and need."
See what I mean? The consensus on the Ravens heading into the draft is they're already totally loaded.
It doesn't diminish the pressure on them to hit on picks and improve because, if anything, the stakes are higher. The Ravens need that inside linebacker, an interior O-lineman, a wide receiver, a pass rusher.
I think it increases the likelihood of them trading up at least once in the first three rounds. They currently have five picks in those rounds, a wealth of draft capital that enables them to target and acquire certain players, bolstering their strong roster where a boost is needed.
It's a sweet position to be in, no question.