New Ravens pass rusher Elvis Dumervil will switch jersey numbers.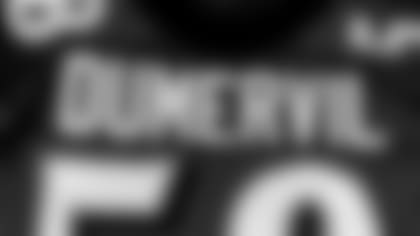 Pro Bowl defensive tackle Haloti Ngata has donned 92 – the same number Dumervil wore in Denver – throughout his eight-year Ravens career.
Thus, Dumervil will go back to the number he wore in college at Louisville.
Dumervil chose 58 in college because it represents the numbers of letters in his name. Elvis has five. Dumervil has eight.
He had a lot of success in No. 58. Dumervil notched 32 career sacks, including a nation-leading 20 as a senior. He also set an NCAA record with 10 forced fumbles that year. Dumervil was a finalist for the Vince Lombardi Award, given to the nation's top lineman.
The Ravens' all-time list of players that wore No. 58 consists of Ring of Honor pass rusher Peter Boulware, linebacker Dennis Haley, outside linebacker Michael McAdoo, linebacker Robert McCune and linebacker Jason Phillips.
Boulware is second on the Ravens' all-time sacks list (70). He was a four-time Pro Bowler and led the AFC in sacks in 2001 with 15.
Will Dumervil become the Ravens' next great No. 58?