QB Joe Flacco, who earned NFLPA Rookie of the Week honors for Week 7 this season, has
started all 6 games at QB for the Ravens, posting a 3-3 record. Prior to Flacco, the Ravens have
only had 1 QB in franchise history start to begin the season (Kyle Boller in 2003). In his 9 starts
(10 games played) in '03, Boller completed 51.8% of his passes for 1,260 yards and 7 INTs.
Comparatively, in his 1st 6 games, Flacco has completed 64.1% of his passes for 1,076 yards
and 2 TDs. Averaging out to 16 games, Flacco is on pace to complete 64% of his passes (285
of 445) for 2,869 yards and 5 TDs.
There were 13 quarterbacks drafted in the 2008 NFL Draft, including 2 in the 1st round: Matt
Ryan (3rd overall) and Joe Flacco (18th overall). Ryan and Flacco are the only 2 QBs to have
started . In those contests, Flacco has more completions (107 to 93), a higher completion percentage
(64.1% to 57.8%) and has just 88 fewer passing yards (1,164 to 1,076) even though the
Ravens have played a much tougher defensive schedule. The average defensive ranking of
teams that Ryan has faced is 18. He has battled the 2 lowest-ranked defenses in the league
(Detroit and Kansas City), and the highest ranked he faced was No. 5 (Carolina). The average
defensive ranking of teams that Flacco has faced is 13. He has faced the No. 1 and 3 defenses
(Pittsburgh and Tennessee respectively), and the lowest ranked defense he has faced is 21
(Miami).
On Sept. 21 in the Ravens' 28-10 win over Cleveland, Joe Flacco became just the 3rd NFL rookie QB to
start a season 2-0 since the 1970 merger. The other 2 players are John Elway (Denver, 1983) and Ryan
Leaf (San Diego, 1998). Below are the 2008 statistical breakdowns of the only rookie QBs to start in the
NFL this season -- Flacco (18th-overall selection) and Atlanta's Matt Ryan (3rd-overall pick):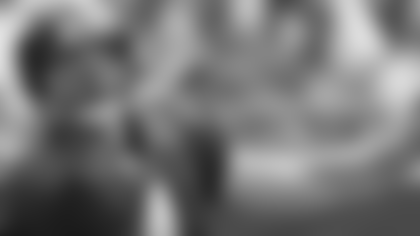 KOCK SHOWING OFF BIG LEG IN 2008
P Sam Koch leads the NFL with a net average of 42.9 yards per punt. He also ranks
7th in the league with a 48.0-yard gross average (posted his career high with a 43.6
average in 2007).
With 28 punts for 1,344 yards so far this season, Koch is on pace to kick 75 times,
which would marke the 2nd-least amount of punts in Ravens history for a single season.
Even though he is on pace for the 2nd-lowest amount of punts for a year, Koch is
on line to kick for 3,584 yards, the 6th-most in team history. With those numbers, Koch
looks to smash the franchise record for punting with a 47.8 average. (current Ravens
record is 43.9 by Kyle Richardson in 1998.)
With his 67-yard boot at Miami last week, Koch not only established a new career high,
but also tied the Ravens franchise-long punt and produced the 4th-longest kick, (tied)
in NFL this season.
All 3 of Koch's punts against the Dolphins were downed (or bounced out of bounds)
inside the 20-yard line against the Dolphins. That not only tied a career high, but also
marked the 1st time in his career that Koch has placed every punt inside the 20 in a single
game.
This article has been reproduced in a new format and may be missing content or contain faulty links. Please use the Contact Us link in our site footer to report an issue.