With Troy Smith scheduled to make his second consecutive preseason start Saturday night in St. Louis, the Ravens were forced to make a last-minute audible when Smith came down with a viral illness.
That opened the door for 2008 first-round draft pick Joe Flacco to step in and make his first start of the preseason. He was under center from the opening whistle to the final gun, a rarity for any player in the preseason, and completed 18 of 37 passes for 152 yards and a touchdown while playing turnover-free football.
"I prepare myself to be ready at any time," Flacco said. "That's what you have to do as a quarterback. It wasn't in the plan. I didn't really take many reps in practice this week. All of a sudden, I'm the starter, and I'm playing four quarters. So I'm going to prepare myself to be ready at all times."
Prior to Saturday night, Flacco had seen action exclusively in the fourth quarter of the Ravens' first two contests, completing 10 of 18 passes for 74 yards.
The signal caller's evening got off to an inauspicious start, as he handed off to fellow rookie Ray Rice on the Ravens' first two plays from scrimmage before his third-down pass sailed out of Derrick Mason's reach.
Baltimore later put its first points on the board with a 22-yard Matt Stover field goal with 4:17 remaining in the first quarter. Flacco completed a 14-yard strike to Mason, who led Baltimore with six receptions for 85 yards, to set up the chip shot.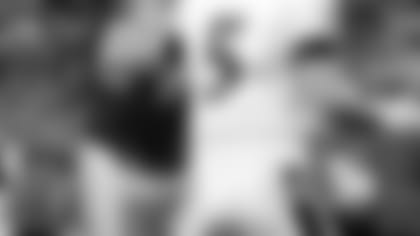 The offense received a huge assist from special teams to set up the six-play, 16-yard drive, as Tom Zbikowski got a hand on Donnie Jones' punt from the Rams' end zone, resulting in an 11-yard kick that gave Baltimore the ball at the St. Louis 20-yard line.
Taking advantage of those goal-to-go situations figures to be crucial to the offense's success going forward, regardless of who takes the snaps.
"We have to score touchdowns when we get the chance, and we had one after the blocked punt," noted offensive coordinator Cam Cameron. "That was a great opportunity and we didn't get in. Field goals are not a bad thing, but touchdowns are the goal.
Flacco admitted the adrenaline rush that came with getting his first start may have contributed to his 4-of-13 first-half performance during which several passes were thrown above or beyond their intended targets.
"It was exciting for me, so I had to calm myself down," Flacco said. "As the game went on, I felt like I did. I felt pretty comfortable throughout the whole game."
Flacco appeared to find his groove as he engineered an ultra-efficient 75-yard touchdown drive to open the third quarter. He connected with Mason on all four of his pass attempts, including a perfect 15-yard drive-capping fade, as the Ravens needed just seven plays and 3:15 off the clock to march down the field.
"That drive just felt good, coming out of [halftime]," Flacco recalled. "We moved the ball pretty well."
With the confidence boost a touchdown toss brings, Flacco continued making strides as the game progressed.
"He really did get comfortable and started getting the ball out quicker, saw some things, made some real accurate throws near the end there and had some zip on the ball," Harbaugh observed. "You could see him growing throughout the course of the game."
After the Mason-fueled touchdown drive, Flacco began to spread the ball around effectively. In all, nine Ravens caught at least one pass.
While the Ravens put just 10 points on the board, the most important result of Saturday's surprise quarterback shuffle was that Flacco added a wealth of NFL-caliber game experience he was otherwise unlikely to obtain at this stage of his development.
"The whole game experience, playing four quarters in a row was pretty good for me," said Flacco.
Harbaugh concurred: "I think he's moving pretty quickly up the [learning] curve, and you saw it from the first quarter to the fourth quarter tonight."
Put simply, the Ravens expected to learn something about one of their quarterbacks on Saturday, and that's precisely what they did.